Earlier today, Apple's stock price briefly surpassed $250 per share before being dragged down by an overall market slide precipitated by charges brought by the U.S. Securities and Exchange Commission against Goldman Sachs over alleged subprime mortgage securities fraud.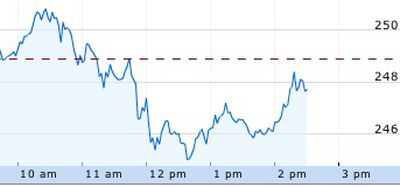 Apple's stock has since rebounded, but remains below both the $250 threshold and today's opening price of $248.99.
AAPL stock has seen a number of milestones in recent weeks, having surpassed $200 billion in market capitalization in early March, and only days later moving past Wal-Mart to become the third largest U.S. company by market capitalization.
Just yesterday, Fortune released its annual Fortune 500 rankings of U.S. companies by revenue, which saw Apple jump to 56th place from 71st place in last year's survey. The report also ranked Apple as offering the greatest return to shareholders among Fortune 500 companies over the past five years, with an average annual return of 45.6%.