Apple Preparing to Launch 27-Inch LED Cinema Display, Mac Pro Update by June?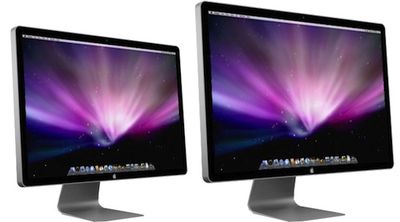 Mockup of existing 24" LED display (left) next to 27" model (right)
AppleInsider reports
that Apple is preparing to launch a 27-inch LED Cinema Display and a refresh of its Mac Pro lineup, pegging a release window of "by June" for both products. The 27-inch LED Cinema Display is said to use the same panel as that used in Apple's 27-inch iMac and will closely resemble the existing 24-inch LED Cinema Display released in
October 2008
.
Two people familiar with the upcoming display say its been lingering in Apple's labs for quite sometime, where it's frequently referenced by the unique identifier/codename "K59." The Mac maker is believed to have been waiting patiently for the cost of the larger LCD panels, which sport a resolution of 2560 by 1440 pixels, to shed some of their premium before introducing the model to market.
As for the Mac Pro, the report's sources indicate that Apple will stick to Intel's Xeon processors, utilizing members of the 5600 series released earlier this week. While the Mac Pro is due for a refresh and recent rumors had suggested that a release might be imminent, the report similarly offers a window of "by June" for the refresh.