Will Apple's Tablet Actually Be Called the iPad? New Trademarks Filed This Week
A lot has been said about the rumored Apple tablet, and after evidence was discovered that Apple was interested in the name "iSlate", many have adopted that as the most likely name for Apple's new device.
New evidence however has revealed that Apple may, in fact, be positioning "iPad" as the name for the imminent tablet device. The name iPad has had its proponents amongst several MacRumors readers due to the similarities to Apple's iPod name, but little evidence had actually suggested it to be the case.
A search in the Canadian trademark database reveals that Apple's dummy corporation Slate Computing, LLC also applied for a trademark for "iPad" under the categories of handheld mobile digital electronic devices with a broad range of applications. This application was filed in July 2009 -- much more recently than the original iSlate trademarks which date back to 2006-2007. Slate Computing, LLC did not apply for a similar trademark in the U.S. due to the fact that Fujitsu appears to control the U.S. trademark as it relates to handheld computing. Of course, this didn't stop Apple from using the iPhone name despite it being owned by Cisco in the U.S. at the time of the iPhone's launch.
Very similar trademark applications for "iPad" were also filed in Europe and Hong Kong in July. The European filing listed a UK law firm while the Hong Kong application listed a company called IP Application Development, LLC which is located in Delaware.
Based on a source who claims to have knowledge of Apple's plans, we found that this unknown company has been active again in the past week with new iPad trademark applications in New Zealand and Australia. The filing dates for these latest trademark applications are from Friday, January 15th, 2010.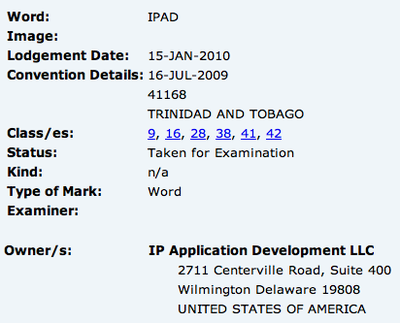 Of interest, the company's initials actually spell out "iPad". While we can't link IP Application Development, LLC directly to Apple, the associated timing of the applications alongside Slate Computing's Canadian application is very suggestive. While it appears Apple
did have
an Australian trademark application for iPad back in 2007, it was a much more limited scope than the current applications.
In the end, we believe that Apple is behind these trademark applications for iPad and that it may be the name for Apple's new tablet device to be revealed next week.