Apple Purchased iSlate.com in 2007. Apple's New Tablet Called iSlate?
With rumors of the Apple tablet reaching new highs, MacRumors has found evidence that Apple acquired the domain name iSlate.com presumably in preparation for the new device.
The iSlate.com domain was originally registered in October 2004 by a company called Eurobox Ltd. It later changed hands to Data Docket, Inc. in 2006. In 2007, however, the domain was transferred to registrar MarkMonitor.com. MarkMonitor handles domain name registrations and trademark protections for many companies, including Apple. As is typical, however, the name of the actual registrant was initially hidden to obscure the identify of the actual owner. Up until this point, one could still easily dismiss all this as a simple coincidence.
However, after further investigation of the domain name registrant history, it seems Apple's name was temporarily exposed as the actual owner of "iSlate.com" for several weeks in late 2007. It was changed back within a few weeks, but using DomainTools, MacRumors has found the historic record proving Apple ownership of the iSlate.com domain: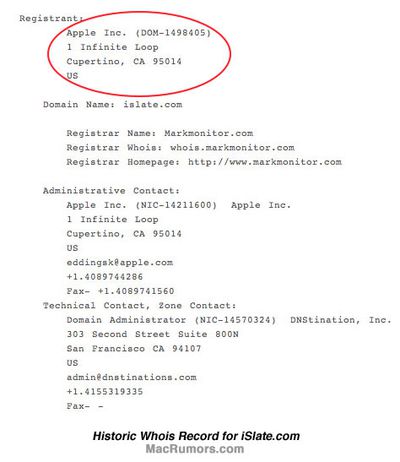 iSlate.com currently points to no website. Apple is rumored to be announcing an Apple tablet in early 2010 and given this evidence "iSlate" seems a likely candidate for the device's name.
Thanks to Mark Gurman from AppleRejectedMe.com for first pointing us in the direction of iSlate.com