More 'Brick' MacBook Case Images?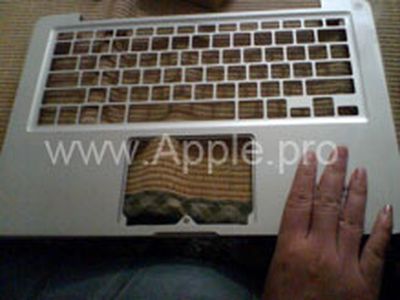 An
Apple.Pro blog has posted
three small images of what appear to be a new MacBook case. The casing resembles the
MacBook Pro case image
leaked earlier today, but clearly represents a smaller screened laptop. Absent are the speaker grills of the earlier image.
From above, the keyboard view is nearly identical to the current MacBook Air case design, but the side shots reveal that it is not simply a MacBook Air case. The new laptop appears to have the larger trackpad found on the MacBook Air. The left side of the case (when facing the computer) houses all the ports as depicted in the earlier photo. Meanwhile, the right side carries a slot for the optical drive.
Apple.pro has been responsible for a couple of other case photos (MacBook Pro, MacBook) in the past few months, and the MacBook Pro one is believed to be real. Today's post however, appears to be from a different blogging account than the previous images.