Leaked Aluminum MacBook Case? [Updated]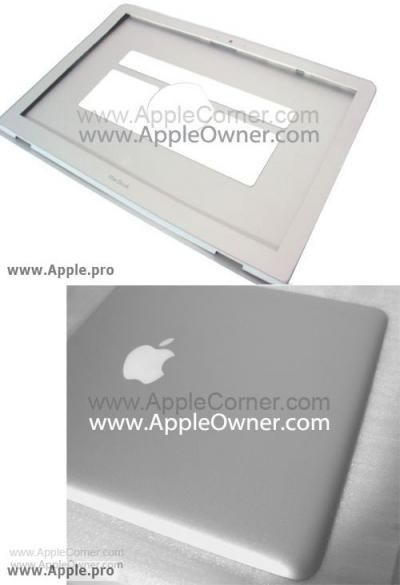 Apple.pro
has
posted
new photos (via
Engadget
) of what are claimed to be the new MacBook casings.
Apple.pro
was the Taiwanese blog that previously
posted
photographs of prototype MacBook Pro casings that were
later believed
to be real.
The latest collection of photos reportedly depict the upcoming MacBook revision which is expected in late September. The photos depict the top half of the MacBook's casing without any electronic components. The glow-in-the-dark Apple logo remains in place in these images. The case is made of aluminum and resembles the MacBook Air casing.
English translation provided by Ken:
From the picture below we can see that the MacBook has also entered the world of aluminum cases.
Along with its two big brothers it has changed to an aluminum case. Everyone can also pay attention to the corners. Right now Apple loves to do stuff like this. Everyone wants to know if the Apple logo on the cover lights up. The picture below should make this clear, without needing me to say much.
Of note, the case is almost identical to the MacBook Air casing.