Odds and Ends: New Shuffles, In-Ear Headphones, First Impressions, and More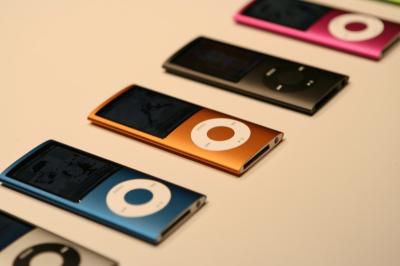 Image from
gallery
at
WorldofApple
As with all Apple events, there's a lot of information to process on the new releases. We ask readers try to consolidate general discussion about the announcements in the appropriate news stories:
New iPod Nanos and Classic
,
New iPod Touch
,
iPhone 2.1 Firmware Coming Friday
,
iTunes 8
.
We've also consolidated a few additional notes of interest from today's announcements:
Software Updates
- iTunes 8 is available for download, including the new Visualizer which is an improved version of Magnetosphere. Atlchris has posted a video of the new visualizer. [Discuss here]
- Quicktime, Front Row updates available in Mac OS X Software Update to support iTunes 8.
iPod Touch
- iPod Touch impression: Engadget: "the speaker doesn't sound like complete trash despite not even having any speaker holes, and the thing is crazy thin."
- iPod Touch impression: Gizmodo: "most noticeable thing about the second-gen iPod touch is just how thin it feels in your hand."
- The pay version of the iPod 2.1 firmware is available for those who still have iPods with version 1.x firmware. If youve already upgraded to the iPhone 2.0 Software Update for iPod touch, the 2.1 update is free.
- The Free 2.0->2.1 upgrade for iPod Touch owners is starting to appear, but users have been unsuccessful in downloading the new update.
- Apple has posted a new guided tour video for the new iPod Touch and shows off the Genius Playlist feature. (via TUAW)
iPod Nano
- iPod Nano impression: Gizmodo: fast and responsive, click-wheel less "grippy", responsive accelerometer, feels small, click-wheel orientation remains same when nano is turned.
- iPod Nano comparison photos showing its size next to the old iPods.
- YouTube video and screenshots from iLounge showing off the new Nano interface.
Other
- The new iPods are not eligible for the Back to School promotion which ends on September 15th.
- iPod Shuffles have been refreshed with new colors, but the same storage capacities.
- Apple also introduced new $79 in-ear headphones
General questions and other discussion can be directed to our dedicated forums: iPhone, iPod Touch, iPod and iTunes, and App Store.