2nd Generation iPod Touch: 2.1 Firmware, Speaker, Thinner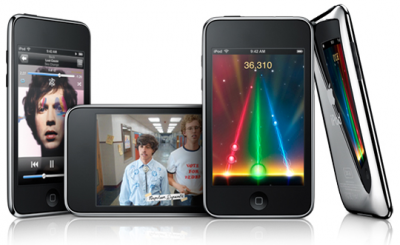 Apple released the new iPod Touch today at their media event. The new iPod Touch matches up with the rumors, now sporting a curved back but retaining the same storage capacities. Features include:
- 2.1 Firmware
- Built-in speaker, volume controls
- Genius playlist
- Nike+iPod support
- Battery: 36 hours for music, 6 hours for video.
- $229 for 8GB, $299 for 16GB, $399 for 32GB
Apple also appears to be positioning the iPod Touch as a gaming device with a new ad that shows off a number of games and calls it the "funnest iPod ever". Phil Schiller also demonstrated a number of games on stage, including Spore Origins, Real Soccer 2009 and Need for Speed: Undercover.
Spore Origins was released for the iPhone and iPod Touch just yesterday, and a first look gameplay video of Real Soccer 2009 has been posted to TouchArcade.com.
The 2.1 upgrade will be available for free for current iPod Touch owners with Firmware 2.0.
The new iPod Touches should appear at http://www.apple.com/ipodtouch/ later today.
Updates: Hands on iPod Touch photos