4th Generation iPod Nano: Accelerometer, Genius, Colors, Taller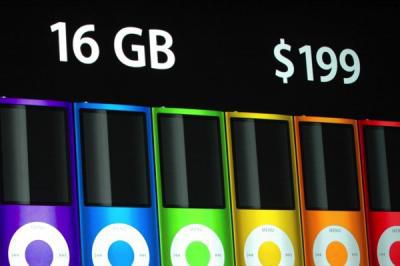 Image from
Engadget
Apple announced the new iPod nanos today at their media event. The nano matches up with the circulating rumors of a taller, colorful design.
- Thinnest iPod ever
- Enhanced user interface
- Accelerometer to detect tilt
- Shake iPod to shuffle
- Genius playlist built in
- Aluminum with curved glass
- Battery: 24 hours for music. 4 hours for video.
- $149 for 8GB. $199 for 16GB.
- 9 Colors: silver, purple, blue, green, yellow, orange, red, pink, black
The 8GB should be available today, while the 16GB should be available by next week.
Apple also quietly updated the iPod Classic and iPod Shuffle:
- The iPod classic would now only come in a 120GB model, replacing the 160GB and 80GB models that are currently available.
- The iPod shuffles have been revamped with new colors but the same price and storage.
The new iPod nanos should appear at http://www.apple.com/ipodnano/.
Updates: Hands on iPod nano photos. Extensive gallery of photos.