Live Coverage of iPhone SDK Roadmap Event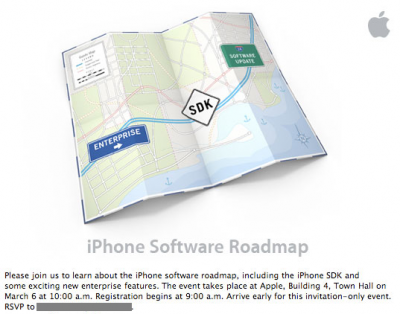 Apple is hosting a media event today to outline the iPhone Software Development Kit (SDK) and "some exciting new enterprise features". There have been a collection of rumors suggesting that Apple may not be able to deliver the final SDK immediately. That hasn't stopped a number of companies, such as reQall (memory aid), Six Apart (blogging software), and Freeverse (sports games), from announcing their intentions to write iPhone native applications with the new SDK. Meanwhile MySpace and SlingMedia have been rumored to be early recipients of the unreleased development kit.
Live Coverage
The event kicks off today at 10am Pacific, 1pm Eastern. A running countdown is provided at the top of MacRumors.com. MacRumors is unable to provide live coverage, but will be offering SMS updates for those unable to watch live coverage. Live coverage is being provided by a number of sites (in no particular order):
Dedicated coverage links: Arstechnica, Gizmodo, Engadget, PhoneMag, Macworld, Mac Life, CNet, GadgetLab, Fortune
Update:
We will also be providing consolidated updates at the end of this article as the event unfolds.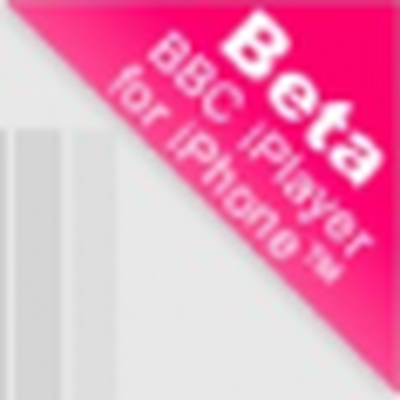 - BBC's iPlayer site now has a "Beta BBC iPlayer for iPhone" badge when navigated to with an iPhone (screenshot). Coincidentally appeared on the day of the SDK roadmap. Content is not yet playable on the iPhone.
- Gizmodo spots Adobe, AOL, Orange, Gizmodo, J Crew, Disney employees at the event. PhoneMag spots Microsoft and Adobe employees.
- Steve Jobs opens with some stats on the iPhone: 71% of Mobile browser usage is on the iPhone. 28% marketshare of U.S. Smartphones. "So for the first time, you really do have the Internet in your pocket."
- Phil Schiller talks about the iPhone in enterprise and gives some examples: Genentech has 1000s of iPhones deployed. "The iPhone is a watershed event in mobile computing for corporations". Stanford has 100s of iPhones deployed.
- Next iPhone update to include: Push Email, Push Calendar, Push Contacts, Global Address List, Cisco VPN, WPA2/ 802.1x, Security Policies, Device Config, Remote Wipe.
- Apple has licensed ActiveSync from Microsoft and will be incorporating native ActiveSync and Exchange support into the iPhone's existing apps (mail, cal, contacts)
- SDK: Apple is releasing the same APIs and Tools that they use to develop iPhone applications. iPhone Emulator for OS X to help developers. Robust API with support for Animation, 3d, Camera, Networking, File Access, Audio Recording.
- Demo App written in 2 days shown: Touch FX. OpenGL distortion effects on photo with touch, pinch, expand. Shaking iPhone undos changes.
- Demo app that took 2 weeks: Touch Fighter, space shooter using OpenGL (3d anim) and OpenAL (audio). Touch to shoot, tilt to steer.
- EA demos an iPhone version of Spore.
- More app demos: Salesforce.com. AOL native AIM (instant messaging), Epocrates drug reference app. SEGA's SuperMonkeyBall.
- Native iPhone apps will be distributed through the iTunes App Store, with wireless downloads. Developers pick the price, and get 70% of revenue. No other fees. Paid out to developers monthly.
- SDK is free to download today. To publish apps, however, there is a $99 developer fee.
- iFund - $100 million fund venture capiltal for iPhone development. (? detail still spotty))
Additional iPhone news/details to be posted on our iPhone Blog at https://www.macrumors.com/iphone/.