MacBook Air
Last updated on April 29, 2014.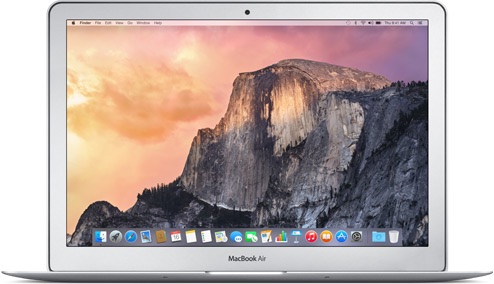 At a Glance
Apple's 11 and 13-inch ultra-portable notebook computers received an update on April 29, 2014 with upgraded processors and reduced prices. A 12" Retina model is rumored for sometime in 2015, and updated versions of the existing models could come as soon as late February.
Current Specs
11" and 13" screen sizes
1.4 or 1.7 GHz Haswell processor
Intel HD Graphics 5000
128, 256, or 512 GB SSD
4 or 8 GB RAM
Starts at $899
Models
11.6-inch with 1366 x 768 Display:
-$899: 1.4GHz Core i5 & 128 GB storage
-$1,099: 1.4Ghz Core i5 & 256 GB storage
13.3-inch with 1440 x 900 Display:
-$999 1.4GHz Core i5 & 128 GB storage
-$1,199: 1.4 GHz Core i5 & 256 GB storage
What's Next
11 and 13-inch MacBook Air
It not entirely clear when Apple might launch a significant update to its existing MacBook Air lineup, as Intel's next-generation Broadwell chips saw several delays that pushed their launch into 2015. Chips suitable for use in the next-generation MacBook Air were finally released in January of 2015. One rumor has indicated an update could come in late February, but the reliability of the source is unproven.
A July rumor claimed new 11- and 13-inch MacBook Airs with a redesigned chassis were in production for a launch later in the year, but no such release occurred.
12-inch MacBook
Apple is rumored to be working on a 12-inch MacBook with a new ultra slim design and a high resolution Retina display, and more information on the machine, which could potentially be a MacBook Air replacement, is available in our Ultra-slim MacBook Roundup.
Current MacBook Air
Apple's 11 and 13-inch MacBook Air computers received a small spec boost on April 29, 2014, adding new Haswell processors with slightly updated speeds.
Though there are no other spec improvements, the new Haswell processors bring a slight increase in battery life during iTunes movie playback, with the 11-inch model jumping from 8 to 9 hours of playback and the 13-inch model jumping from 10 to 12 hours.
Most notably, the new MacBook Air models have seen a price reduction, with the entry-level 11-inch version starting at $899 and the entry-level 13-inch version starting at $999.
Apple's MacBook Air is best known for its compact size and portability. The notebooks were last redesigned in 2010, and weigh just 2.38 pounds and 2.96 pounds for the 11-inch and 13-inch models, respectively.

Other MacBook Air specs include 802.11ac Wi-Fi, super fast PCIe-based flash storage, and integrated Intel HD Graphics 5000. The MacBook Air also features Mini DisplayPort output, a Thunderbolt port, two USB 3.0 ports, and an SDXC card slot. It has stereo speakers, a headphone port, dual microphones, and a full-size backlit keyboard.
Performance
As expected, Geekbench 3 benchmark tests have demonstrated that the 2014 MacBook Air has a slightly faster processing speed than the 2013 model. Apple only updated the low-end processor option for the MacBook Air and that is seeing 32-bit single-core scores around 2532 and multi-core scores around 4781. Compared to the 2013 MacBook Air the new processor brings just a slight boost in processing power. The 11-inch 2013 MacBook Air saw average scores of 2379/4480, while the 13-inch version saw scores of 2369/4468.

Initial SSD tests by Macworld have suggested, however, that performance is lower in the new models. The 2014 MacBook Airs tested demonstrated lower read/write speeds compared to their 2013 predecessors.

Further testing by OWC suggested the performance discrepancies were due to brand differences between the SSDs used in the new MacBook Airs, as the 2014 versions use the same drives as the 2013 versions. The SSDs come from a range of manufacturers, with some rating faster and some rating slower.
Build-to-Order Options
The entry level 11-inch MacBook Air can be upgraded with a 1.7Ghz dual-core Intel Core i7 processor and 8 GB of RAM. The more expensive 11-inch model has the same upgrade options, along with 512 GB of flash storage.
The entry level 13-inch MacBook Air can be upgraded with a 1.7GHz dual-core Intel Core i7 processor and 8 GB of RAM. The more expensive 13-inch model has the same upgrade options, along with 512 GB of flash storage.
MacBook Air vs. Retina MacBook Pro
Looking to get an Apple notebook? It can be tough to decide between the MacBook Air and the Retina MacBook Pro. If you're having trouble making a choice, make sure to check out our MacBook Buyer's Guide, which will walk you through all the differences between the two computers and help you decide which is best for you.
How to Buy
The MacBook Air can be purchased from the online Apple Store, from an Apple retail location, or from select Apple Authorized Resellers. Currently, all models of the MacBook Air ship within 24 hours.
Refurbished 2013 and 2014 MacBook Air models are available starting at $599 and can be purchased from the refurbished section of Apple's website at a discount.