MacBook Air
Apple's lowest-cost notebook starting at $999, available with a 13-inch display.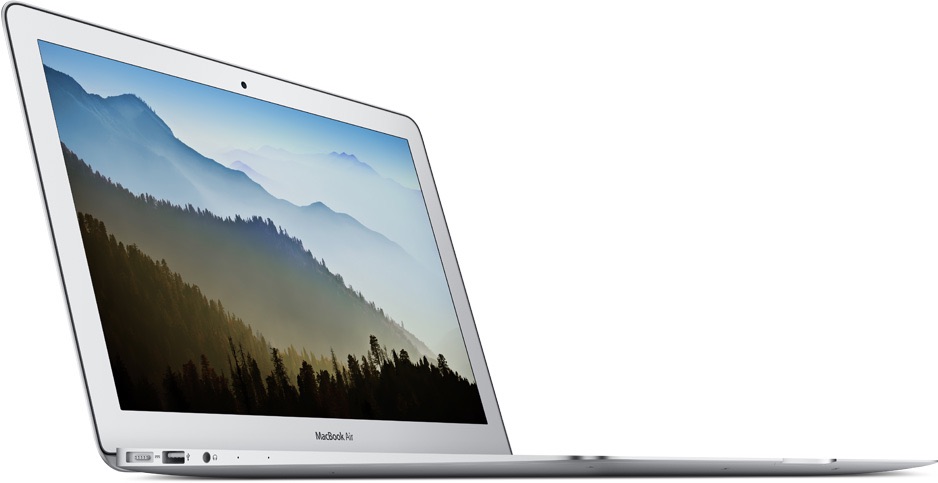 At a Glance
With the introduction of new MacBook Pro models on October 27, 2016, the MacBook Air lineup has been reduced to only 13-inch models that have not been significantly updated since March 2015. The ultra-portable notebook computers offer Intel Broadwell processors and Thunderbolt 2 connectivity. On April 19, 2016, the base 13-inch model was updated with 8GB RAM as a standard option.
Current Specs
13" screen sizes
1.6 or 2.2 GHz Broadwell processor
Intel HD Graphics 6000
128, 256, or 512 GB SSD
8 GB RAM
Starts at $999
Models
13.3-inch with 1440 x 900 Display:
-$999: 1.6 GHz Core i5 & 128 GB storage
-$1,199: 1.6 GHz Core i5 & 256 GB storage
This page is current as of
3 hours ago
What's Next for the MacBook Air
Apple appears to be working toward phasing out the MacBook Air, having discontinued the 11-inch model on October 27, 2016. The 13-inch model has also not seen a significant update since March 2015, only receiving a RAM bump on the base model in April 2016.
At this point, it appears Apple is simply keeping the 13-inch MacBook Air, which starts at $999, available as an entry-level option for budget-minded consumers. With the 2015 introduction of the MacBook and the freshly revamped MacBook Pro lineup carrying a thinner design, the MacBook Air has seen its role in Apple's lineup become significantly diminished. As a result, we expect it will see no further updates and will eventually be discontinued once pricing on the MacBook comes closer to the $1000 mark.
Prior to Apple's October 2016 media event, rumors had suggested that at least the 13-inch MacBook Air would be updated with USB-C ports, but it appears those rumors were actually referring to the new entry-level MacBook Pro that was ultimately introduced at the event.
The Current MacBook Air
Apple's MacBook Air is best known for its compact size, portability, and affordable price. With prices starting at $999, the MacBook Air is Apple's most affordable MacBook line.
Apple's MacBook Air notebook last saw a redesign in 2010, and the 13-inch model continues to weigh in at 2.96 pounds. The 11-inch model that had been offered since 2010 has been discontinued as of October 27, 2016.
The MacBook Air hasn't seen a full update since March 9, 2015, but in April of 2016, Apple updated all 13-inch MacBook Air models to include 8GB of RAM standard, an upgrade over the base 4GB of RAM the 13-inch MacBook Air used to ship with.
On March 9, 2015, the MacBook Air received an internal-only update featuring Intel's Broadwell processors with Intel HD Graphics 6000 and an upgrade to Thunderbolt 2 connectivity. The 13-inch model was also upgraded with faster flash storage.
With Broadwell processors, MacBook Air battery life has improved compared to previous generations, offering 12 hours of wireless web browsing and 12 hours of iTunes movie playback.
Unlike the rest of Apple's notebook lineup, the MacBook Air does not feature a Retina display, carrying a resolution of 1440 x 900. Both of Apple's more expensive notebook lines, the MacBook and the MacBook Pro, feature Retina displays.
Prices for the MacBook Air are the lowest in Apple's notebook lineup, with the entry-level model priced at $999. Upgrading the processor and flash storage can push the price as high as $1549.

Other MacBook Air specs include 802.11ac Wi-Fi, super fast PCIe-based flash storage, and integrated Intel HD Graphics 6000, with the ability to drive 4K displays at 60Hz. The MacBook Air also features Mini DisplayPort output, a Thunderbolt 2 port, two USB 3.0 ports, and an SDXC card slot. It has stereo speakers, a headphone jack, dual microphones, and a full-size backlit keyboard.
Broadwell Processors
Both stock configurations of the 2015 MacBook Air use a 1.6GHz dual-core Intel Core i5 processor, with Turbo Boost up to 2.7GHz. A 2.2GHz dual-core Intel Core i7 processor with Turbo Boost up to 3.2GHz is available on build-to-order models for an additional fee.
Geekbench benchmarks of the 2015 MacBook Air models suggest decent improvements over the previous-generation early 2014 and mid 2013 models, with score improvements generally in the 6-7 percent range. The high-end Core i7 chip does, however, demonstrate a nice 14 percent boost in multi-score benchmarks, making it a nice upgrade option for some customers.

The fact that processor performance improvements are generally modest is not a surprise, as Intel's Broadwell and Haswell processors largely focused on improving battery life and efficiency. Though processor speeds are only moderately improved, graphics performance has seen a greater jump with Intel HD Graphics 6000.
Flash storage
The MacBook Air comes with up to 512GB of PCIe-based flash storage that is twice as fast as in the previous model, with an SSD test using Black Magic's Disk Speed Test revealing average read/write speeds of 629.9MB/s and 1285.4MB/s.
Build-to-Order Options
The entry-level MacBook Air with 128GB of storage has only a single custom configuration, which includes a faster 2.2GHz dual-core Intel Core i7 processor for an additional $150. The more expensive stock model with 256GB of storage has the same processor upgrade option, along with an available $200 option to increase storage to 512GB.
How to Buy
The MacBook Air can be purchased from the online Apple Store, from an Apple retail location, or from select Apple Authorized Resellers.
Best Prices