MacBook Air
Recently updated to Haswell chips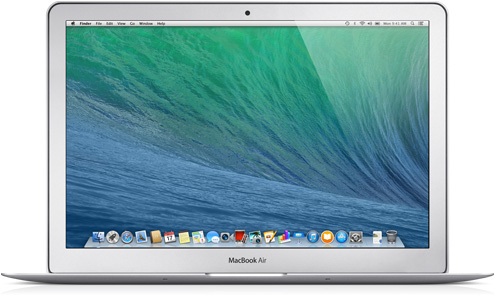 At a Glance
The MacBook Air is Apple's ultra-portable notebook computer that balances performance with portability, offering dual-core i5 processors and up to 12 hours of battery life in a thin, light package.
Current Specs
Dual-core Haswell processors
802.11ac Wi-Fi
PCIe flash storage options
4 GB+ RAM
128 GB+ flash storage
9–12 hour battery life
Intel HD Graphics 5000
Models
11.6-inch with 1344 x 756 Display: - $999: 1.3 GHz Core i5 & 128 GB - $1,199: 1.3 Ghz Core i5 & 256 GB 13.3-inch with 1440 x 900 Display: - $1,099: 1.3 GHz Core i5 & 128 GB - $1,299: 1.3 GHz Core i5 & 256 GB
What's New
Updated in June, the MacBook Air now features Intel's low-power Haswell processors, giving the notebook what Apple calls "All-day battery" life. The 11-inch MacBook Air lasts for up to nine hours, while the 13-inch model lasts for up to 12 hours, both with standard use.
With Mavericks, the most recent MacBook Air is able to last for more than 15 hours on a single battery charge, thanks to multiple power saving enhancements.
Though the energy-efficient Haswell processors give the MacBook Air impressive battery life, the speed gains are minimal. According to benchmarks, the new MacBook Air performs three to eight percent better than the previous generation.
MacBook Air is the industry leader for thin and light notebooks, and now with longer battery life, we've set the bar even higher. With faster flash, more powerful graphics and up to 12 hours of battery life, the new MacBook Air packs even more performance into the portable and durable design our customers love.

Phil Schiller, Apple SVP of Marketing
Details

The Haswell chips incorporate integrated Intel HD Graphics 5000, or "Iris" graphics that are a lot more impressive than the Intel HD Graphics 4000 found in the previous generation MacBook Air. According to Intel, its Iris 5000 Graphics offer double the performance of the Intel HD Graphics 4000.

PCI Express-based storage was introduced with the MacBook Airs, offering much faster read/write times. In a test performed by Anandtech, the MacBook Air reached read/write speeds of nearly 800 MB/s. Apple rates the PCIe storage as 9x faster than a traditional notebook hard drive and 45 percent faster than the flash storage in the previous generation Macbook Air.

The MacBook Air's overall performance is also enhanced by the inclusion of faster 802.11ac Wi-Fi. When connected to an 802.11ac base station, wireless performance is three times faster than with 802.11n. 802.11ac supports a theoretical transfer rate of 1.3 gigabits per second, a huge improvement over the 450 megabits per second of 802.11n.
Other MacBook Air Features
Apple's MacBook Air is known for its compact size and portability. The notebooks were last redesigned in 2010, and weigh just 2.38 pounds and 2.96 pounds for the 11-inch and 13-inch models, respectively.
The MacBook Air features Mini DisplayPort output, a Thunderbolt port, two USB 3.0 ports, and an SDXC card slot. It has stereo speakers, a headphone port, dual microphones, and a full-size backlit keyboard.
Build-to-Order Options
The entry level 11-inch MacBook Air can be upgraded with a 1.7Ghz dual-core Intel Core i7 processor and 8 GB of RAM. The more expensive 11-inch model has the same upgrade options, along with 512 GB of flash storage.
The entry level 13-inch MacBook Air can be upgraded with a 1.7GHz dual-core Intel Core i7 processor and 8 GB of RAM. The more expensive 13-inch model has the same upgrade options, along with 512 GB of flash storage.
How to Buy
The MacBook Air can be purchased from the online Apple Store, from an Apple retail location, or from select Apple Authorized Resellers. Currently, all models of the MacBook Air ship within 24 hours. Refurbished mid-2013 MacBook Air models recently became available and can be purchased from the refurbished section of Apple's website at a discount.
What's Next
Apple is rumored to be working on a 12-inch MacBook with a new ultra slim design and a high resolution Retina display. The first hint of such a product appeared in October of 2013, with KGI securities analyst Ming-Chi Kuo indicating the company would produce a 12-inch MacBook slimmer than even the existing MacBook Airs.
According to Kuo, such a product would boast the portability of the 11-inch model with the productivity of the 13-inch model, with a high resolution display and an improved clamshell structure. His reports were confirmed by NPD DisplaySearch, which indicated Apple was sourcing 12-inch displays for a MacBook Air.
The rumors were further enforced in March of 2014 with a second rumor pointing towards the same ultra thin 12-inch MacBook, which may come without a fan assembly for silent operation and with a revamped trackpad design that doesn't incorporate a mechanical button.
Digitimes recently suggested Apple plans to release a Retina MacBook Air in 2014, but the site did not specify whether the rumored Retina Air was the 12-inch model or an existing 11 or 13-inch model.
It is unknown how the 12-inch MacBook will fit into the MacBook Air lineup, as Apple already produces 11 and 13-inch versions of the portable notebook. It is possible it will coexist with those products, but it could also replace one or both. Either way, the company is expected to release a new MacBook Air product later in 2014, possibly towards the end of the third quarter.