Beaver Electronics Co. has debuted a unique fast-charging external battery for the iPhone, which it's dubbed "Quarter," because it takes less than a quarter of the time to charge compared to a normal external battery. The secret lies in the charging method -- Quarter has a built-in MagSafe port that allows it to be connected to MacBook's MagSafe Power Adapter.
Apple does not allow third-party companies to use its MagSafe technology, so Quarter has been created without Apple's permission and with components Apple likely would not approve of, but its super fast charging capabilities are undeniably enticing.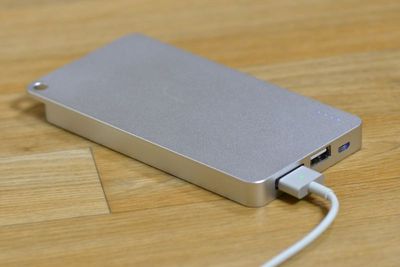 Design wise, Quarter is similar in size to an iPhone 6 Plus. It's just as wide and a bit shorter, but quite thick and heavy. It's 12.5mm thick and it weighs 180 grams. It's made from aluminum and has an an extra lip at the top with a hole that could be attached to a bag or backpack, but given its size, I'm not sure anyone would want to use it that way so that extra bit of material is extraneous and an unusual design choice.


There are four indicator lights on the Quarter that are lit by a built-in LED. These lights let you know how much power is left, activated by shaking or tapping the Quarter. A shake or a tap is also how the Quarter is turned on to begin charging a device it's plugged in to.




On one end of the Quarter, there's a MagSafe port, a USB port, and a micro-USB port. The USB port can be used to charge an iPhone or other iOS device, while the micro-USB port and the MagSafe port are both used to charge the Quarter itself. Charging with MagSafe is fast, but if the only available option is a micro-USB cable, it's also able to charge that way. As seen in the photo below, the ports on the Quarter don't quite line up, which is an unfortunate design decision.


The Quarter claims to charge much faster with MagSafe than an external battery that's charged over micro-USB, and in my testing, that was an accurate claim. It has a 5,000mAh battery and after draining it completely, it took about 35 minutes to charge to full capacity. I plugged it in at 3:35 p.m. and it was full just before 4:10 pm using a Retina MacBook Pro MagSafe Power Adapter. You'll need to supply all of your own cables, of course.


With a full charge, Quarter was able to charge my iPhone 6s Plus from a totally dead battery to 100 percent in two hours and 15 minutes. Charging my iPhone 6s Plus to fill used up approximately 3/4ths of the battery (with one bar left on the indicator), leaving enough to also charge my iPad from 78 percent to 87 percent. At that point, the battery pack was exhausted.
While the Quarter only has enough capacity to provide one charge for the iPhone 6s Plus, it will be able to provide more power to the iPhone 6 and the iPhone 6s, both of which have smaller batteries than Apple's larger devices. It will charge an iPad Air 2 or another iPad, but likely not to full.
According to the Quarter's advertising, it can garner enough power to charge an iPhone 5s after just 15 minutes of charging. This was also accurate. After draining the battery, I charged the Quarter for 15 minutes and then plugged it into a completely dead iPhone 5s. It was able to charge the iPhone 5s to full on that single 15 minute charge.


Charging the Quarter via MagSafe caused it to become uncomfortably hot, which was concerning. I wasn't able to measure the temperature, but it was hot enough that I wouldn't want to touch it or hold it in my hand when it's charging. When charging via micro-USB or when used to charge an iPhone, it stays cool to the touch.
To achieve fast charging via MagSafe, Beaver Electronics designed Quarter with a battery core voltage of 7.4V and redesigned the internal circuit. "We managed to reduce the internal resistance by optimizing the Li-Ion polymer battery," reads the site.
Beaver Electronics is also selling an optional MagSafe car charger that can be used to speedily charge the Quarter in the car. Though it has a MagSafe connector on the end, it's not suitable for charging a MacBook in the car.

Bottom Line
Quarter does exactly what it claims to do. It works with MagSafe and it charges in a fraction of the time that it takes standard external batteries to charge. Being able to charge an external battery enough to charge an iPhone 5s in 15 minutes or an iPhone 6s Plus in 30 minutes is undeniably useful.
On the downside, this is not an Apple-sanctioned product. Apple does not let third-party companies use its MagSafe technology, and there's certainly a chance that Apple could get sales of the product shut down.


Quarter is limited to 5,000mAh and it is rather large comparative to some of the other solutions that are on the market, but its relatively inexpensive pre-order price tag and its fast charging capabilities make it worth the cost.
Pros:
Charges fast
Enough capacity for a full iPhone 6s Plus charge
Optional car charger
Reasonably priced
Cons:
Not Apple approved
Gets hot when charging
Somewhat bulky
How to Buy
Quarter is available for pre-order from crowd-funding site Pozible for $39. The company plans to begin shipping orders out in the middle of November.