The Nomad Pod, with its built-in battery, is one of a small selection of Apple Watch stands able to offer functionality beyond simply holding the Apple Watch charger in a more accessible position. Priced at $60, the Pod is a compact, modern-looking Apple Watch stand that's small enough to fit in a backpack or bag and able to keep the Apple Watch's battery full when traveling away from the grid for a few days.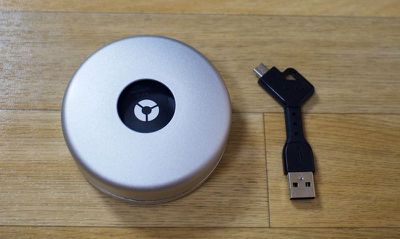 I've been testing the Pod for several weeks now to see how it stacks up against other Apple Watch docking options on the market, both as a travel companion and as a stand at home on my desk.

Setup and Design
The circular Pod is made up of two pieces: a plastic and aluminum base that holds the Apple Watch charger and cord in place, and an aluminum faceplate that snaps on over the base to hide the cord from view. The Pod is made from brushed aluminum in Silver or Space Gray that matches Apple's MacBook, iPhone, and iPad lineups, and its minimal design will let it fit into almost any decor.


Size wise, the Pod fits into the palm of a hand and is quite similar to a hockey puck both in diameter and thickness. It can potentially fit in a generously sized pants pocket or a jacket pocket, but its thickness and round shape makes that less than comfortable. At one side, there's a micro-USB port to charge the Pod itself, a button that activates the Pod's charging function, and a 4-LED indicator for displaying battery life. It also ships with a Nomad-branded micro-USB cable.




The Pod's setup instructions are overly simple, but setting up the Pod isn't difficult. You can start by placing the Apple Watch charger in the cutout in the Pod, or by plugging the USB end into the Pod's USB port. I recommend starting from the back, plugging the USB side in first. It's a little tricky to get it lined up right, but it didn't take me more than a few seconds to get it plugged in.


Once the USB side of the Apple Watch charging cable is in place, the next step is to wrap the cord around the outside of the Pod until there's little enough cord left that the Apple Watch charger can be put in place through one of nine grooves. The Pod ships with a foam insert, which needs to be used with the stainless steel Apple Watch charger because it's slightly thinner than the plastic charger the Apple Watch Sport ships with. That will make sure the Apple Watch charger sits flush with the Pod when the aluminum cover is in place.


With a 1m Apple Watch charger, winding up the cable around the base is no problem, but things are tricker with the longer 2m cord. With the longer cord, it needs to be wound very tightly or the aluminum cover won't fit properly. For that reason, I'd recommend using this with a 1m Apple Watch charger. With either variety, 1m or 2m, setting up the Pod is a lot easier than the other battery-equipped Apple Watch dock I reviewed, the Boostcase Bloc. Since set up is relatively easy, it's also not that much of a hassle to take the Apple Watch charger out when necessary.
Once the cord is wound up, the aluminum top piece of the Pod fits over the bottom part, hiding the cord from view for a neat, clean look. The cover snaps into place magnetically with two magnets, so it's not going to come apart in a backpack, and at the bottom, there's a rubber pad to hold it in place on a desk.


Due to the shape of the Pod, it's only going to work well with open-loop bands like the Apple Watch Sport. It's possible to use it with closed-loop bands like the Milanese Loop, but why spend the money on a stand that's going to require it to be opened flat when there are so many others on the market? For most users, the hassle of having to fully open a closed-loop band to use with the Pod isn't going to be worth it.


The Pod is not compatible with Nightstand Mode in iOS 9 because the Apple Watch needs to be flat to charge. That's going to be a deal breaker for some users, but not everyone is going to want to use Nightstand Mode.
For charging, the Apple Watch sits atop the Pod, with the bottom lined up with the embedded Apple Watch charger. It's simple to put the Apple Watch in the right position, and with the foam insert, my stainless steel Apple Watch had no problems charging on the Pod.

Battery Life
The Pod has an 1,800 mAh battery built in, which Nomad advertises as long enough to "get through a long weekend." That seemed about right in my testing. With the 38mm Apple Watch with a 205mAh battery, I got just over three full charges both times that I tested the Pod with a fully-charged Pod and an Apple Watch that had its battery drained.


The 42mm Apple Watch has a larger battery so the Pod may not give that device a full three charges, but most of us probably aren't draining our Apple Watches entirely on a day-by-day basis.
With passthrough charging, both the Pod dock and the Apple Watch can be charged simultaneously using the aforementioned mini Nomad micro-USB dongle. The micro-USB dongle is somewhat useful when traveling to charge through a MacBook, but for home use, a longer micro-USB cable would have been preferable.
Without a longer micro-USB cable, there's no way to charge the Pod while it's placed on a desk or a nightstand. It needs to be removed from the desktop and charged via MacBook or a USB charger plugged into an outlet, a task that I found to be a hassle. I used a self-supplied micro-USB cable so it could sit on my desk and I unplugged it and moved it around as necessary for charging on the go.


The Pod's wind-up design is nice because it hides the Apple Watch cable, but you're still going to have to deal with a micro-USB cord or fuss with charging it through the included micro-USB dongle.
When charging an Apple Watch with the Pod when it isn't plugged in, it's important to make sure to press the button on the side of the Pod to activate it. Without the button press, it's not going to charge the Apple Watch, something that I discovered after waking up to a dead device.

Bottom Line
The ultimate portable travel charger for the Apple Watch is the Apple Watch charging cable all on its own. It's light, takes up little space, and when most of us travel, we have access to something to plug it into. That said, for someone who often goes camping or takes short trips where there is no access to power, the Nomad Pod's built-in battery will keep the Apple Watch at full power.
For a lot of users, the Nomad Pod is not going to be a better solution than the Apple Watch charger paired with a higher-capacity standalone battery pack, because such a setup is a lot more versatile since it can be used to charge other devices. But for someone who wants portability, a built-in battery, and doesn't want to hassle with a loose 1m or 2m cable, the Pod is a good solution.


Having the Apple Watch cord out of sight is a plus, but the Pod itself still needs to be charged, so you're just exchanging one cable for another. The Pod's micro-USB dongle is arguably less convenient to use than the Apple Watch cord plugged directly into a wall, but someone who likes the look of a cordless desktop might not mind charging the Pod every couple of days.
I would not recommend the Pod for Apple Watch owners who use it primarily with a closed-loop band like the Milanese Loop, because having to open up the band each night and close it again in the morning is an extra, unnecessary step when there are other stands and other portable charging options available. I would also not recommend it to anyone looking to use Apple's Nightstand Mode, because it's incompatible.
Pros:
Built-in battery
Clean, cordless look
Solid construction
Simple set up
Portable
Cons:
Micro-USB dongle is too short
Micro-USB dongle is easy to lose
No Nightstand Mode
Not easily compatible with closed-loop bands
1,800 mAh battery only works for 3 charges
How to Buy
The Pod can be purchased from the Nomad website for $59.95. It's also available in Best Buy retail stores, but it's better to buy from Nomad directly as the Pod is priced at $70 from Best Buy.