Just months after the Apple Watch was released, there are dozens if not hundreds of different stand options available on the market. The Bloc Power Bank from Boostcase stands out due to its unique long, flat shape and the fact that it has a built-in battery pack that can charge the Apple Watch while on the go.
Made from solid aluminum, the Bloc Power Bank comes in Silver, Space Gray, Gold, Rose Gold, Wood, and Stainless Steel, to match all of the different Apple Watch options that are available. I went hands-on with the silver aluminum model to see how it measures up to other available stands on the market and whether the built-in battery is a useful function.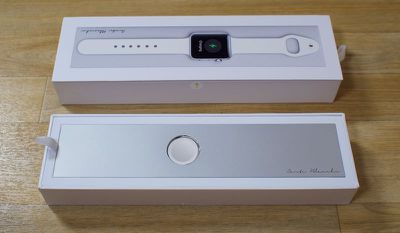 Design and Setup
As with all Apple Watch stands, the Bloc is designed to work with the charging cable that ships with the Apple Watch, and thus it does not include a built-in charging cable. Size wise, the Bloc is just under 10 inches long, just over half an inch thick, and two inches wide. It weighs 408 grams, or 0.90 pounds with both the battery pack attached and the Apple Watch charger in place.


If you're thinking that sounds both unwieldy and heavy, that's a correct assumption. At 10 inches long and nearly a pound in weight, the Bloc isn't exactly what I'd call portable, because it's not going to fit comfortably in a backpack or a purse. Since it's flat and rectangular, the Bloc can only be used with open-loop bands like the Sport Band, the Modern Buckle, and the Classic Buckle.




It's not going to be suitable for the closed-loop bands like the Milanese Loop, the Leather Loop, or the Link Bracelet because the Apple Watch needs to be able to lay flat on the surface to charge. It's well-made and sturdy, and the charger is slightly raised to prevent the Apple Watch from coming into contact with the aluminum. Because it lays flat, the Bloc is not going to support iOS 9's upcoming Nightstand Mode, a major negative if you plan to use the Apple Watch as a nighttime clock.


At this point, I've tested several Apple Watch stands and I can say without a doubt that the Bloc was the most difficult and frustrating to assemble. The Apple Watch charger is placed in a little rubber cap and fitted into a slot at the top of the Bloc, and then the cord is wound through the bottom of the Bloc in a maze-like way before the USB portion plugs into the included battery pack (which is removable).


Winding the cable through the Bloc took me several tries because it requires a precise fit. The cable needs to be incredibly tight and packed down all the way into the grooves in the Bloc stand, which is done with a little tool. When the cable isn't lined up exactly, it's not going to reach the USB port, and while it might sound easy to wind a cable, let me tell you, it's not.


In fact, winding that cable through the Bloc felt like I was doing an impossible puzzle and it took a good 20 minutes for me to figure out I needed to ignore the instructions and wind from the USB side and go backwards from there. I used a 1m Apple Watch cord but if you have a 2m cord, you're going to need to do the winding process twice over for double the frustration.


Given the intense cable management in the Bloc Power Bank, I'd plan to buy an extra cable for it. Most users are not going to want to remove the cable over and over again for use without the Bloc, so consider it permanently attached. I'm also not sure what twisting and pulling an Apple Watch cable around all of those curves does to it, but I'm sure it's not good.

The Battery Pack
Once the cable is in place, the Apple Watch and the battery pack included with the Bloc are charged together through a micro-USB cable that ships with the product. At 2,000 mAh, Boostcase promises the Bloc will be able to charge the Apple Watch to full four times over, which I found to be true in my testing.
With my 38mm Apple Watch, I actually got almost five full charges from the Bloc case, but it may be closer to four charges for the 42mm Apple Watch, which has a slightly larger battery. That means I could potentially take the Bloc case on a trip where I didn't have power and have a functional Apple Watch for nearly a week, but with the weight and size of the Bloc case, I'm not sure I'd want to do that.


Battery level on the Bloc is visible through three LEDs on the side of the device next to the micro-USB port, giving a rough estimation of how much battery is left.

Bottom Line
Boostcase's Bloc Power Bank is an enigma. It's a product that has a built-in battery that can charge the Apple Watch when you're away from home, but it's not portable enough to make that worthwhile, nor is there any kind of travel case included. It's great on a desk because it's slim, but on a desk, that built-in battery isn't exactly useful, and it's expensive compared to other options.


I don't know who would use this product because it seems to be solving a problem that doesn't exist. As someone who travels a lot, the shape and the weight of the Bloc eliminate it as something I'd pack because it's a whole lot heavier than just a standard Apple Watch charger. I might use it at my desk, but its inability to work with closed-loop bands limits its usefulness.
The built-in battery can be removed from the Bloc and used on a standalone basis with an Apple Watch or iPhone, but I'm not sure why anyone would want to use this solution over a dedicated battery pack. In fact, if I were to travel and need extra juice for my Apple Watch, I'd much rather take along my standalone Apple Watch charger and something like the Mophie Powerstation Plus, because that would be about the same price and a lot more portable.
Visually, the Bloc is attractive and its long design is unique, so I could see someone purchasing it as a desktop charger, but for most users, there are more practical, affordable Apple Watch stands available.
Pros:
Solid construction
Lots of color options
Battery charges Apple Watch to full 4 times
Cons:
Heavy
Oddly shaped
Doesn't work with all bands
Expensive
Frustrating to set up
Doesn't work with Nightstand Mode
How to Buy
Boostcase's Bloc Power Bank for Apple Watch can be purchased from the Boostcase website. There are six different finishes available, each priced at $79.95.