Logitech often works with Apple to introduce new accessories for Apple devices, and in early August, Logitech announced its latest product designed in collaboration with Apple, the new POWERED wireless charging stand for iPhone 8, iPhone 8 Plus, and iPhone X.
POWERED is an upright charging stand able to charge a compatible iPhone in either horizontal or landscape orientation. Made from a thick, heavy plastic material with a rubber coating to add grip, the POWERED has a horizontal rectangular back supported by a sturdy, angled base that offers just the right amount of stability.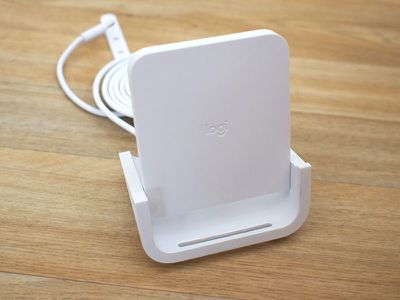 There are four feet on the base, and the same grippy material coats the bottom, so it stays secure on a desk when in use. The base is similar in size to your standard flat wireless charger, and because it's more of a square shape, it doesn't take up as much room on a desk or nightstand as a typical round wireless charger.
A small circular LED at the top of the POWERED lights up to let you know when an iPhone is in the correct position to charge, but a benefit to an upright charger is that it's almost impossible to put the iPhone in the wrong spot. With flat chargers, you sometimes need to shift the iPhone around to get the wireless coil in the charger lined up with the charging mechanism in the iPhone, but vertical stands like the POWERED eliminate that problem.


While the upright back of the charger looks like it might be adjustable due to the design, it's not. It holds the iPhone at a single angle that's tilted back slightly, which seems to be an ideal angle for glancing over at the time or watching a video. Because the sides of the base come up around the iPhone in a "U" shape, it always feels secure in the charger when it's in a vertical position.


The POWERED can also be used for charging in landscape orientation if you want to watch videos, which is handy, but it does feel less secure and prone to toppling over if bumped.
I used the POWERED with an iPhone X, but it's sized to work with the iPhone 8 and iPhone 8 Plus too. With the iPhone X and iPhone 8, there's about a fourth of an inch of space at the sides, while the iPhone 8 Plus is a tighter fit.


Rumors suggest all three of Apple's upcoming 2018 iPhones will feature wireless charging, and this charging stand will work with them. The largest of the three devices (the 6.5-inch OLED) is similar in size to an iPhone 8 Plus, which means it will fit in the POWERED.


Design wise, the POWERED from Logitech is similar to Belkin's Boost Up Wireless Charging Stand, but it has a somewhat smaller bottom base and a rectangular back rather than a circular back. Both hold the iPhone securely and at an ideal angle for video watching, so choosing one over another is just a matter of picking your favorite design.


There is a built-in 1.5-meter cord installed in the POWERED, and Logitech includes a power adapter similar in size to an iPad power adapter. Designed specifically for Apple devices, POWERED offers the faster 7.5W charging available to Apple iPhones.


Depending on external factors like temperature, 7.5W charging isn't always much faster than 5W charging, but there's usually enough of a difference that it's worth choosing a 7.5W charger over a 5W charger.


To test the POWERED, I drained the battery of my iPhone X to 1 percent and then left it on the charger for an hour in airplane mode. In that time, it charged up to 36 percent, which is the same general charging level that I've seen with other 7.5W chargers using the same test. During the winter, I've seen charging speeds up to about 46 percent with 7.5W chargers, but in summertime temperatures in my office (74 to 75 degrees), ~35 to 40 percent is the norm.
Logitech calls the POWERED the first wireless charger "truly worthy of iPhone" presumably because of the hassle-free U-shaped vertical design, but as far as charging speed goes, it's equivalent to other 7.5W charging options.

Bottom Line
I have zero complaints about the POWERED from Logitech, aside from the price tag. It's a nice charger that has all of the features I could ask for: drop and go functionality that prevents me from having to hunt for the coil, portrait and landscape orientation so my iPhone can sit upright, 7.5W charging speeds, and a sturdy base.
Unfortunately, it's priced at $70, which is expensive and can be hard to justify when there are so many wireless charging options on Amazon that are in the $20 to $40 range.
The POWERED and the similar Belkin Boost Wireless Charging Stand are the best wireless charging accessories that I've used, though, and I do think it can be worth shelling out extra money to get a higher quality stand.
With many of the flat wireless charging pads, I have to shift my iPhone around to get it in just the right spot for charging. I've run into instances where I think the iPhone is charging and it's not, or it starts charging and then gets bumped and knocked out of the proper position, something that's impossible with the POWERED because the U-shaped cradle guides iPhone placement.
If you have similar issues with flat wireless chargers, the POWERED may be worth checking out because it solves a lot of the pain points that come with wireless charging.

How to Buy
Logitech's POWERED wireless charging stand can be purchased from the Logitech website or from Apple.com for $69.99.
Note: Logitech provided MacRumors with a POWERED wireless charging stand for the purpose of this review. No other compensation was received. MacRumors is an affiliate partner with Logitech. When you click a Logitech link and make a purchase, we may receive a small payment, which helps us keep the site running.