Logitech Unveils 'POWERED' Wireless Charging Stand for iPhone 8, iPhone 8 Plus, and iPhone X, Designed in Collaboration With Apple
Logitech has announced a new wireless charger for iPhone 8, iPhone 8 Plus and iPhone X that aims to make it easier to use your smartphone while charging it at the same time.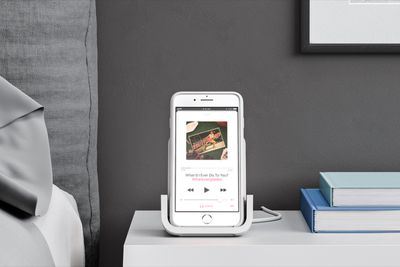 Designed "in collaboration with Apple", Logitech's POWERED Wireless Charging Stand can be placed on a desk or bedside table, and can hold your iPhone in an upright position – ideal for unlocking Face ID and reading notifications without removing the device from the U-shaped cradle.
Two additional features distinguish the POWERED from most other charging stands on the market: First, your device doesn't have to be in exact alignment with the stand to complete the charging circuit, so you can "drop your iPhone on the cradle and go", according to Logitech.


Second, the POWERED also supports landscape orientation, so you can watch video on your smartphone's screen while it's charging. The stand also charges iPhones wearing a protective case up to 3mm thick.
Logitech says the POWERED delivers up to 7.5W charging for iPhone 8, 8 Plus, and X only, and up to 5W charging for all other Qi-enabled devices. The stand will be available this month in an "off-white" color for $69.99 at Logitech.com and Apple's online store. Stay tuned for a review of the POWERED here on MacRumors.
Today's announcement shouldn't affect Apple's plans to launch its multi-device AirPower charging mat before or in September.