LaCie's new 4TB Rugged RAID Thunderbolt hard drive, first announced during CES, is the company's latest product in its iconic Rugged collection. Like all of the Rugged products from LaCie, the Rugged RAID is encased in a bright orange rubber for maximum protection.
LaCie is calling its $419.99 Rugged RAID the one of the fastest HDs available on the market, with upload speeds that reach 240MB/s. It includes two 2TB hard drives with RAID 0/1 options to optimize for speed or data security, plus an integrated Thunderbolt cable.
The Rugged RAID Thunderbolt hard drive is available for purchase
from LaCie.com
beginning today, and ahead of the release, we went hands-on with it to give
MacRumors
readers a look at its design, speed, and features.
What's in the Box?
The LaCie Rugged RAID ships with the 4TB hard drive itself, which includes a protective orange rubber cover, a spare port cover, a quick start guide, a USB cable, and a power adapter for use when the hard drive is plugged in via USB 3.0. There are also several plug adapters to accommodate travelers.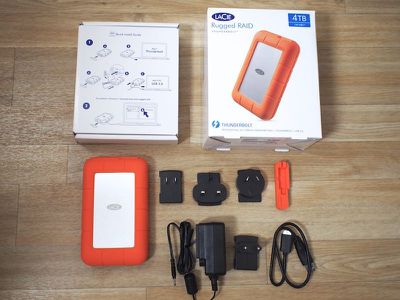 With Thunderbolt, the Rugged RAID is bus-powered and does not require the power adapter to function.

Design and Features
For a 4TB hard drive that's also shock, dust, and water resistant, the LaCie Rugged RAID is impressively portable. It's not that much bigger than LaCie's existing Rugged hard drives, measuring in at 1.3 x 3.6 x 5.8 inches and weighing 1.2 pounds. At that size, it fits into a purse, bag, backpack, or suitcase for travel.

Some of you may already own a LaCie Rugged hard drive or have seen one in person, but for those of you who have not, the hard drive comes sheathed in a protective rubber sleeve that's an attractive shade of bright orange. The sleeve surrounds the edges of the inner brushed metal hard drive and it is textured to add grip.


Around the edges, there's an opening where the built-in orange Thunderbolt cable can be tucked in when it isn't in use, and there's a removable cap at the top to cover the Thunderbolt connector and the USB port. LaCie includes an extra one of these just in case you happen to lose one.


The built-in Thunderbolt cable is easy to pull out of the grooves of the rubber sleeve when plugging in the hard drive and it tucks back in quickly when you need to pack up. With some hard drives that have included cables, it's tough to get them wrapped back up, but that's not the case here. Integrated cables are nice because you can't lose them and they're always on hand. The Thunderbolt cable is over 12 inches and is a good length, but the included USB power adapter's cable is a bit too short considering it needs to be plugged in to an outlet. The USB 3.0 cable is also on the short side, but the USB 3.0 options are nice to have as a backup if you need to transfer data to a computer without a Thunderbolt port.


With the rubber sleeve and the protective port cover, the Rugged RAID has a dust and water resistance rating of IP 54. That equates to limited protection against dust and splashing water, so you're not going to want to throw the Rugged RAID in the pool, but it'll survive a splash from the sink or a bit of rain.


When not operational, the Rugged RAID can survive drops of up to five feet, so it should be safe enough when carried in a backpack or suitcase during travel, and it successfully survived several drop tests conducted by us onto various surfaces like concrete and wood.
According to LaCie, the Rugged RAID can withstand being run over by a 1-ton car, a claim we did not test. That particular durability metric is used by the company to assure users that the hard drive will survive real world usage scenarios like being crushed under stacks of suitcases in an airplane's cargo hold or dropped to the floor and stepped on. We sat on it, stepped on it, and stuck it under a heavy sofa, and it came out unscathed.
LaCie's existing Rugged line is known for its physical durability, which is why the hard drives are popular with professional photographers, video makers, and other creatives. Data is often stored on several LaCie Rugged drives at the end of a photo or video shoot because they can hold up to being shipped, tossed around, dropped, and transported all over, and the same is true of the Rugged RAID.


Inside the Rugged RAID, there are two 2TB drives to support RAID 0/1 options, optimizing either for speed and storage space or data redundancy. There is no way to replace the hard drive as an end user without voiding the warranty of the product, but the drives inside can be accessed after removing the screws.
The Rugged RAID is bus-powered when connected via Thunderbolt and does not require an external power source, but when connected via USB 3.0, it will need to be plugged in so there's enough power for both drives.

Software and Performance
When the Rugged RAID is plugged in for the first time in a Mac or Windows machine, it prompts you to open the included LaCie Setup Assistant to get the hard drive up and running. The first setup option helps users partition the drive, either for use entirely with Mac systems or for use between Mac and Windows systems. Choosing a Mac only setup opts for the HFS+ format, while choosing a dual setup uses the FAT32 format.


HFS+ is not compatible with Windows machines, and while FAT32 is compatible with both systems, it limits the maximum single file size to 4GB. Windows users also have an NTFS formatting option.
From there, LaCie asks users to register and activate their warranties before moving on to a screen that allows included LaCie software to be installed. LaCie offers the Intego Backup Assistant for backing up files and the LaCie Desktop Manager for managing multiple LaCie devices from any computer. Installation is optional.


By default, the Rugged RAID is set to RAID 0 to take advantage of the full 4TBs of disk space, but it can be configured to RAID 1 by following LaCie's instructions. There are two tiny RAID select and confirm buttons on the bottom of the hard drive, which must be pushed with a paperclip, a process that's a bit of a hassle. Pressing twice on the RAID select button changes the RAID configuration, and pressing again the confirm button sets it. A blinking or solid LED indicates the RAID setting, but you need to pull back the rubber skin to see it. You'll need to do this when connected over Thunderbolt.


According to LaCie, the Rugged RAID should see read/write speeds of up to 240mb/s in Raid 0 and read/write speeds of 115/120 in RAID 1. In our testing with an HFS+ format, we did indeed see read/write speeds in RAID 0 that were right around 240mb/s on average over Thunderbolt. With USB 3.0, write speeds were around 240mb/s, but read speeds were 230mb/s on average.
RAID 1 write speeds averaged around 120mb/s with both Thunderbolt and USB 3.0, but read speeds were slower for us, averaging around 100mb/s with Thunderbolt and 97mb/s with USB 3.0.

Who's it For?
The LaCie Rugged RAID is geared primarily at photographers and other media professionals who travel often, need RAID data protection, a sizable amount of storage space, and a hard drive that will hold up to daily wear and tear. This is a hard drive that can be shipped, thrown in a suitcase, or taken along in a backpack to locations that would be hazardous for more fragile external storage options.


If you're a creative professional that already uses LaCie Rugged drives for storing data and you don't need SSD speeds, upgrading to the LaCie Rugged RAID is a no-brainer for the extra protection against a hard drive failure.
The LaCie Rugged RAID is also a solid choice for any frequent traveler looking for a high-capacity hard drive that's going to survive a few bumps and bruises. It's compact, it offers data protection, and it's not prohibitively expensive. Even if you're only traveling from home to work, it's worth knowing the hard drive you're carrying will be okay if you drop your bag.
Pros:
Compact for a 4TB hard drive
Built-in Thunderbolt cable
Water, dust, and shock resistant
Consistently good read/write speeds in line with specifications
RAID 0/1 options
Cons:
Not bus-powered when using USB 3.0
Cap is easy to lose
Bright orange design might not be appealing to all
Hard drives not easily user replaceable
How to Buy
The Rugged RAID can be purchased from the LaCie website for $419.99. It's also available from Amazon and MacMall for $399.99.