Apple's 42mm Stainless Steel Link Bracelet is arguably the most luxurious Apple Watch band available, but at $449 it may be worth considering similar but less expensive third-party options available. Enter JUUK, a new company that aims to fill that niche with its lineup of Revo stainless steel link bracelets for under $200.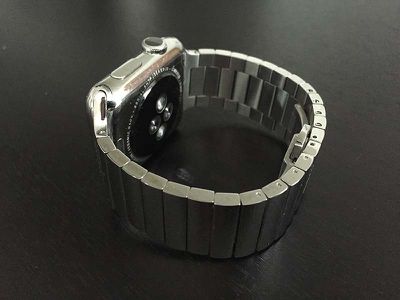 JUUK, pronounced "juke," is a watch company created by Eugene Ho, a Canadian with nearly two decades of experience in the watch industry. Ho, who moved to Hong Kong in 1997 to establish Pacific Watchworks, has worked on popular brands including Hugo Boss, Tommy Hilfiger, Timberland, Ecko, Reebok and many others.
"During that time, I've developed great relationships with some of the top watch component factories," Ho told MacRumors. "This means that I'm not an Apple accessories vendor trying to make watch bracelets. I'm not a guy coming off the streets trying to make watch bracelets. The watch industry is in my blood, and developing high quality watch components is all that I know professionally."
Revo stainless steel link bracelets for Apple Watch are offered in polished, brushed or gunmetal finishes for between $145 and $195. A trio of 42mm bracelets are available to ship immediately, while 38mm bracelet pre-orders will ship in late January 2016. 42mm polished or brushed spare links are also available for $12 each.
Given the popular adage "you get what you pay for," this review will take a closer look at the design and fit of the 42mm Polished Revo model, $195, to see how it compares to Apple's 42mm Stainless Steel Link Bracelet.

Design
JUUK's 42mm Revo has a premium look and feel. The link bracelet is crafted from 316L stainless steel, the same grade used by Apple and many Swiss watchmakers, and this particular model has a lustrous all-polished finish. The modern design closely matches the stainless steel Apple Watch's polished case, but like other bracelets of its kind, it collects fingerprints easily and is more susceptible to surface scratches.


In my two weeks of testing the Revo, being careful not to graze it on any hard surfaces, the bracelet still collected some surface scratches visible in natural light. The underside of the Revo is brushed to better hide those blemishes, a common practice in the watch industry for polished bracelets, but opting for the 42mm Brushed Revo entirely may be the better option for Apple Watch users who are less vigilant.
While Apple began selling "Made for Apple Watch" lugs for official third-party bands in October, the Revo has unofficial adapters on each end of the link bracelet that slide into the Apple Watch casing with ease. The adapters have locking mechanisms on the underside that must be pressed in for a secure fit. Some third-party Apple Watch lugs do not fit very well, so I was pleased this bracelet worked without any issues.


The link bracelet has a width of just under one inch throughout, and is about 1/8" thick, compared to the tapered design of Apple's 42mm Stainless Steel Link Bracelet. The thicker bracelet looks modern and sleek, and isn't overly heavy, in line with the premium craftsmanship I expect from Apple products. There is an embossed JUUK logo on the bottom of the bracelet that I could do without.

Fit
The 42mm Revo link bracelet fits wrist sizes up to 214mm or 8.42 inches, while Apple's 42mm Stainless Steel Link Bracelet fits 140–205mm wrists for comparison. Apple also sells a 42mm Link Bracelet Kit for wrists that exceed 205mm. Revo bracelet links do not have Apple's simple release button for link adjustment, but JUUK does eschew cheap friction pins for the costlier screws usually found in luxury watches.


The bracelet was simple to adjust and fit comfortably after I removed about five or six individual links. There is a tiny space between each link, giving the bracelet some flexibility, which is important since your wrist size can change slightly throughout the day based on environmental and physiological factors. The looseness also prevents the Revo from pinching your wrist hair.


One of the most impressive features of the JUUK Revo, and something that makes it more expensive than some third-party bands, is its 316L stainless steel double push button butterfly mechanism, allowing the bracelet to slide on or off your wrist with ease. Some other bracelets use a cheaper folded steel buckle to keep the cost down, but JUUK aims for a higher level of fit and finish.

Value
JUUK sells the 42mm Polished Revo for $195, which is $254 cheaper than Apple's 42mm Stainless Steel Link Bracelet. For perspective, that is enough for an entire Apple Watch Sport during Best Buy's current $100 off sale. JUUK provides free next-day international shipping, including tracking information, with every purchase via Hong Kong Post. All prices are listed in U.S. dollars.
JUUK provides a 2-year limited warranty covering manufacturing defects, and also offers a 100% refund within 2 weeks of the purchase date provided the bracelet is in its original packaging and has never been used before. The bracelet is not a Kickstarter project, so 42mm Revo models ship the next business day as opposed to the long lead times some crowdfunded products have.
Overall, the premium look and feel of the 42mm Revo makes it a worthwhile purchase, and I personally recommend that prospective buyers of Apple's 42mm Stainless Steel Link Bracelet consider this $195 bracelet before making that purchase. A small screwdriver and JUUK microfiber cloth are included in the box.

Bottom Line
JUUK's 42mm Polished Revo earns a stamp of approval as a less expensive yet quality alternative to Apple's 42mm Stainless Steel Link Bracelet.

Pros
Premium look and feel

316L stainless steel matches Apple Watch casing

Double push button butterfly mechanism

Costlier screws for length adjustment

Nice packaging with small screwdriver included

Apple Watch adapters have locking mechanisms

$195 for link bracelet

Free next-day international shipping

Two-year limited warranty and two-week return policy

Cons
Polished finish collects fingerprints and smudges easily

Polished finish is more susceptible to surface scratches

JUUK logo may be an eyesore for those looking for an unbranded bracelet

How to Buy
The 42mm Polished Revo can be purchased through JUUK's website for $195 with free international shipping available.
JUUK is offering MacRumors readers 10% off 42mm Revo models using coupon code MACRUM until December 31, 2015. The discount is not valid for 38mm models.
MacRumors is not an affiliate partner with JUUK and receives no compensation for this review or any purchases made through the JUUK website.