While the stainless steel Link Bracelet is one of the nicest looking Apple Watch bands available, it is also the most expensive with a $449 price tag for the 38mm or 42mm version. For comparison, you could purchase an entire Apple Watch Sport for $100 less than the Link Bracelet.
But for those looking to give their Apple Watch more of a premium Rolex-like appearance without breaking the bank, look no further than the HyperLink Stainless Steel Link Bracelet from HYPER by Sanho Corporation, which launched today on crowdfunding website Kickstarter with a $50,000 funding goal.

Design
HyperLink is crafted from the same 316L stainless steel alloy used for the Apple Watch, providing the band with added strength and corrosion resistance. The metal is also water and sweat resistant, allowing you to carry out everyday tasks such as showering, washing your hands or jogging without worrying -- although you're probably still better off wearing a Sport Band for the latter.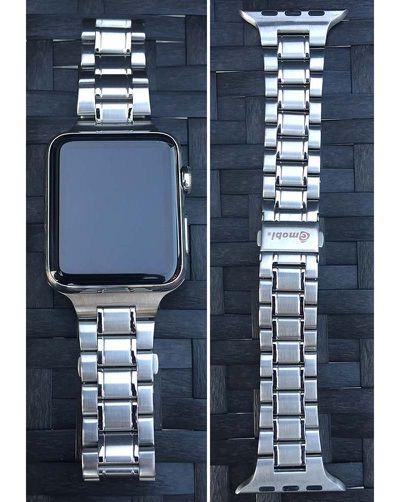 The Swiss-inspired band has a unisex link bracelet design available in three models: 42mm Space Black, 38mm Silver and 42mm Silver. 38mm in Space Black is also listed as a possible stretch goal on Kickstarter, although no specific funding level is listed. The 42mm Silver model that I tested closely matched the look and feel of my stainless steel Apple Watch -- well beyond my expectations for a non-Apple band.
The silver HyperLink that I tested has a lustrous appearance on the outside, while the inside is flatter in comparison. Meanwhile, the Space Black model has an additional diamond-like carbon (DLC) layer added for a sleek, durable and scratch resistant finish. The band, slightly thinner than a Sport Band, did not attract any noticeable scratches or scuffs after wearing it over the course of one week.

Fit
When I first tried on the HyperLink, I immediately noticed that it was well oversized for my wrist. But like most stainless steel bands, it is possible to remove individual links by inserting a very thin-pointed screwdriver or tool into the pinholes on the side to pop out the pressure-sensitive pins holding the bracelet together. Disappointingly, no such tool was included alongside the band.


Fortunately, I found an adjustable screwdriver laying around the house that was thin enough to pop out the pins holding together individual links. The process was rather simple and should be familiar to anyone that has ever owned a common stainless steel wristwatch before, but the lack of a tool included in the box is definitely something to consider when choosing between stainless steel bands.
HyperLink is precision CNC milled to fit the Apple Watch, and the results are favorable. Unlike some third-party bands, the adapters on HyperLink slide into the Apple Watch as effortlessly as official bands sold by Apple. The band also has a convenient quick clasp mechanism that enables you to quickly put on or take off your Apple Watch -- much faster than the Classic Buckle or Sport Band in my testing.


For the first few days, I wore the HyperLink rather tight against my wrist and noticed some pinching of my skin when closing the quick clasp mechanism, but otherwise the band was comfortable, lightweight and did not catch my hair. I have since added one link back to the band for a more loose and relaxed fit that gives the Apple Watch some flexibility on my wrist and makes it easier to take on and off.

Bottom Line
HyperLink is a premium yet affordable Apple Watch band that receives my recommendation, especially at its $49 early bird price; even at its $69 or $99 price points, it is a worthwhile option -- with only a few drawbacks -- to consider among third-party Apple Watch bands.


HYPER by Sanho Corporation also has a reputable track record of successful crowdfunding campaigns on Kickstarter and Indiegogo, including CloudFTP, iStick, Pearl (Kickstarter), Pearl (Indiegogo), iPin for iPhone/Android, iPin for iPhone and HyperDrive for MacBook. The campaigns have altogether raised over $1.6 million.
Pros:
Affordable ($49-$99)
316L stainless steel
Precision CNC milled to fit Apple Watch
Polished, scratch-resistant design
Lightweight and comfortable to wear
Water and sweat resistant
Quick clasp mechanism
Adjustable links
Cons:
No link adjustment tools included
GMobi logo on link bracelet is an eyesore
How to Buy
HyperLink is $49 on Kickstarter in any size or color for the first 1000 early bird pledgers, at which point the price rises to $69. The regular retail price will be $99 following the crowdfunding campaign.
HYPER is also offering bulk deals on the HyperLink through Kickstarter, including two bands for $98, three bands for $147, five bands for $245, ten bands for $490 and larger reseller packages.
HyperLink's crowdfunding campaign runs from August 25 to September 30, with early bird and regular rewards expected to ship in October and November respectively. The band will be shipped to retailers in December and sold for $99.