A few weeks ago, ESR launched a Kickstarter campaign for a new 100W 6-in-1 Charging Station, offering support for charging an iPhone via MagSafe, Apple Watch with fast charging, and AirPods, plus three additional ports (two USB-C and one USB-A) for charging additional devices. The campaign runs through September 1, and ESR recently sent me a preview unit to test out.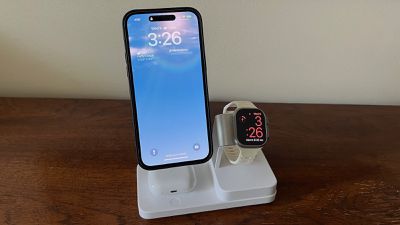 While my review unit arrived in a plain white box with no manuals or other documentation, ESR says the unit itself is identical to the final production units, so it should be reflective of what campaign backers will see when shipments begin in October.
My initial impression of the 6-in-1 Charging Station is that it's a bit on the large side, but perhaps that shouldn't be unexpected considering the number of devices it supports and the fact that all of the hardware is built into the base of the charger with only a removable 6-foot standard power cord rather than requiring a separate bulky power adapter. But if you've got enough room on your nightstand or desk, the bulk shouldn't be a major issue.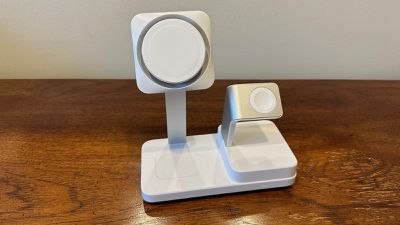 The charging station is made primarily of a relatively plain "Arctic White" matte plastic, although I would have preferred a black or gray color to blend in a bit more and perhaps be a little less prone to picking up smudges and other dirt over time. The only exceptions to the white color theme are the arms for the ‌iPhone‌ and Apple Watch chargers, which are a matte silver color that offers a nice bit of visual interest.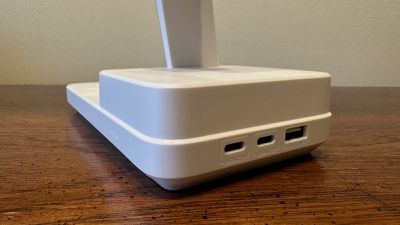 The overall design is fairly simple with a bit of tiering going on, starting with a baseplate that tapers toward the bottom, making it look thinner than it really is. The left side of the plate includes the arm of the ‌MagSafe‌ phone charger and a depression for AirPods charging, while the right side includes a second tier of the base where more of the charging hardware is housed, with the Apple Watch charging arm sticking up out of that. The three USB ports are located along the right side of the baseplate, which can be a positive or a negative for cable routing depending on your setup.
The phone sits up fairly high on the charging arm, which gives plenty of clearance for slipping AirPods into their charging spot below, but could also lead to setup challenges if you're planning to use it on a desk in front of a display, for example. When mounted on the charger, the top of my iPhone 14 Pro Max is about 9.25 inches above the desk or table surface, compared to several other ‌MagSafe‌ multi-device chargers I've used over the years that put the phone height more typically in the range of 6 inches to 7.5 inches.
The ‌MagSafe‌ charger includes ESR's "CryoBoost" technology, which includes a fan surrounding the ‌MagSafe‌ charging surface that's intended to keep your device cooler, allowing it to maintain maximum charging speed rather than having to ramp down the wattage to prevent damage from overheating.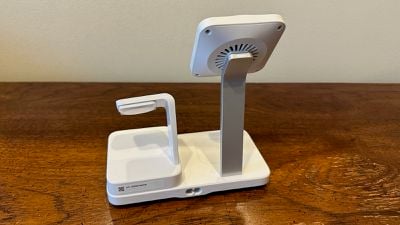 In my testing with a phone not in active use, I didn't find any difference in speeds when charging an unattended ‌iPhone 14‌ Pro Max from 20% to 90% compared to using Apple's ‌MagSafe‌ charger, with both chargers taking around 85 minutes. That's better than some other third-party ‌MagSafe‌ chargers, so it's good to see ESR's charging hitting maximum performance.
Where CryoBoost does make a difference is if you're trying to simultaneously charge and use your ‌iPhone‌ for watching video or using other apps that generate more heat. For example, leaving a fairly battery-intensive idle game running on my phone saw ESR's charger able to boost the battery level from 20% to 91% over a period of two hours, while the phone remained fairly cool. Trying the same thing with Apple's first-party ‌MagSafe‌ Charger saw the battery level only reach 57% over the same time period while the charger and phone became quite warm.
The CryoBoost fan is pretty quiet, and even at night in a quiet room with it on my nightstand I could barely hear it over the sound of crickets outside. But if you're in a particularly quiet environment and the fan noise is too much for you, you can easily turn it off by hitting a button on the charging base next to the AirPods charging spot. Otherwise you can consider it just a bit of white noise.


I did need to use that button nightly, but not for the fan. The charger also includes a blue LED light around the ‌MagSafe‌ pad that lights up while your device is charging. It's kind of a cool effect, but it can be distracting in a dark room when you're trying to sleep. That button on the base turns off both the light and fan, but it's not a permanent solution as you'll have to hit it each time you dock your phone.
The AirPods charging spot includes some magnets, so if you have an AirPods model with ‌MagSafe‌ in the charging case, it'll snap right into place on the charger, which is nice. There's an LED on the front of the baseplate that lets you know the AirPods are charging and blinks if they're not quite seated properly on the charger. It's tiny and quite dim, so it's a nice balance that provides the necessary information while I didn't find it to be distracting at night.
When it comes to the Apple Watch charging functionality, ESR says it supports Apple's fast-charging standard for Series 7, Series 8, and Ultra, and I did find that to be the case. ESR's charger took just 40–45 minutes to charge my Apple Watch Ultra from 20% to 80%, right in line with Apple's first-party USB-C Apple Watch fast charging cable. That's faster than the ~60-minute times I've seen with some other third-party chargers that claim to support fast charging and other tests sometimes approaching three hours with standard-speed chargers.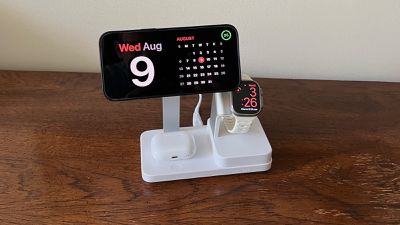 Moving on to the additional USB ports, I mentioned in my initial coverage of the Kickstarter launch that things get a bit complicated in terms of available power, simply because there is a maximum of 100 watts available to all devices being charged on the station. So if everything is in use, you'll only get 40 watts to the first USB-C port, 20 watts to the second USB-C port, and 5 watts to the USB-A port, with the remaining power going to the ‌iPhone‌/AirPods/Apple Watch chargers. But if you only have a single device connected to one of the USB-C ports, you can get up to the full 100 watts delivered to that device.
What all of that boils down to is that you may not want to use this charging station to keep a MacBook Pro charged up while also trying to recharge or power other devices, although a MacBook Air should be okay. If you've got an iPad or a Nintendo Switch or other accessories that need charging, this will work just fine.
ESR's Kickstarter campaign quickly blew past its modest initial goal and has already raised roughly $200,000 in pledges from over 1,000 backers. The limited Super Early Bird pricing has already run out, but the Early Bird tier remains available with discounted pricing of around $154, compared to the future retail price of $179. Shipping is an additional $10, and all orders are planned to be shipped in October.

Other Options
For those interested in other certified ‌MagSafe‌ charging options, ESR has also recently launched a 25W 3-in-1 Wireless Charger that is essentially the same general design as the 6-in-1 station but without the extra USB ports and without some of the extra bulk needed to support them.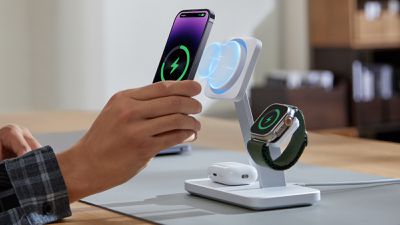 25W 3-in-1 Wireless Charger
As with the 6-in-1 station, ESR says the CryoBoost technology in the 3-in-1 charger significantly cuts down on charging time under load, with an ‌iPhone 14‌ Pro being charged to full in just over three hours while a video is being played, compared to a traditional Apple-certified ‌MagSafe‌ charger which took four-and-a-half hours to get the phone to 80% before stopping due to heat. The 25W 3-in-1 Wireless Charger is normally priced at
$119.99 on Amazon
, but there's currently a 10% off on-page coupon that can be combined with a MacRumors-exclusive 10% off promo code ESRPR10OFF to bring the price down to $95.99.
And for use in the car, there's a 15W ‌MagSafe‌ Car Charger with CryoBoost that clips onto your car's air vent and includes a USB-C cable and a 40-watt dual USB-C car adapter. With ESR's CryoBoost technology included, the company says it has shown significant improvement in charging speeds compared to other chargers when used under load.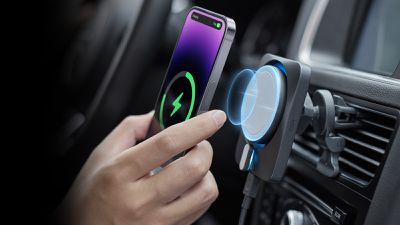 15W ‌MagSafe‌ Car Charger with CryoBoost
Independent testing has shown the CryoBoost charger can charge an ‌iPhone 14‌ Pro to full in just over two hours while using a navigation app, while a traditional ‌MagSafe‌ charger spent eight hours charging the device before giving up at 94% due to overheating. The 15W ‌MagSafe‌ Car Charger is normally priced at
$99.99 on Amazon
, but with a $5 on-page coupon and a MacRumors-exclusive 10% off promo code ESRPR10OFF, you can bring the price down to $84.99. If you prefer to order
direct from ESR
, discount code affj20 will drop the price to $87.99 there.
Note: ESR provided MacRumors with the 100W 6-in-1 Charging Station for the purpose of this review. No other compensation was received. MacRumors is an affiliate partner with ESR and Amazon. When you click a link and make a purchase, we may receive a small payment, which helps us keep the site running.