Fueled by the popularity of Nest, thermostats remain one of the more popular categories of smart home devices. I recently took at look at Honeywell's Lyric Round thermostat with HomeKit support, and today I'm following up with Emerson's latest HomeKit model, the Sensi Touch.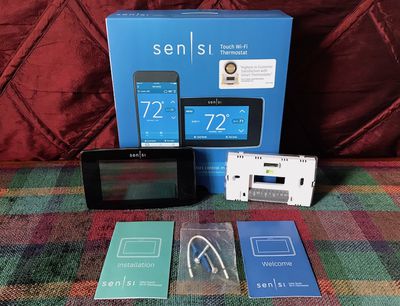 Announced back in May and launched in June, the Sensi Touch offers a horizontal design with a color touchscreen taking up much of the front of the device. Aside from onscreen controls, the Sensi Touch can also be managed via app or through HomeKit, offering a number of options for controls.

Installation
I've had a bit of previous experience swapping out thermostats, so I was already familiar with what needed to be done, and all told it took me less than 30 minutes to remove my old thermostat and get the Sensi Touch installed. After making sure the circuit breakers for my heating and air conditioning system were turned off, I launched the Sensi app on my iPhone and it walked me through all of the steps to get up and running.


It's a great setup process, with easy to follow instructions that integrate with the iPhone's Camera app to take a photo of your existing thermostat wiring for reference, as well as a terminal picker that lets you tell the app exactly which wires your current system uses so that it can guide you in connecting the Sensi Touch.


As with most other thermostats, the Sensi Touch comes in two pieces, a rear plate that is screwed to the wall and contains the terminals for the wiring coming out of the wall, paired with a main body that snaps onto the rear plate for a clean look.
The Sensi Touch's rear plate is well designed, using small paddles under each terminal to secure the wires in their terminals. The paddles are big enough to press with your finger, yet the terminal array remains compact on the rear plate.
The rear plate also includes a handy light that can be operated by switch to help you see what you're doing while connecting the wires. Once the thermostat is fully operational, this light can also be used as a night light to backlight the entire thermostat, but allowing it to be used during setup even without the main body of the thermostat installed is a really nice touch.


The Sensi Touch rear plate includes a pair of screw holes for mounting, one each with play in the horizontal and vertical directions to allow some flexibility. A built-in bubble level makes it easy to ensure everything is lined up properly. Unfortunately, my troublesome thermostat wiring setup with a full junction box located in the wall caused a few problems for me, albeit in a slightly different way than with the Honeywell Lyric Round.
On the positive side, the holes in the Sensi Touch rear plate line up perfectly with the junction box holes, making it simple to mount the thermostat. But its slim profile means the entire thermostat isn't much larger than the junction box itself, and so a bit of rough drywall cutout around the box as well as a screw hole from my Lyric Round installation are visible even with the Sensi Touch fully installed. The screw hole is easy enough to patch, but cleaning up the ragged drywall along the top will be a bit more work.

Setup and App Controls
After the Sensi Touch is mounted to the wall and the circuit breakers are turned back on, the Sensi app continues to walk you through the setup process, allowing you to configure Wi-Fi and connect to HomeKit.


Once it's connected, you can use either the thermostat interface itself or the Sensi app to set up schedules based on time and day of the week, automatically changing temperature set points throughout the day to account for comfortable sleeping conditions, times when you're up and about, and times when you're away.

Setting up schedules on the thermostat
Oddly, schedules can only be set directly on the Sensi Touch if you turn off Wi-Fi on the thermostat, and as I unfortunately discovered, once you turn off Wi-Fi there's apparently no way to turn it back on and reconnect to the app without completely resetting the thermostat.
Display
While the Sensi Touch includes a color display, it retains a relatively monochromatic appearance to keep the look simple, opting for white text on various shades of either blue when in cooling mode or orange when in heating mode.

Home screen in heating mode
If you choose to manage schedules through the app, the functionality available through the thermostat is rather basic, primarily consisting of adjustments to the temperature setting and changing the fan and heating/cooling modes. Manually adjusting the temperature when a schedule is in effect will temporarily hold the new temperature until the next schedule change or for at least two hours.

Night light
Other options include preferences for the home screen such as whether to show indoor humidity and the time of day, as well as whether to use Fahrenheit or Celsius units. A separate page in the settings lets you turn on the backlight for use as a night light.

Sleep display while in heating mode
When you're not interacting with the thermostat, you have the option of showing a blank screen or a dimmed screen that shows only the current inside temperature, again on a blue background for cooling or an orange background for heating. It's a very bland look considering the large, color display, and I'd definitely prefer something a bit more interesting.
Sensi App
The app is pretty straightforward, offering a main screen that lets you manage multiple thermostats and then a summary screen for each thermostat that prominently displays the current temperature and humidity, as well as the weather for your location and the set point of the thermostat. Adjusting the set point is simple, requiring just a tap on arrows along the right side of the screen to raise or lower the temperature.


At the bottom of the main display are a pair of buttons, one that lets you change the mode among heating, cooling, automatic, or off, and the other that sets the fan to automatic or always-on. I wish those buttons were a little bigger as hit targets, but you're not going to need to use them very often, so it's not a big deal.


Additional tabs for each thermostat are accessible along the bottom of the screen. One is a Settings tab that primarily displays your setup information but also lets you adjust a few options such as whether temperatures are displayed in Fahrenheit or Celsius and whether the humidity and current time are displayed. More advanced settings include the ability to delay cooling on rapid cycles to prevent system damage, lock out control for the thermostat itself, customize an offset if the thermostat reads a different temperature than you expect, and change heating and cooling cycle rates.


The final tab is for Scheduling, which allows you to create or edit schedules based on time and day of the week and adjust temperatures based on activity in the home. A couple of advanced options let you create multiple schedules in case your needs vary from week to week and turn on an "Early Start" toggle that intelligently starts your heating or cooling early so that your home reaches your desired temperature right at the scheduled time.
The Sensi Touch also includes a beta geofencing feature, which will automatically set back the thermostat by three degrees once you're more than three miles from home in order to save energy. It's not as advanced as Honeywell's geofencing which lets you define a custom radius and customize the set point for when you're away, but at least it's something.


The Sensi Touch will send alerts in a variety of situations to let you know of problems with your heating and air conditioning system, such as if inside temperature reaches 99ºF or 45ºF, humidity exceeds 78 percent, or inside temperature goes up or down by 5ºF even though the system is trying to cool or heat. It would be nice if these thresholds were customizable, but at a minimum the 5º alert should cover most circumstances where your system has failed. It would also be nice if the app could send reminders to change your air filters.

HomeKit
As a HomeKit thermostat, the Sensi Touch works with the Home app on iOS to help you see all of your HomeKit-compatible smart home devices in one app. You can easily adjust the thermostat's temperature setting via the Home app or Siri, and you can incorporate it into scenes and triggers to integrate with other HomeKit accessories. For example, you can include the thermostat in a "Good night" scene that locks your front door, turns off lights, and adjusts the thermostat when you're heading for bed.


Beyond simple temperature and mode settings and automation through HomeKit, other settings must be adjusted either on the thermostat itself or through the Sensi app.

Wrap-up
Emerson's Sensi Touch is a nice addition to the HomeKit thermostat market. Its large color display is visually engaging when you're interacting with it, although I wish it took better advantage of the display even when you're simply glancing at it. The Sensi Touch's touchscreen controls are responsive and setup is extremely easy, with a great app that walks you through everything you need to do.
On the downside, I wish the geofencing features were a little more robust, as I appreciated the customizability offered by Honeywell. The Sensi Touch also lacks many of the learning features that are the hallmark of Nest's thermostats and which contribute significantly to energy savings. Finally, the inability to easily adjust schedules directly from the thermostat can be inconvenient.
At a list price of $200, the Sensi Touch is obviously much more expensive than a traditional thermostat, even digital ones that offer scheduling features, but it's competitive with other smart thermostats, particularly if you can find it cheaper such as through Amazon where we've occasionally seen it for as low as $159 through third-party sellers, but availability varies significantly and pricing is more typically in the $180–$200 range.
Note: Emerson provided the Sensi Touch to MacRumors free of charge for the purposes of this review. No other compensation was received. MacRumors is an affiliate partner with Amazon and may earn commissions on purchases made through links in this article.