One of the realities of living in Toronto, Canada, about a two-hour drive from the nearest American city when traffic cooperates, is experiencing a distinctly four-season climate. Winter lives up to the stereotype of being bitterly cold, before giving way to a mild and rainy spring, and eventually a hot and humid summer. The warmth lasts for no more than three to four months, however, before the leaves turn orange in October and Starbucks brings out the Pumpkin Spice Latte.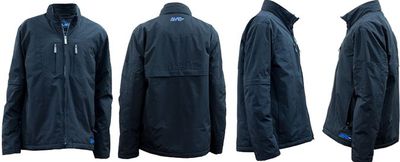 For the past three months, I have been testing the AyeGear J25 Jacket to see how it holds up to those Canadian extremes, starting with a below-freezing, snowy day in early April to a comparatively sweltering 90º day in mid July. In addition to wearing the jacket around Toronto, I brought it with me on a recent trip to San Francisco, allowing me to test its convenience going through airport security and away from home in general. Ahead, find out if the jacket lived up to the task.

Fashion and Functionality
The jacket has over 25 separate compartments for storing portable devices, valuables, travel essentials, and general items, including six credit card and ID holders, two hand pockets, two chest pockets, two sleeve pockets, two smartphone pockets, two tablet pockets, two pen holders, two coin holders, two memory stick holders, two SD card holders, one back laptop pocket, and one passport holder.
There is also a Velcro-based earphone routing system along the neck of the jacket, an elastic strap that can hold a drink bottle, and an in-pocket retractable reel for securing your keys -- or anything with a carabiner clip.


On my trip to San Francisco, I packed a tableful of items into the jacket with ease, including a 15-inch MacBook Pro, Apple Watch, two iPhones, two SD cards, EarPods, Lightning-to-USB cable, wall charger, pack of chewing gum, car keys, sunglasses, passport, boarding pass, charging case, portable battery pack, wallet, and loose change. In addition to all of that, the jacket could hold two iPads.
My immediate reaction after putting on the jacket was that, perhaps as to be expected, it was rather heavy. It almost feels like wearing a lead apron at a dentist office during teeth X-rays. Walking around with all of your electronics and personal belongings strapped to your body obviously hunkers you down somewhat, and wearing this jacket for an extended period of time can become rather uncomfortable.


The weight might be a worthy tradeoff for frequent flyers, however, as the jacket makes airport security a much less frustrating experience. Anyone that has stood in line at the TSA checkpoint knows it can be a tedious, albeit important, process: take your shoes off, take your laptop out of its bag, and place all of your individual belongings in the bins before proceeding through the metal detector.
When wearing the jacket, however, all you have to do is quickly take it off with your shoes, much to the delight of those waiting behind you.


AyeGear's J25 Jacket is built to last in all weather conditions. It is made from a mixture of cotton (67 percent) and nylon (33 percent) that proved to be waterproof -- water drops bead off -- and wrinkle free. The jacket also has an adjustable rollaway zipped hood, a breathable lining, and removable sleeves to turn the jacket into a vest, making it useful for hiking trips or similar activities in warmer weather.
In terms of fashion, the AyeGear J25 is not an incredibly stylish jacket -- but it's not ugly either. As a 20-something who typically wears skinny jeans and a slim v-neck crew shirt, I found the jacket to be baggier than ones I normally wear. To be fair, however, the jacket serves a specific purpose that inherently prevents it from being more of a formfitting jacket that I might purchase from a fashion retailer like H&M.


It also looks much nicer as a vest, in my opinion, so give it a go without the sleeves and hood when possible or consider the cheaper V26 Vest instead.

Value
One knock against the AyeGear J25 is its price: £149.99​​, which is $198.75​ in the U.S. or around $260 in Canada and Australia based on current exchange rates -- and that's after the British pound's recent post-Brexit vote decline. The jacket is certainly convenient, but whether it is worth dropping two bills on is debatable.
As is often the case, a better deal can be found on Amazon, where the jacket sells for between $149.99 and $190. Prices vary depending on the size selected.

Bottom Line
AyeGear's J25 Jacket is a convenient, multipurpose jacket that fills a niche, particularly for the outdoorsman or frequent flyers, but its drawbacks of being somewhat heavy and expensive should be duly considered. For most people, it may be wiser to save your money and stick with a traditional jacket and backpack combo.

How to Buy
The J25 Jacket can be purchased on AyeGear's website (~$198) or Amazon ($149.99-$190) in small, medium, large, XL, 2XL, 3XL, 4XL, or 5XL. Free delivery is offered within the U.K., while worldwide shipping is available.
Note: AyeGear provided the J5 Jacket to MacRumors free of charge for the purposes of this review. No other compensation was received.