In iOS 16, Apple has added multiple options to customize the iPhone Lock Screen, including the ability to apply different styles or "looks" to your chosen wallpaper picture. This article explains how it's done.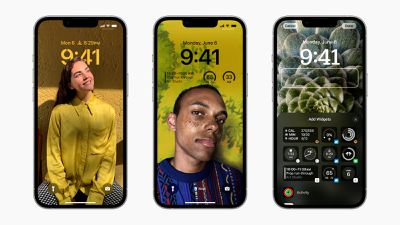 With the Lock Screen in iOS 16, Apple set out to give ‌iPhone‌ users the ability to create something that looks slick like a magazine cover, but in a way that's simple and fun to make.
To achieve this, iOS 16 uses machine learning to analyze Lock Screen pictures, and provides you with a selection of "looks" to choose from. However, the end result is more compelling than just laying a filter over a photo, as looks are intelligently generated specifically to style the chosen picture.
The following steps guide you through the process of choosing and applying a look to a new photo-based Lock Screen in iOS 16.
Tap the blue + button, or swipe leftwards all the way to the end and then tap Add New.
Tap the Photos button in the top row of options.
Choose a picture from your Photos library to use.


Swipe left and right in the Lock Screen editor to preview the auto-generated looks that are available for this picture.
When you've settled on the look you want, tap Done.
Tap the Lock Screen you just created to activate it.

Note that you can customize the current Lock Screen at any time by invoking the gallery view from the Lock Screen with a long press, or by going into Settings -> Wallpaper & Lock Screens.