In iOS 16.0 and later, you can make Apple's stock Files app display file extensions for items in the currently viewed folder. Keep reading to learn how it's done.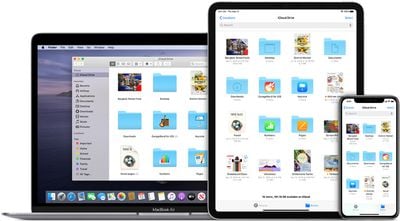 Since iOS 11, Apple's Files app has made file management a more realistic proposition on iPhone and iPad. It provides access not only to the files stored on your device and in iCloud, but also access to files stored in third-party services that support integration with the app, like OneDrive or Dropbox.
The only issue until recently was that the Files app did not support the displaying of file extensions. (For those unfamiliar with extensions, they are the suffixes that apps append to filenames. When you see an item like "document.docx" for example, the .docx extension tells the computer and the user what the file is and what to open it with.)
With the release of iOS 16, however, that all changed, and Apple quietly added an option to show file extensions in the folder window. The following steps show you how to enable it.
In the Files app, navigate to a folder.
On ‌iPhone‌, tap the encircled ellipsis (three dots) button in the top-right corner of the screen. On ‌iPad‌, tap the icon made up of four small squares.
Select > View Options at the bottom of the dropdown menu.
Choose Show All Extensions.

That's all there is to it. All the files in the current folder will now display their extensions. To revert, simply unselect the same option in the View Options submenu.