In iOS 16, Apple made a change to its stock Books app that removed the traditional page turning animation that had been used since the early days of the iPhone app.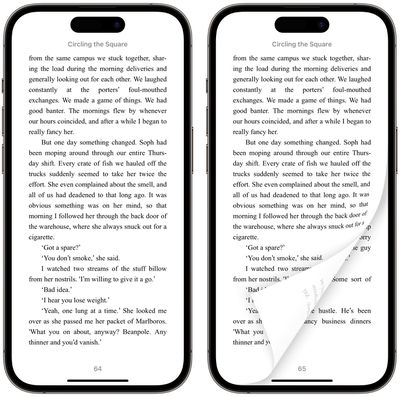 The move upset some Apple Books users, but thankfully Apple listened, and the company reintroduced the page turning animation as an option in iOS 16.4.
This was a welcome change for Apple Books users who missed the page turning experience, but the old animation is no longer the default, so it has to be turned on.
There are now three options for page turning: Curl, Slide, and None. Slide is the default option, but you can change this to the traditional Curl animation by following the steps below.
Open the Apple Books app on your ‌iPhone‌.
Open an ebook, then tap the menu button (the icon made up of two lines and three dots) in the bottom-right corner of the screen.
Tap Theme & Settings in the pop-up menu.
Tap the Page Turning button in the top row of options.
Select Curl from the pop-up pane.

That's all there is to it. The curling page turn animation is now enabled. Note that these features are also available in iPadOS 16.4 for those who read on the ‌iPad‌.