Some third-party iOS apps that you install on iPhone and iPad try to use tracking mechanisms that track your behavior across various apps and websites. Happily, in iOS 14 and later, Apple forces such apps to ask for your permission first.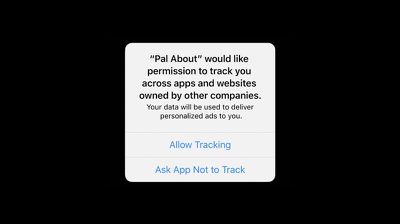 Apps that use these tracking mechanisms will show a popup asking you to enable tracking features, which are used for targeted advertising, data collection, and similar purposes.
According to Apple, apps granted permission to track you can collect data that includes device ID, name, email address, and more, which is then combined with data collected by third parties. The combined data is often used for ad targeting or shared with data brokers, linking that data to publicly available and other information about you and your device.
It's unlikely you're going to want to tap "Accept" on these kinds of requests, and declining tracking prevents an app from accessing your device's advertising identifier. But you can also disable cross-app and cross-site tracking for apps entirely. Just follow these simple steps.
Launch the Settings app on your ‌iPhone‌ or ‌iPad‌.
Scroll down and tap Privacy.
Tap Tracking.
Toggle the switch next to Allow Apps to Request to Track to the grey OFF position.


Note there are some situations where a developer is not required by Apple to ask the user's permission to implement tracking, but this is only when information is combined on-device and not sent off in a way that is personally identifiable or when used for fraud detection or prevention.