Apple News+ includes a full subscription to all content from The Wall Street Journal, but because Apple restricts the WSJ articles that are shown in ‌Apple News‌+, it can be hard to access certain paywalled content.
Luckily, a Reddit user recently shared a useful solution that gives you a straightforward way to read any WSJ article on your iPhone or iPad, though you'll need to use Safari to get to content.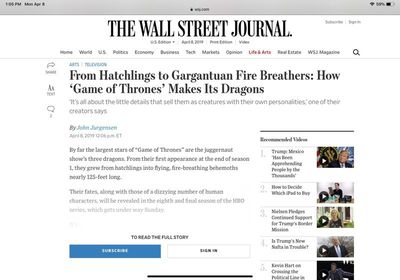 Find a paywalled article on The ‌Wall Street Journal‌ that you want to read using your ‌Apple News‌+ subscription.
Tap on the "Share" icon at the top of the browser. Make sure to tap the share icon native to Safari, and not the one in the article itself.
Choose the "Open in News" option.
That's all you have to do. Once you tap "Open in News," the full article from The ‌Wall Street Journal‌ is accessible and can be read in its entirety through your included ‌Apple News‌+ subscription. There's also the option of searching for the title of an article that you want to read, though that's a bit more of a hassle than simply tapping on the share sheet.


The ‌Apple News‌+ section of ‌Apple News‌ and the ‌Apple News‌ app will surface some WSJ content independently, but Apple is sharing general interest stories rather than financial or other content, so this browser workaround method will need to be used for those stories as ‌Apple News‌+ does not include a WSJ web login.
‌Apple News‌+ subscribers should also be aware that older content from The ‌Wall Street Journal‌ is only accessible for a period of three days before it is no longer available. The steps listed here for The ‌Wall Street Journal‌ will also work for other publications with paywalled stories that participate in ‌Apple News‌+.
Note: This method only works on the ‌iPhone‌ and the ‌iPad‌ as there is no Open in ‌Apple News‌ option when browsing on the Mac.
For more on ‌Apple News‌+, make sure to check out our dedicated ‌Apple News‌+ guide. ‌Apple News‌ users can follow MacRumors on ‌Apple News‌ using this link.