Apple Watch includes storage space for adding content like apps, photos, and music, with up to some of that space dedicated to storing songs. When you add a playlist, you can listen to music on it, even when your iPhone is not in range. While the process is fairly self-explanatory, there are a few steps you don't want to forget in order to play music from Apple Watch to your Bluetooth connected headphones

Adding Music to Apple Watch
In order to listen to music on Apple Watch without an iPhone in range, you must sync a playlist to it first.
Open the Apple Watch app on your iPhone and tap My Watch.
Select Music from the list.
Tap "Synced Playlist" to access your iPhone's playlist.
Select a playlist from the list (if there is no playlist visible in this list, you will need to create one on your iPhone).
Place your Apple Watch on its charger to initiate the sync. This step is important. Apple Watch will not sync a playlist if it has not been connected to the charger.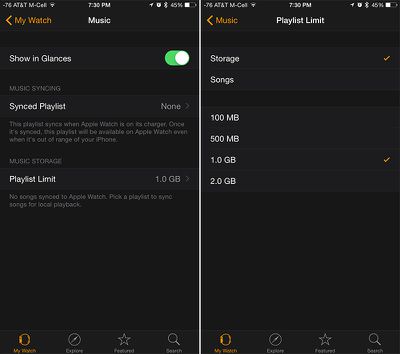 You can customize your playlist limit here. Switch between the amount of storage or number of songs to change the view. Select 100 MB, 500 MB, 1.0 GB, or 2.0 GB of storage (or 15, 50, 125 or 250 songs). When you reach your maximum playlist limit, you won't be able to add more music.
To remove all playlists from Apple Watch, select "None" at the bottom of the Playlist screen.

Pairing Bluetooth Headphones

You may be able to listen to music directly from Apple Watch, but only through Bluetooth headphones. Without them, music will only play through the iPhone.
Put your headphones in Discovery mode.
Open the Settings app on Apple Watch.
Tap Bluetooth.
Select the headphones you wish to pair.
Listening to Music on Apple Watch
There's one more important first step to listening to music directly on Apple Watch using Bluetooth headphones, and that involves changing the source for the music.

Open the Music app on Apple Watch.
Force press the display screen.
Select "Source" from the options that appear.
Choose Apple Watch as the music source to play from.
Select a playlist and tap the Play button to begin listening to music.
You can also see how many songs are stored on your Apple Watch under the About section of the Settings app on the device.