Now that HomeKit-enabled accessories are hitting the market, you may be wondering what you can do with your new connected devices. Whether you are controlling the temperature, turning off lights, or locking the front door, you will be able to use your iPhone to take care of various activities around the house.
If you are away from home, you'll even be able to use Apple TV (third-generation or newer running Apple TV OS 7.0 or later) to control some functions while away from home. We've got a tutorial for getting your HomeKit-enabled accessories ready for use.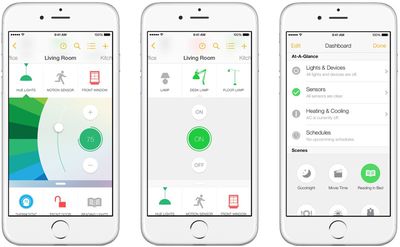 Download the App
HomeKit is compatible with iPhone, iPad, and iPod touch running iOS 8.1 or later. When you get your device, be sure to download the compatible app from the App Store and pair your device using the special code that comes with your new HomeKit accessory.

Setup
Once paired, use Siri to take control of your electronics. You can tell the virtual assistant to set the temperature or turn off the lights in the kitchen. There are some commands that will require you to unlock your iPhone before Siri will comply. For example, you won't be able to unlock your door until you unlock your iPhone.


Some apps allow you to group multiple accessories together, letting them be controlled with a single Siri command. Groupings need to be set up in third-party accessory apps, and the settings may be called "homes, rooms, or scenes." Third-party apps that offer HomeKit groupings can often incorporate HomeKit devices they're not even designed to control. Lutron's app, for example, can also control a Nest thermostat.



Not all apps have a grouping option, but for those that do, once the accessories are grouped, they can be controlled together. You might be able to tell Siri to "Get ready for bed," for example, a command that would turn off the lights and turn down the temperature.
If you want to reset the system and begin anew, open the Settings app on your iPhone and select Privacy. Then, select HomeKit and tap "Reset HomeKit Configuration."

Shared Connections
Multiple iOS users within the same household will be able to use the connected devices. However, one person will be designated the administrator. Add new users from the settings section of the company's app for the system you use.

Using Apple TV
If you are away from home, you will be able to set up your Apple TV to do the work while you are gone. All you have to do is make sure your iPhone and Apple TV are signed in with the same Apple ID account. Then, you can use Siri commands to remotely control your accessories, like turning on the lights while you are away. With iOS 9 later this year, remote access to HomeKit devices will get even easier via iCloud.

Lost or Stolen iPhone
If, against your desires, you no longer have your iOS device in your possession, use Find My iPhone to turn on Lost Mode so no one can use it to remotely activate your HomeKit accessories. You can also erase the contents of the device (only use this feature if you are sure you won't be getting the device back).
You can use another iOS device that is signed into the same Apple ID to control your HomeKit-enabled accessories. Just download the compatible app and follow the steps above.


If you don't have another iOS device, you will have to manually reset your accessories by following the manufacturers' instructions. When you replace your device, you will be able to pair it with your HomeKit-enabled accessories again.
Each system's app will have a slightly different user interface. However, HomeKit supported devices will all be able to work with Siri so you can control your home from your iPhone by activating the virtual personal assistant. When iOS 9 and watchOS 2 launch in the fall, you will be able to use Apple Watch to control HomeKit-enabled devices and you'll be able to access them remotely without an Apple TV.