Whenever you receive a message or email on your Apple Watch, you'll see a selection of options that you can use to respond to it with a few quick taps.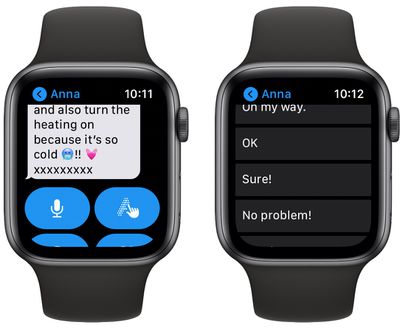 You can use voice dictation, scribble, send an emoji, draw a picture, or respond with a preset default reply to an incoming message or email, without the need to open up your iPhone.
It may not be immediately obvious, but you can customize the default replies that you see on Apple Watch whenever an email or message comes in. The following steps show you how it's done.

Open the iOS Watch app on your ‌iPhone‌.
Tap Mail or Messages, depending on which set of default replies you want to customize.
Tap Default Replies.
Swipe past the existing default replies, down to the bottom of the menu, then select Add reply....
Type your custom default reply using the on-screen keyboard.
Tap Done.

Note that you can also remove individual Default Replies by tapping the Edit button on the last screen and then tapping the red minus circles next to the ones you want to delete.
You can write a lot in a default email reply. We were able to fill one with 400 characters, and hopefully you won't need to be sending pre-made replies longer than that from your Apple Watch.
When crafting a default email reply, consider that the recipient may wonder why you can't respond further if you are capable of responding at all. In that case, it's a good idea to let them know you're replying on your Apple Watch by adding the default "Sent from my Apple Watch" signature in the iOS Watch app (My Watch tab -> Mail -> Signature).