For iOS 13, Apple overhauled the interface of its Reminders app and added some new features that make it a lot more competitive with rival third-party apps offering similar reminder functions.
As with the previous version of Reminders, you can make as many reminders as you think you'll need in the new Reminders app, and you can add them to dedicated reminder lists for specific projects.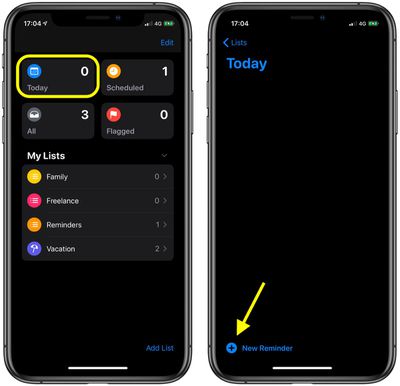 Your lists appear in the main Reminders screen under My Lists. But you don't need to have created a list to add a reminder, thanks to the app's new Today, Scheduled, All, and Flagged views.
Tap the Today view, for instance, and you can tap the "+" icon next to New Reminder in the bottom-left corner of the screen.
Similar plus buttons appear in the other views and you can likewise tap these to add reminders. When naming your reminder, a new quick access toolbar appears above the virtual keyboard that lets you add times, locations, and more to your reminders.


A small info ("i") button will also appear next to your reminder. You can tap the info button to add notes to your reminder, opt to be reminded on a particular day and/or at a particular location, give it a priority level, and more. Tap Done in the top-right corner of the Details screen to finish.