In iOS 16, Apple has opened up the Lock Screen to a wealth of personalization options not seen before. iPhone users can change not only the wallpaper but also the clock font and color, and with the addition of widgets, users can customize the look and control the information density.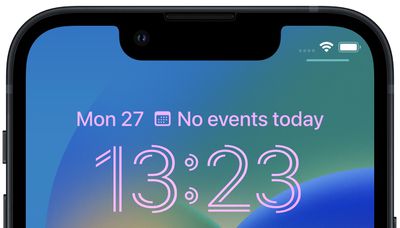 As a result of all the new personalization features, Apple has overhauled the Lock Screen editing interface, which now has many similarities to the watch face gallery on Apple Watch. The following steps show you how you can change the font and color of the digital clock on your own Lock Screen.
Swipe to the Lock Screen that you want to adjust and then tap Customize.


Select the Lock Screen option.
Tap within the frame containing the digital clock readout.
Use the menu of options for changing the font style and the color of the clock readout. You can also use the slider to adjust the hue of the selected color.
When you're happy with the look of the clock, tap Done in the top-right corner of the screen, then tap the Lock Screen in the wallpaper gallery to activate it.
Note that you can customize the current Lock Screen at any time by invoking the gallery view from the Lock Screen with a long press, or by going into Settings -> Wallpapers.