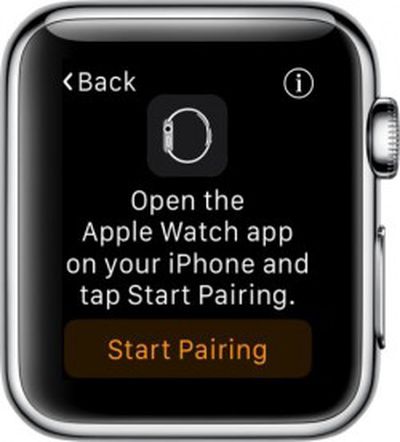 No matter how much research and testing goes into ensuring the Apple Watch runs smoothly with no problems, there's always a chance that you will have to perform a few IT-style actions in order to fix a minor issue with your device.
The best way to troubleshoot a problem on Apple Watch is to backup the data and restore it. We've got a guide for backing up your Apple Watch to your iPhone and then restoring data from a backup.
Backups include most data collection, like system settings, language, Mail, Calendar, Stocks, app-specific data, and health and fitness data (if you are using iCloud or an encrypted iTunes backup).
Backups do not include calibration data, synced playlists, credit and debit cards used for Apple Pay, and your Apple Watch passcode

Backup iPhone First
Before starting the process on your Apple Watch, it is a good idea to sync the data on your ‌iPhone‌ to ‌iCloud‌ or iTunes. When you do, any previously backed up Apple Watch data is included.

Unpair Apple Watch
The only way to force a backup on Apple Watch is to unpair it from your ‌iPhone‌. Unfortunately, this is a time consuming process.



Open the Apple Watch app on your ‌iPhone‌ and navigate to the My Watch section.
Select Apple Watch from the list.
Tap "Unpair Apple Watch." Tap again to confirm.
Wait until Apple Watch is unpaired and the display asks you to confirm your language.
Re-pair Apple Watch
You will then be directed to pair Apple Watch with your ‌iPhone‌. This process also takes a while.

Go back to the Apple Watch app and select Apple Watch from the list and tap "Pair Apple Watch."
Select "Restore From Backup" and choose a backup you wish to restore from.
Agree to the terms and conditions.
Enter your Apple ID password when prompted.
If two-step verification is enabled, complete the process when prompted.
Create a four-digit passcode on Apple Watch when prompted.
Select whether to unlock Apple Watch with your ‌iPhone‌.
Wait for the data to sync. When finished, you will get a notification on Apple Watch.
Reenter Unsaved Data
Because the backup does not include your workout calibrations, playlists, and credit or debit cards in ‌Apple Pay‌, this must all be added manually. Check out our guides for calibrating Apple Watch, listening to music, and setting up Apple Pay on Apple Watch.
Here is a tip: If you ever need to speak with Apple support for an issue with Apple Watch, do yourself a favor and follow the steps above to backup and restore Apple Watch before you contact them. One of the first steps they always have you follow is unpairing and re-pairing Apple Watch. This will save you 15 minutes of awkward silence.