September 2018 Event
By MacRumors Staff
September 2018 Event Articles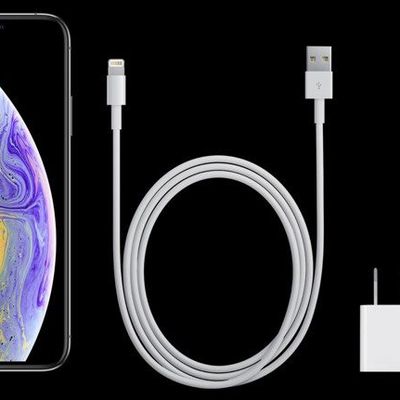 Since the headphone jack was removed from the iPhone with the launch of the iPhone 7, Apple has bundled iPhones with a Lightning to 3.5mm Headphone Jack Adapter for customers who continue to have 3.5mm headphones. With the launch of the iPhone XS, iPhone XS Max, and iPhone XR, Apple is discontinuing this practice and will not include the Lightning to 3.5mm Headphone Jack Adapter. On the...
Apple's iPhone-centric event that saw the launch of new iPhone XS, XS Max, and iPhone XR models has officially wrapped up, and with the culmination of the event, Apple has posted the full video of the new product unveilings on its website. For those who were avoiding news of the event because of being unable to watch the video due to work or school, the full event video will offer the chance...

Alongside the new iPhone XS and XS Max, Apple has released new Silicone and Leather case options in a range of fall colors. Priced at $39, Silicone Cases for the iPhone XS and the iPhone XS Max are available in colors that include Nectarine (a reddish orange shade), Lavender Gray (gray with a touch of blue), Blue Horizon, Stone, Pink Sand, Midnight Blue, White, Black, and (PRODUCT)RED....

With today's announcement of the iPhone XS, iPhone XS Max, and iPhone XR, Apple has officially discontinued the iPhone SE and the iPhone 6s, the two iPhones that it was selling as its most affordable smartphones. The iPhone SE was Apple's last remaining 4-inch device, and now the smallest phone that Apple sells is the 4.7-inch iPhone 7 and iPhone 8. Apple has also discontinued the iPhone...

Apple today announced the iPhone XR featuring an edge-to-edge "Liquid Retina" LCD display with wide color and True Tone support, and the same all-screen design as the iPhone Xs and Xs Max, but with an aluminum frame instead of stainless steel. Comparatively, the iPhone XR has a bigger display (6.1-inch) than the iPhone 8 Plus (5.5-inch), but a smaller overall body, and comes in six colors:...

Apple today in California officially announced the "iPhone XS" and "iPhone XS Max," the latest iPhone models coming this year. The company confirmed that both models will come in Space Gray, Silver, and Gold color options, with Gold being the new addition to the iPhone XS lineup this year. The iPhone XS models have the same design as the iPhone X from 2017, with an edge-to-edge OLED display,...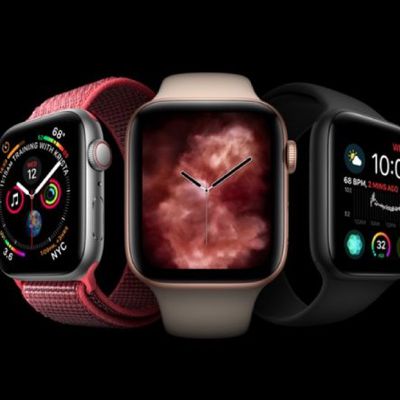 Apple announced new Apple Watch models at its Gather Round event today at the Steve Jobs Theater in Apple Park, Cupertino. The Apple Watch Series 4 will be available in 40mm and 44mm sizes – a step up from the 38mm and 42mm options of previous models – has a thinner body, and comes with a number of next-generation medical heart detection features approved by the FDA. The new models have ...

Apple's "Gather round" event at the Steve Jobs Theater at Apple Park begins at 10:00 a.m. Pacific Time, where it is widely expected to unveil three new iPhones (XS, XS Max, and XR) as well as new, slightly larger Apple Watch models. Steve Jobs Theater via Apple CEO Tim Cook We should also be hearing final details and the official release date for iOS 12, and likely macOS Mojave, watchOS 5,...

Apple's online store is down ahead of the company's "Gather Round" media event today at Steve Jobs Theater, at its Apple Park headquarters in Cupertino, California. The keynote begins at 10:00 a.m. Pacific Time. The iconic "we'll be back" message on Apple's website often foreshadows the launch of new products. At today's event, rumors suggest Apple will be introducing a trio of new iPhone...

Apple's "Gather round" media event will be kicking off at 10:00 AM Pacific tomorrow, and as is tradition some MacRumors readers who can't follow the event live are interested in avoiding all of the announcements and waiting until Apple posts the recorded video of the event so as to experience it without already knowing the outcome. For those individuals, we've posted this news story, which...

For the past several months, rumors have provided a glimpse of what to expect at Apple's special event on Wednesday. Now, we may know of at least one category that won't see any stage time tomorrow. The Verge, citing a source close to the situation, reports that Apple does not plan to announce any new hardware from its Beats subsidiary at its "Gather Round" event at Steve Jobs Theater on...

Apple has confirmed that it will live stream its "Gather Round" event on Twitter, in addition to Apple.com as usual. Join us September 12 at 10 a.m. PDT to watch the #AppleEvent live on Twitter. Tap ❤️ below and we'll send you updates on event day. pic.twitter.com/i9mGHTKhvu— Apple (@Apple) September 10, 2018 Just to be clear, MacRumors has confirmed that Apple's promoted tweet refers to an ...