Powerbeats Pro vs. AirPods 2 Buyer's Guide
Apple's Beats brand in April 2019 announced upgraded wire-free Powerbeats Pro earbuds that are quite similar to Apple's second-generation AirPods, but with a focus on fitness and working out rather than everyday use.
The two sets of earbuds have a lot in common, but there are some notable differences that are worth pointing out. Read on for a complete comparison of the second-generation AirPods and the Powerbeats Pro.
Powerbeats Pro Design vs. AirPods 2 Design
The AirPods are made for casual use and feature a one size fits all design with a rounded bulb-like earpiece and a microphone-equipped stem that extends out of the ears. There is no hook or additional mechanism to keep them in the user's ears.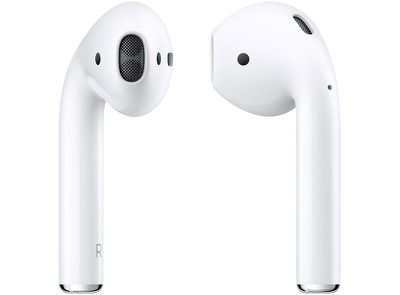 ‌Powerbeats Pro‌ are designed for fitness and have a design similar to prior Powerbeats models with earhooks that fit over the ears to secure them in place along with four ear tips in various sizes for a customizable fit.
‌Powerbeats Pro‌ are meant to stay in the ears during vigorous activity and Apple apparently tested more than 20 configurations before arriving at a design that fits most people.


Both the ‌Powerbeats Pro‌ and the AirPods come with charging cases, but while the AirPods charging case is small, compact, and around the size of a dental floss container, the ‌Powerbeats Pro‌ charging case is much larger, clamshell-like, and not as pocketable.

Sound Differences and Noise Isolation
‌Powerbeats Pro‌ use rubber ear tips in four sizes similar to traditional earbuds, which means they are designed to create a tight fit in the ear to isolate ambient noises. There is no feature for allowing ambient noise in, which is something to be aware of if you plan to use these in situations where you need to hear what is going on around you.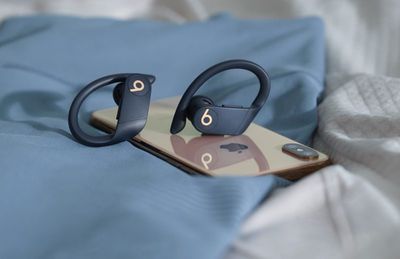 AirPods have no similar ambient noise filtering because they are not designed to fit tightly in the ear canal.
Apple says sound was a focus when designing the ‌Powerbeats Pro‌, with the new earbuds offering powerful, balanced audio with pure sound reproduction, enhanced clarity, and improved dynamic range.
Apple makes no similar claims about the AirPods and instead describes them as having "rich, high-quality sound."
Physical Buttons
You can tap on the AirPods to do things like activate Siri or skip a track, but there are no actual physical buttons.
The ‌Powerbeats Pro‌ are larger with more available surface area, and they feature physical buttons for adjusting the volume, changing the song track, and accepting or declining a call.


There is no off button on the AirPods and there is no off button on the ‌Powerbeats Pro‌. The ‌Powerbeats Pro‌ come on when taken out of the charging case and turn off when put back in, and will also go into a sleep mode after a period of inactivity to preserve battery life. The AirPods work the same way.
Water Resistance
According to Apple, the ‌Powerbeats Pro‌ are sweat and water resistant with an IPX4 water resistance rating, which means they are certified to hold up to water splashing against the enclosure from any direction, but have the potential to fail when immersed or exposed to jets of water.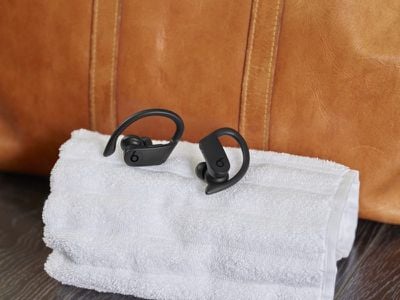 With an IPX4 rating, the ‌Powerbeats Pro‌ should be able to survive sweat exposure, but should not be exposed to rain, swimming pools, or other excessive moisture. The AirPods have no specific water resistance rating and should not be exposed to water or sweat, though anecdotal reports suggest they are able to hold up to some moisture.
We did a series of water resistance tests on the ‌Powerbeats Pro‌ and they held up well to both splashes of water and 20 minutes of submersion.
Powerbeats Pro Colors vs. AirPods 2 Colors
AirPods only come in white, but ‌Powerbeats Pro‌ come in Black, Ivory (an off white shade), Navy, and Moss (an olive green). AirPods also feature a white charging case while all ‌Powerbeats Pro‌ models ship with a black charging case.

Price Difference
Apple's AirPods are priced at $129, while ‌Powerbeats Pro‌ cost $250 – $121 more than the base model of the AirPods.
Processor, Sensors, and Siri Support
The ‌Powerbeats Pro‌ use the same H1 chip from the AirPods for faster connections to your devices, faster switching between devices, lower latency, and support for hands-free "Hey ‌Siri‌" activation.
As with the AirPods, using "Hey ‌Siri‌" requires the ‌Powerbeats Pro‌ to be paired with a compatible device like an iPhone, iPad, or Apple Watch.


‌Powerbeats Pro‌ have all of the same sensors and features that are in the AirPods, including ear detection that plays/pauses music when they are removed or inserted.
As with the AirPods, you can use just one ‌Powerbeats Pro‌ earbud or use both at the same time.
Phone Calls
AirPods have a speech-detecting accelerometer and beamforming microphones that filter out external noise when you are making a phone call or a ‌Siri‌ request, and the ‌Powerbeats Pro‌ have the same feature.
The ‌Powerbeats Pro‌ actually have two beamforming microphones on each side to make up for the lack of a stem like the AirPods have. Phone calls on both the AirPods and the ‌Powerbeats Pro‌ are designed to sound crisp and clear. In our testing, the ‌Powerbeats Pro‌ worked well for calls. People had no issues hearing what we were saying, nor were there any issues with disconnects.
We have occasionally run into issues with poor sound quality on the AirPods, with people having a difficult time hearing us, but this is not a problem we have had with the ‌Powerbeats Pro‌.
Battery Life
Each ‌Powerbeats Pro‌ earbud offers nine hours of listening time, which is a full four hours longer than the AirPods promise. AirPods offer five hours of battery life, but the battery life of both the AirPods and the ‌Powerbeats Pro‌ is extended to over 24 hours with their respective charging cases.
Live Listen
The ‌Powerbeats Pro‌ and the AirPods both support the Live Listen feature for using the earbuds as a directional microphone.
Charging
The AirPods and the AirPods Wireless Charging Case can be charged using either Lightning or Qi-based wireless charging. The ‌Powerbeats Pro‌ case does not feature support for Qi-based wireless charging and must be charged with a Lightning cable.
The ‌Powerbeats Pro‌ have a Fast Fuel feature that adds 1.5 hours of music playback after five minutes of charging and 4.5 hours of playback after 15 minutes of charging.


Apple's AirPods have a similar fast charging feature but it's not quite as good due to the smaller battery, offering three hours of listening time with a 15 minute charge.
Comparison Chart
Here's an at-a-glance comparison chart that gives a quick overview of the differences between the second-generation AirPods and the ‌Powerbeats Pro‌.

Bottom Line
Apple's second-generation AirPods and ‌Powerbeats Pro‌ earbuds are clearly aimed at different target markets. While the second-generation AirPods are designed for casual listening on a day to day basis, the more costly ‌Powerbeats Pro‌ are designed for vigorous physical activity including sports, workouts, and more.
The AirPods are smaller and more convenient to carry and offer more convenient wireless charging methods, while the ‌Powerbeats Pro‌ offer longer battery life, superior sweat resistance, more color options, sound isolation, and potentially a different sound profile.
Choosing between the second-generation AirPods and ‌Powerbeats Pro‌ will depend on how the AirPods fit in your ears – some people can't get a good fit with the one size fits all design – and your budget. The ‌Powerbeats Pro‌'s earhooks and ear tips in multiple sizes will potentially offer a better fit and will certainly be the better option for people who need earbuds for physical activity.
More Info
For more details on the ‌Powerbeats Pro‌, make sure to check out our full Powerbeats Pro guide.
Guide Feedback
Have questions about the ‌Powerbeats Pro‌ or AirPods or know of details we've left out? Let us know in the comments or Send us an email here.