Apple offers two different 2020 MacBook Air base configurations; one with a dual-core Intel Core i3 processor and one with a quad-core Intel Core i5 processor. Our guide answers the question of how to decide which of these two configurations is best for you.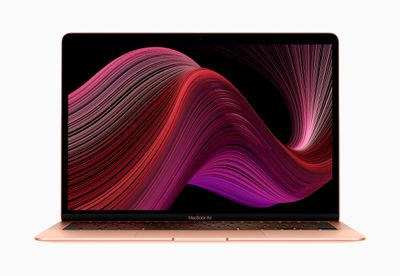 You can customize the internal specifications of either of these two ‌MacBook Air‌ base configurations at the time of purchase, so it's a good idea to consider what kind of machine you'll need ahead of time. An appropriately speced ‌MacBook Air‌ should last for quite a few years, and since you cannot upgrade the internal components of Apple's laptops at a later date, it's important to choose wisely.
MacBook Air (2020)
In March 2020, Apple refreshed its ‌MacBook Air‌ lineup with a new Magic Keyboard with scissor switches, faster processors for better CPU and GPU performance, and more storage space, but with the same overall design it has used since 2018. Apple says the 2020 ‌MacBook Air‌ can provide up to two times faster CPU performance and 80 percent faster graphics performance with Intel Iris Plus Graphics than the previous generation.

Apple sells two base configurations of ‌MacBook Air‌, both featuring 10th-generation Intel processors. The ‌MacBook Air‌ with 1.1GHz dual-core Intel Core i3 processor starts at $999, while the ‌MacBook Air‌ with 1.1GHz quad-core Intel Core i5 processor starts at $1,299. See below for a breakdown of their key features.
1.1GHz dual-core 10th-generation Intel Core i3 processor with Turbo Boost up to 3.2GHz
8GB 3733MHz LPDDR4X memory
256GB SSD storage
Intel Iris Plus Graphics
13.3-inch Retina 2560-by-1600 sRGB display with True Tone
Two Thunderbolt 3 ports
Force Touch trackpad
1.1GHz quad-core 10th-generation Intel Core i5 processor with Turbo Boost up to 3.5GHz
8GB 3733MHz LPDDR4X memory
512GB SSD storage
Intel Iris Plus Graphics
13.3-inch Retina 2560-by-1600 sRGB display with True Tone
Two Thunderbolt 3 ports
‌Touch ID‌
Force Touch trackpad

i3 vs i5
With the same clock speed of 1.1GHz, the single-core performance of both processors is very similar. Single-core performance is important in everyday tasks, and you may only benefit from better multi-core performance on the i5 when using more professional applications such as Final Cut Pro X or Photoshop.
‌MacBook Air‌ benefits from a fast SSD, powerful video decoder, and excellent software optimization for everyday tasks, so the multi-core performance jump on the i5 will not be important to many users.
The 2020 ‌MacBook Air‌ is the first to have a quad-core processor option. Benchmarks suggest that its 1.1GHz quad-core Core i5 processor is approximately 76 percent faster than the previous 2018–2019 ‌MacBook Air‌ models. So what is the practical difference between these two processors?
Intel Dual-Core Core i3

The i3 ‌MacBook Air‌ should be sufficient for web browsing, streaming, writing emails or word-processing, and video calls. The general performance of the i3 is surprisingly good for these sorts of daily tasks, even when connected to an external display. Where it may begin to struggle is during complex 4K video editing, photo editing, and multitasking.
A key advantage of the i3 being a lower-power processor is that it doesn't get as hot as the i5. The i3 ‌MacBook Air‌ is therefore less likely to be put under thermal strain, so it will be quieter and cooler for longer periods of time.
The main drawback of choosing the i3 is that the overall level of performance is simply on the low side, but this is very unlikely to affect users with only basic needs.
Intel Quad-Core Core i5

The i5 ‌MacBook Air‌ is more capable than the i3, and should be able to handle demanding software and multitasking more deftly. The i5's quad-core chip will be markedly better when using multiple resource-heavy apps at once. Basic "pro" workflows involving tasks such as software development and video, audio, or photo editing should run far more effectively on the i5. It also has a slightly higher Turbo Boost speed at 3.5GHz, compared to 3.2Ghz of the i3.
This, however, comes at a cost. The i5 is a more power-hungry processor and runs much hotter than the i3. Even in day-to-day use, users have reported that the i5 ‌MacBook Air‌ is more likely to get quite warm, and during intense use, you should expect to hear the fan speed at maximum.
While the i5 is undoubtedly more powerful than the i3, it is difficult to say exactly how much of this extra power you will be able to take advantage of given the thermal design of ‌MacBook Air‌. The system's thermal management will rarely allow it to get all the way up to its Turbo Boost maximum clock speed of 3.5GHz. In fact, the system is much more likely to constrain performance all-around due to just how much hotter the i5 gets.
Regardless of the thermal issue, the i5 ‌MacBook Air‌ is the better choice for more demanding workflows since it is a more capable processor. This added capability may also make the i5 ‌MacBook Air‌ a more future-proof model for years to come.
i3 vs i5 Benchmarks
Geekbench 5 benchmarks of the 2020 ‌MacBook Air‌ indicate the difference between the processor options. It is worth remembering that it is difficult to evaluate how much the performance of the i5 has likely been constrained by thermals in these benchmarks.
In single-core, there's very little difference between the processors due to the fact that they are both clocked at 1.1GHz.


In multi-core, the difference is more striking, with the i5 performing 42% (851 points) better. The i5 shows the utility of its extra two cores here, which would come into use when multi-tasking or using software that can take advantage of those extra cores.


Customization Options
Both ‌MacBook Air‌ base configurations allow you to select processor, memory, and storage options via the Apple website.
Upgrading to the i5
You do not necessarily need to buy to the higher-specced $1,299 ‌MacBook Air‌ if you just want the i5 processor. It is possible to select the cheaper $999 ‌MacBook Air‌ base configuration, and then upgrade the processor for $100 to the i5. If you don't need the extra storage that comes with the $1,299 base configuration but still want the i5, then this is the most cost-effective way of doing so.

What About the i7 Option?
Apple also offers a 1.2GHz quad-core Intel i7 processor option for an additional $150 on top of the i5 option. This processor has an even higher Turbo Boost speed of 3.8GHz. Given the poor thermal design of ‌MacBook Air‌, it is seriously questionable how much better the i7 would be over the i5. Relying on the i7 for high-performance tasks may run into more thermal issues later down the line. Power users who think they may benefit from the i7 may be better suited to MacBook Pro rather than ‌MacBook Air‌.
In benchmarks, the i7 barely performs better than the i5, achieving a score of 1137 in single-core and a score of 3032 in multi-core. In terms of price to performance, the i5 chip seems to offer better value for money.


Other Mac Laptop Options
Regardless of whether you choose the i3 or i5, you should not expect to get too much performance out of the ‌MacBook Air‌. The ‌MacBook Air‌ is not very well suited for power users, even in the quad-core CPU configurations, as the device is intended more for casual users with simple workloads. The ‌MacBook Air‌ does not have much performance headroom, for example, for 3D graphics rendering or repeated video exports. Pro users will be better off with the MacBook Pro, especially if you are concerned about the ‌MacBook Air‌'s thermal design and potential slowdowns.

The MacBook Pro is a better machine for those who need consistent maximum performance. With faster processors and a more forgiving thermal design, the MacBook Pro can run hotter and faster for a longer period of time, which places it much better for heavy sustained tasks.
Everyone else will likely find the ‌MacBook Air‌'s performance to be perfectly sufficient for most day-to-day tasks, even if it may get a bit hot with the i5 processor choice.
Which ‌MacBook Air Should You Buy?
Which of these two ‌MacBook Air‌ base configurations you should buy will need to be decided based on what kind of work you intend to use the machine for.
The main difference between the two is how well they can theoretically handle intense work. If you're a light computer user, the i3 configuration will be perfectly adequate. If you use more demanding software and need maximum performance, you should consider upgrading to an i5. Beyond that, if power is important, you should consider the MacBook Pro.