iOS 17 AirPods Features: Adaptive Audio, Personalized Volume, Conversation Awareness and More
iOS 17 doesn't just add new features to the iPhone - it also brings new functionality to the AirPods. Most of what's new is for the AirPods Pro 2, but there are a few additions that are for all AirPods.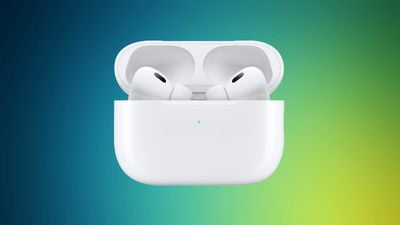 Adaptive Audio
Adaptive Audio, or Adaptive Noise Control, is an ‌AirPods Pro‌ 2 feature that combines Active Noise Cancellation and Transparency into one all-in-one mode that's designed to adjust the volume of what's playing based on what's around you and your interactions throughout the day.
Noise control shifts to drown out environmental sounds that you don't want to hear like the noise of an airplane, while making sure that you don't miss anything you might want to hear like someone speaking.
With ‌AirPods Pro‌ 2 that have updated firmware, activating Adaptive Audio can be done by connecting the AirPods, opening Control Center, long pressing on the volume, and selecting the "Adaptive" option that joins Transparency and Noise Cancellation.
Conversation Awareness
Conversation Awareness is part of Adaptive Audio. It is able to detect when someone is speaking, lowering the volume of the media and cutting down on background noise. This feature also enhances the voices in front of you so you can hear what's going on.
Personalized Volume
Also part of Adaptive Audio, Personalized Volume adjusts the sound of what's playing based on personal preferences and the sounds around you. The ‌iPhone‌ is able to learn more about the volume that you prefer over time, tweaking as necessary to match your desired sound level.
Mute and Unmute
If you press the stem of the ‌AirPods Pro‌ or third-generation AirPods, you can mute and unmute yourself while you're on a call. This also works on AirPods Max if you press the Digital Crown.
Automatic Device Switching
The ‌AirPods Pro‌ 2 can automatically switch between Apple devices much quicker in ‌iOS 17‌.
Dark Mode
In a small but notable change, when you connect AirPods to an ‌iPhone‌ with Dark Mode enabled, the connection popup will also be in ‌Dark Mode‌.
Usage Notes
Note that a firmware update is required to use these features, and in the case of Adaptive Audio, it is only available for the ‌AirPods Pro‌ 2. The new firmware that enables this functionality was released in September 2023.
Read More
More information on the new features in the ‌iOS 17‌ update can be found in our iOS 17 roundup.