When Will iOS 16.3 Be Released?
iOS 16.3 and related operating system updates for Apple's various platforms will bring several new features and bug fixes, so when can we expect the updates to arrive?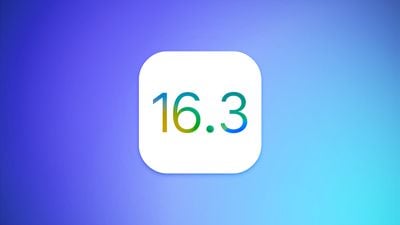 As part of a press release on January 18 announcing a new Unity wallpaper, watch face, and watch band in celebration of Black History Month, Apple revealed that iOS 16.3 and watchOS 9.3 would be released "next week," with iPadOS 16.3, tvOS 16.3, macOS 13.2, and HomePod software 16.3 almost certainly arriving at the same time.
Thanks to release notes included with the release candidate version of iOS 16.3 seeded to developers, we already know what changes are included in the update. Aside from support for the upcoming second-generation ‌HomePod‌, the only major new features coming in iOS 16.3 are support for physical security keys to help secure Apple ID accounts and a worldwide expansion of optional Advanced Data Protection for iCloud accounts.
There is also a change to how Emergency SOS calls work on iPhone in order to reduce inadvertent calls, while there are a number of bug fixes included in the update.
iOS 16.3 Release Date and Time
With Apple only specifying "next week" (now this week) for the release of iOS 16.3, we don't yet know exactly what day it will become available to the public. Based on Apple's history of releases, however, it appears likely that iOS 16.3 will be released relatively early in the week. Monday has been the most frequent release day of the week for significant iOS updates recently, though there have been some Tuesday and Wednesday releases. Thursday and Friday releases are much less common.
Regardless of which day the updates arrive, Apple's operating system releases typically happen around 10:00 a.m. Pacific Time. Assuming the usual timing, iOS 16.3 will be available at approximately these times around the world on whichever day it launches:

Honolulu, Hawaii — 8:00 a.m. HST
Anchorage, Alaska — 9:00 a.m. AKST
Cupertino, California — 10:00 a.m. PST
Vancouver, Canada — 10:00 a.m. PST
Phoenix, Arizona — 11:00 a.m. MST
Denver, Colorado — 11:00 a.m. MST
Dallas, Texas — 12:00 noon CST
New York, New York — 1:00 p.m. EST
Toronto, Canada — 1:00 p.m. EST
Halifax, Canada — 2:00 p.m. AST
Rio de Janeiro, Brazil — 3:00 p.m. BRT
London, United Kingdom — 6:00 p.m. GMT
Berlin, Germany — 7:00 p.m. CET
Paris, France — 7:00 p.m. CET
Cape Town, South Africa — 8:00 p.m. SAST
Helsinki, Finland — 8:00 p.m. EET
Moscow, Russia — 9:00 p.m. MSK
Istanbul, Turkey — 9:00 p.m. TRT
Dubai, United Arab Emirates — 10:00 p.m. GST
Delhi, India — 11:30 p.m. IST
Jakarta, Indonesia — 1:00 a.m. WIB next day
Shanghai, China — 2:00 a.m. CST next day
Singapore — 2:00 a.m. SGT next day
Perth, Australia — 2:00 a.m. AWST next day
Hong Kong — 2:00 a.m. HKT next day
Seoul, South Korea — 3:00 a.m. KST next day
Tokyo, Japan — 3:00 a.m. JST next day
Adelaide, Australia — 4:30 a.m. ACDT next day
Sydney, Australia — 5:00 a.m. AEDT next day
Auckland, New Zealand — 7:00 a.m. NZDT next day