iOS 14 is expected in a matter of weeks at WWDC. Typically, we know very little concrete about an upcoming iOS version prior to the announcement, but this year there was a leak of an early build of iOS 14.
That leak got into the hands of the developer community which has found a number of new features hidden in the code.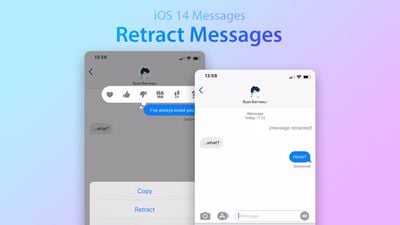 Mockup of retracting a send iMessage in iOS 14
Apple is working on a feature that would retract iMessages after sending them, with the retraction visible to both parties. Fine print visible to both the sender and recipients would indicate that a message has been retracted. We don't know if there will be a time limit during which you can retract messages.
Similar features already exist in a number of other messaging apps, but it will be welcome for Apple to provide it in Messages.