iOS 14 is expected in a matter of weeks at WWDC. Typically, we know very little concrete about an upcoming iOS version prior to the announcement, but this year there was a leak of an early build of iOS 14.
That leak got into the hands of the developer community which has found a number of new features hidden in the code.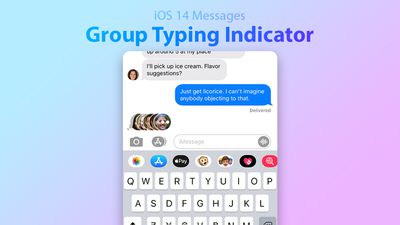 Mockup of group typing indicators in iOS 14 iMessages
Apple is working to add group typing indicators in group chats. Presently, when in one-to-one conversations, both participants can see when the other user is starting to type. This is denoted by "..." on the screen. In group chats with more than 2 people, right now there is no way to tell if anyone is typing. In iOS 14, we expect Apple to provide visual cues for multiple people typing at once.
Similar features already exist in a number of other messaging apps, but it will be welcome for Apple to provide it in Messages.