Are you hearing the low battery warning on your AirPods more frequently than you used to? It's quite possible that your wireless Apple headphones reaching their end of life. This article explains why – and what you can do about it.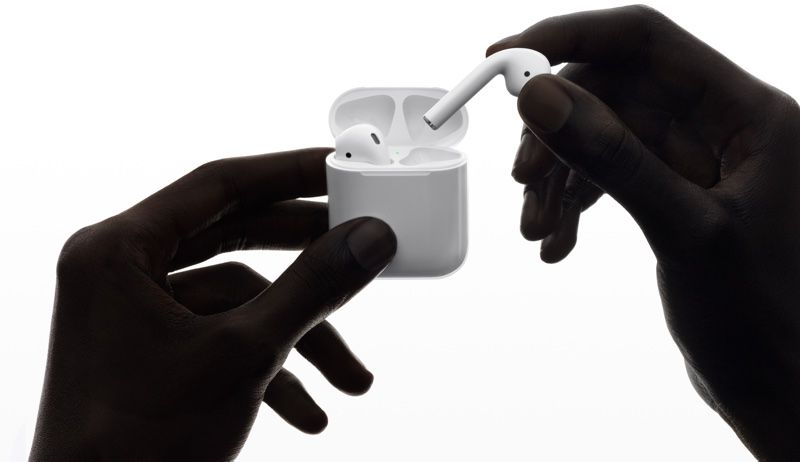 What is the Battery Life of AirPods and AirPods Pro?
Officially, Apple says its first-generation AirPods offer up to five hours of listening time and up to two hours of talk time on one charge, while second-generation AirPods provide up to an extra hour of talk time.
AirPods Pro feature the same battery life as AirPods with up to five hours of listening time, but in Active Noise Cancellation mode, listening time is reduced to four and a half hours and talk time is limited to up to three and a half hours. The Charging Cases for all models offer up to 24 hours of additional listening time or over additional 18 hours of talk time.
The phrase "up to" is of course the key qualifier that Apple elects to use here, and it's not just to account for certain usage scenarios that can sap battery life quicker (see below). It's also because if you've owned AirPods for a while and you use them pretty much every day, you may struggle to get anything near the stated battery life without recharging them a lot more often than you used to.
So How Long Do AirPods Actually Last?
The limiting factor of the lifespan of AirPods or AirPods Pro earbuds is the ability of their batteries to retain a change. Over time, you'll find that the AirPods won't last up to five hours anymore. Battery life per charge may fall significantly over several months of use. How long this takes depends on how heavily you use your AirPods, but from the anecdotes on our forums, it seems the original AirPods will last about 2 years before you start seeing noticeable decline in battery function, and AirPods Pro are unlikely to last much longer.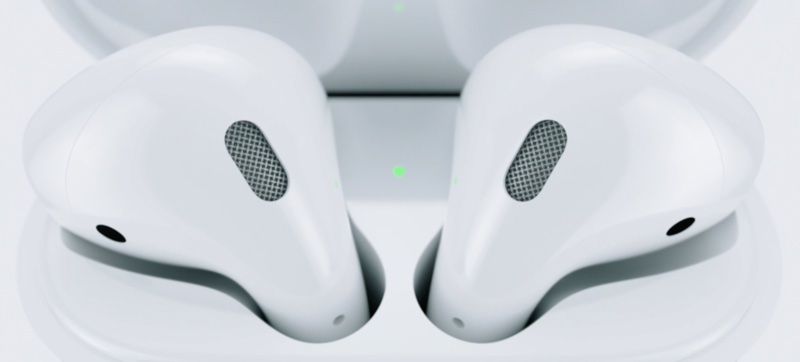 Why Do AirPods Have Such a Short Lifespan?
It's no secret that batteries deteriorate over time, and Apple's AirPods are no different, but their small size makes them particularly vulnerable to the physical damage that occurs over the course of every lithium ion battery's natural lifespan.
Consider that a speck of damage in an iPhone battery may be negligible, but the same sized speck in an AirPod battery is going to be a lot more significant because of its relatively tiny volume in comparison.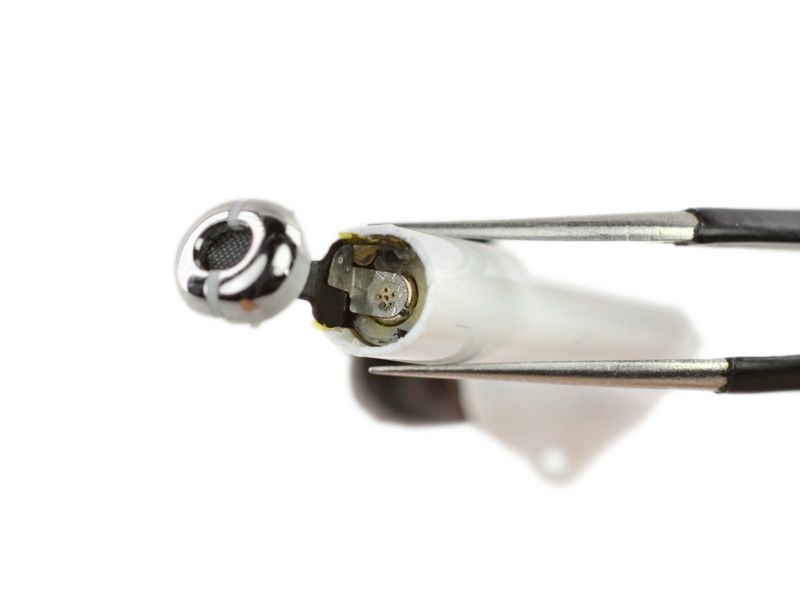 The tiny battery inside every AirPod (Image via iFixit)
The way the AirPods battery is discharged also has an impact on the actual battery life. For example, if you make or receive a lot of phone calls over your AirPods, over time you'll likely notice an imbalance in battery life between the left and right AirPods. That's because by default only one AirPod turns on its microphone during calls.
How to Maximize AirPods Battery Life
Keep Them Cased: The AirPods case itself stores 24 hours of additional charge, so it should keep you going if you use your AirPods twice daily on a long commute, for instance. Just make sure you keep your AirPods in their case when they're not in use, and remember to connect the case to a power outlet every few days.
Don't Fiddle: Try and avoid playing with the case when you don't intend to use the AirPods. Sure, repeatedly flipping the lid open and closed can be oddly satisfying, but every time you do so you're activating the W1 Bluetooth chip and sapping the batteries.
Avoid Extreme Conditions: In general, extreme heat or cold can cause long-term damage to batteries, so avoid using them in inhospitable environmental conditions where possible. Also, try to keep your AirPods out of direct sunlight when you're not using them.
Disable Smart Features: If you don't use the smart features on your AirPods, turn them off. For example, Automatic Ear Detection allows the audio routed from a connected device to seamlessly switch to the AirPods the moment you put them in your ears. The feature is enabled by default, but if you want to you can manually disable it once you've connected the AirPods to an iPhone or iPad. Just note that once you do, you'll have to manually play/pause audio routing to the AirPods.
Disable Noise Functions: If you own AirPods Pro, consider disabling the Noise Cancellation and Transparency modes, as these features reduce battery life significantly. You can control these functions via your connected iOS device or by using the default press-and-hold gesture on the AirPod stems themselves.
Turn it Down: Lastly, consider turning down the volume that you play back audio on your AirPods. Doing so should provide a small saving in terms of battery life, but it could also save your hearing in the long term.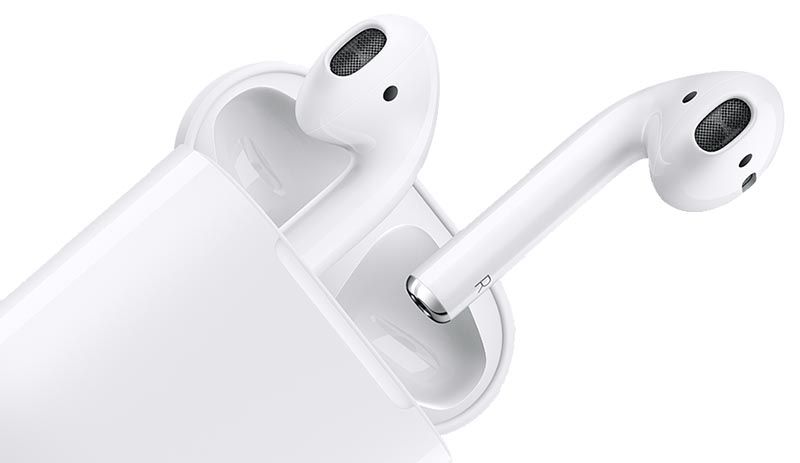 How to Extend the Battery Life of Depleted AirPods
If your AirPods already suffer from a shorter battery capacity and you want to maximize AirPods listening or talk time, here's a short-term fix: Instead of wearing both AirPods at once, consider using one AirPod while the other one charges inside the charging case, and switch between them when the one you're using starts to run out of juice.
AirPods detect when only one is being worn and will automatically convert stereo audio channels to mono, so you'll still be able to enjoy the full track recording in the one ear. AirPods also pause when you take one out, reconnect, and resume playback when you put one in again, ensuring a seamless listening experience.
How to Use AirPods Quick Charge Effectively
To their credit, both AirPods and AirPods 2 models charge very quickly –- you can get two hours of listening time by putting them in their case for just 15 minutes. But if they're continually running out of juice, this quickly gets frustrating.
As mentioned above, using AirPods to take and make lots of calls can result in a long-term imbalance in the battery capacity between the two earpieces. To mitigate this, try periodically switching the designated active AirPod microphone in settings. Better yet, use just one AirPod instead of two, and switch between the left and right one every so often.


Should I Upgrade if my AirPods are Dying?
Before you do anything, consider this: If the battery life of your AirPods is significantly lower than advertised, they may be genuinely faulty. Contact Apple support and arrange a Genius appointment to get them checked out. If you think your AirPods are just getting old, you can get them serviced (see below) or you could always buy a new pair, especially if you own first-generation AirPods.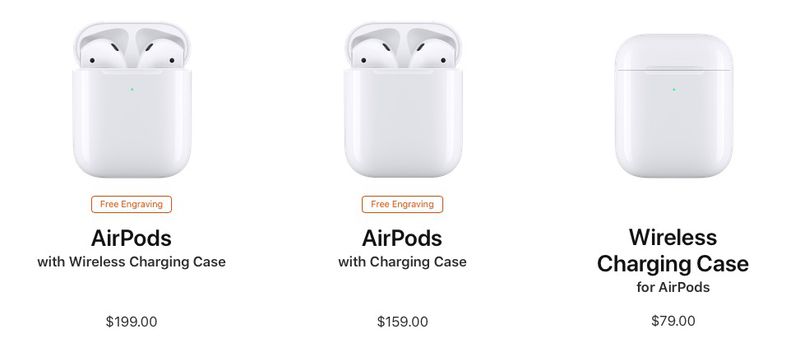 In March 2019, Apple launched second-generation AirPods ($199) that offer several new features over the original models, including the ability to wirelessly charge using third-party charging pads. However, it's unlikely that the lifespan of the batteries in AirPods 2 are any better than the first generation, so take this into account before upgrading.
In March 2019, Apple also launched a standalone Wireless Charging Case ($79) that can be purchased separately for use with first-gen AirPods. So if it's your charging case that's no longer holding a decent charge – and you already own a charging mat or two to charge your iPhone – then it's worth buying a Wireless Charging Case as a replacement (don't worry – it can also be charged via cable).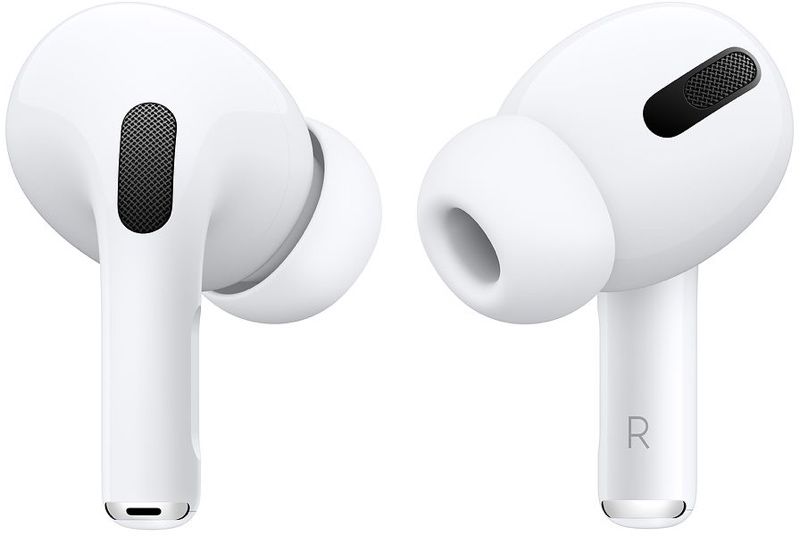 In October 2019, Apple launched AirPods Pro ($249), featuring an all new-design with an AirPods-style shape and silicone ear tips to support active noise cancellation technology. Again, it's unlikely that the lifespan of the batteries in AirPods Pro are any better than first or second-generation AirPods, so take this into account before upgrading.
How to Get Your AirPods or AirPods Pro Serviced
If you've had no luck eking out a bit more life from your depleted AirPods, then it might be time to consider getting them serviced by Apple. Apple offers a $29 AppleCare+ plan that's designed specifically for headphones like AirPods. AppleCare+ extends the warranty of AirPods to two years from the date of purchase and it offers replacement coverage if your AirPod or Charging Case battery holds less than 80 percent of its original capacity.
If you didn't buy AppleCare+ within 60 days of buying your AirPods, they may still be covered under the standard one-year warranty that's included with all Apple products. If your AirPods need service during that one year period, all work will be covered for free.



After the one-year warranty has expired, Apple charges a $49 fee per AirPod for battery service, as described on its AirPods Service Pricing page. If your AirPods Charging Case loses battery capacity, battery service is also free during the one-year warranty period or $49 out of warranty. The pricing in Apple's support document is U.S. pricing, and will vary based on country.
Top Stories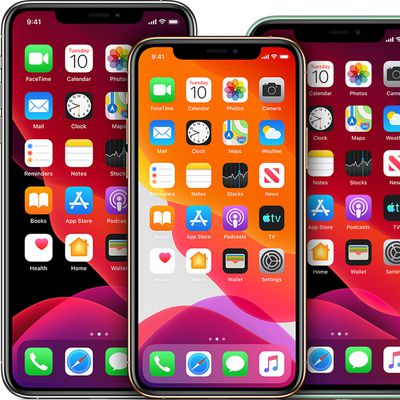 Apple is preparing to delay the launch of the 2020 iPhones expected to be equipped with 5G technology, according to sources with knowledge of Apple's plans that spoke to Japanese news site Nikkei. Apple has reportedly held internal discussions about the possibility of delaying the launch "by months" over fears of how well iPhones would sell in the current situation, and supply chain sources...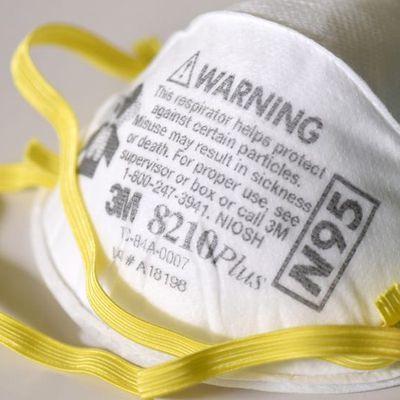 Apple over the weekend announced plans to donate millions of N95 masks to hospitals in the United States and Europe, and according to Apple CEO Tim Cook, Apple has been able to source more than 10 million N95 masks in the U.S. and millions more in Europe. Apple CEO Tim Cook said on Saturday that Apple was aiming to donate supplies to healthcare providers fighting COVID-19, and clarified...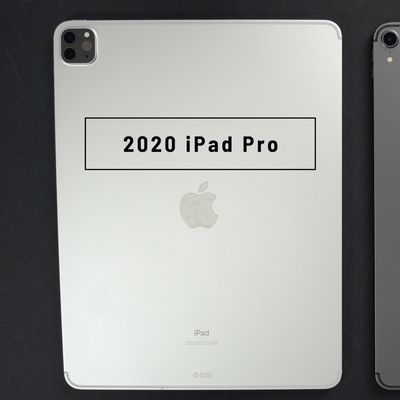 Apple last week announced new 11 and 12.9-inch iPad Pro models, and as of today, the new iPads are arriving to customers. We picked up one of the new 12.9-inch models and checked it out to see just what's new and whether it's worth buying. Subscribe to the MacRumors YouTube channel for more videos. When it comes to design, the new iPad Pro models are identical to the 2018 iPad Pro models, but ...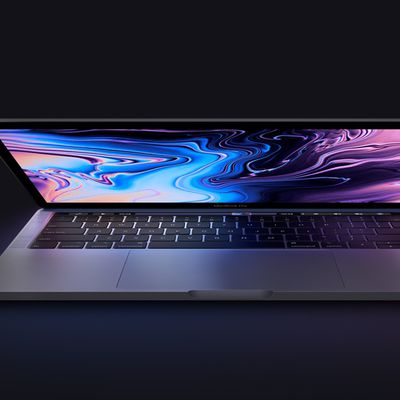 Apple plans to launch several Mac notebooks and desktop computers with its own custom designed Arm-based processors in 2021, analyst Ming-Chi Kuo said today in a research note obtained by MacRumors. Kuo believes that Arm-based processors will significantly enhance the competitive advantage of the Mac lineup, allow Apple to refresh its Mac models without relying on Intel's processor roadmap,...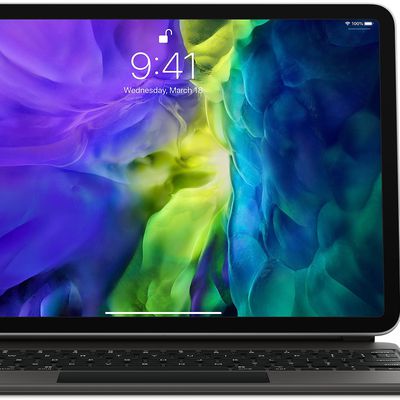 Apple today released iOS and iPadOS 13.4, the latest major updates to the iOS 13 operating system that was released in September. iOS and iPadOS 13.4 come two months after the release of iOS and iPadOS 13.3.1 with Screen Time Communication Limits. The iOS and ‌iPadOS‌ 13.4 updates are available on all eligible devices over-the-air in the Settings app. To access the updates, go to...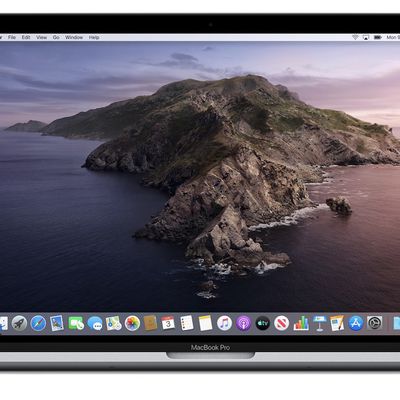 Apple today released macOS Catalina 10.15.4, the fourth update to the macOS Catalina operating system that was released in October. macOS Catalina 10.15.4 comes a couple of months after the release of macOS Catalina 10.15.3. macOS Catalina 10.15.4 can be downloaded from the Mac App Store for free using the Update feature in the System Preferences app. The macOS Catalina 10.15.4 update...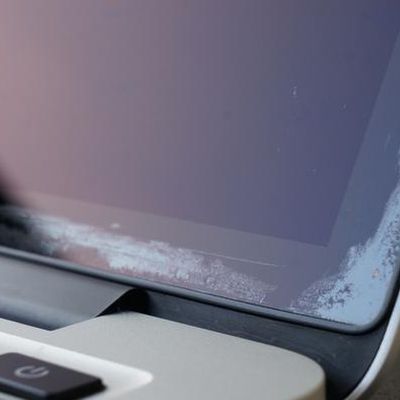 Apple this week acknowledged that MacBook Air models with Retina displays can exhibit anti-reflective coating issues, as indicated in a memo shared with Apple Authorized Service Providers and obtained by MacRumors. "Retina displays on some MacBook, MacBook Air, and MacBook Pro computers can exhibit anti-reflective (AR) coating issues," the memo states. Apple's internal service documentation ...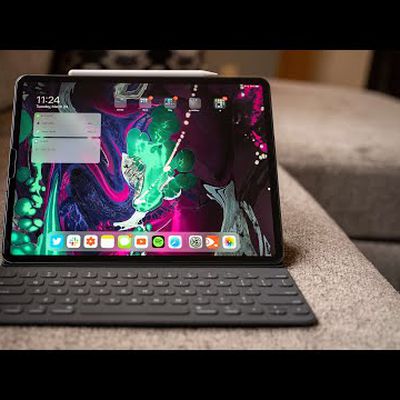 Apple last week introduced new 11 and 12.9-inch iPad Pro models, which are set to arrive in the hands of customers starting this week. Apple introduced a nifty new Magic Keyboard with trackpad alongside the new iPad Pro models that's coming in May, but it also debuted a new Smart Keyboard Folio, which is available now. We picked up the Smart Keyboard Folio for the designed for the 2020 iPad...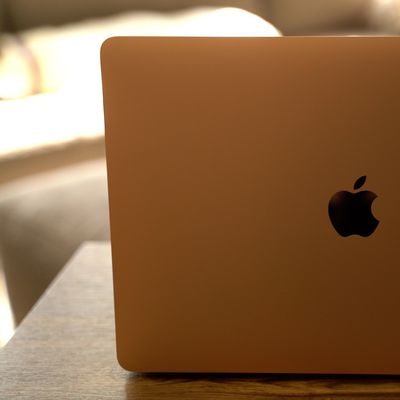 Alongside new iPad Pros last week, Apple also refreshed the MacBook Air, adding more storage, faster 10th-generation processors, and an updated keyboard. We picked up one of the new machines to take a look at some of the upgrades added in the 2020 update. Subscribe to the MacRumors YouTube channel for more videos. Design wise, there are no real external changes to the MacBook Air's body,...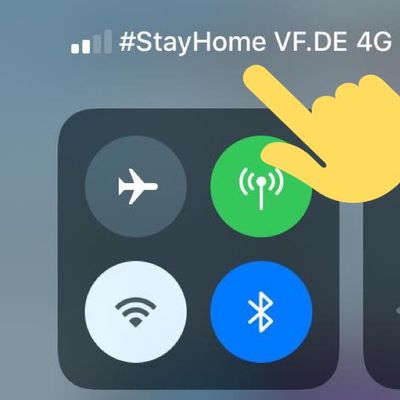 iPhone users in several countries who disconnect from WiFi on their devices will see a "Stay Home" message at the top of the Control Center where cellular network information is displayed. Image via Matt Navarra According to reports on Twitter, the status bar messages are showing up in countries that include Germany, Belgium, United Arab Emirates, Peru, Turkey, India, Luxembourg, Romania,...