Fantastical
By MacRumors Staff
Fantastical Articles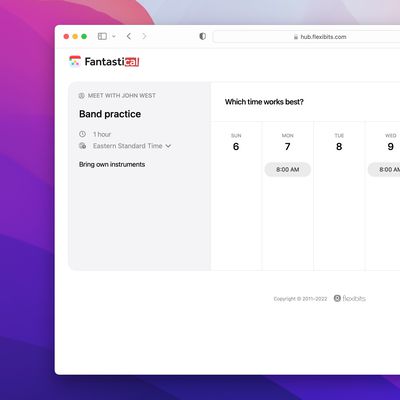 Popular calendar app Fantastical today is being updated with Fantastical Scheduling, a set of new and updated features designed to help schedule meetings. The headline feature of Fantastical Scheduling is Openings, which lets you share your calendar availability with recipients and allows them to book available time slots. You can easily customize available time slots, while templates help...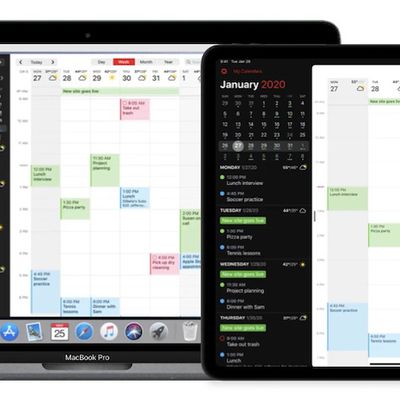 Flexibits today announced the release of version 3.3 of its popular calendar app Fantastical for Mac, with key new features including full compatibility with macOS Big Sur, native support for Apple Silicon, and a new design. Fantastical version 3.3 also supports macOS Big Sur's revamped Notification Center widgets with customizable themes and sizes, displays sunrise and sunset times in the...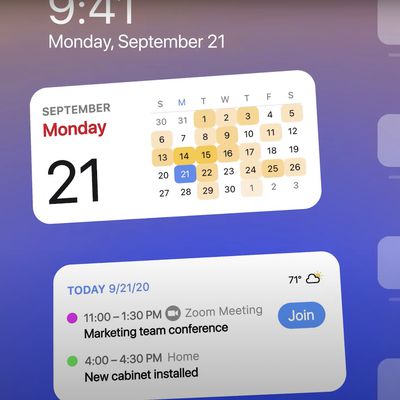 Popular calendar app Fantastical today received an update with support for new iOS 14 and iPadOS 14 features, including Home Screen widgets and Scribble. A dozen customizable widgets are available, providing users with the date, a monthly calendar, scheduled events and tasks, and even the weather at a glance. All of the widgets are free to use, while widgets that incorporate Fantastical...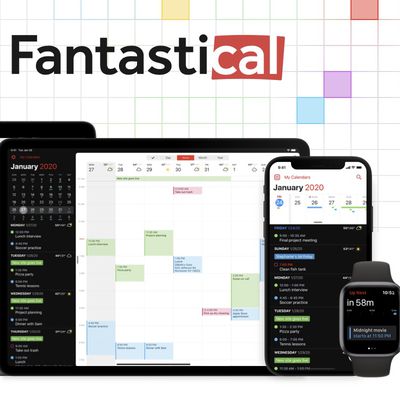 Popular cross-platform calendar app Fantastical today is launching a new Fantastical Premium for Families subscription plan that lets up to five family members unlock all of Fantastical's features for one monthly or annual fee. The new family plan is available through the Flexibits website, where existing subscribers can log in and invite up to four additional family members. The family...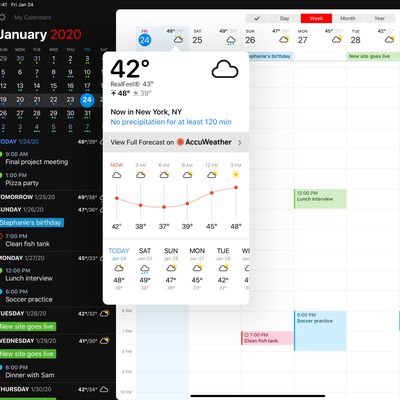 Flexibits today is launching version 3.0 of its popular Fantastical calendar app, bringing a host of improvements across all platforms including Mac, iPhone, iPad, and Apple Watch. Along with all of the feature updates, Fantastical is transitioning to a premium subscription model that unlocks access across all devices and will provide continued feature additions and improvements on an ongoing...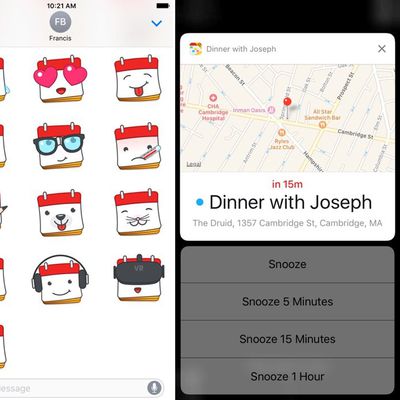 Popular calendar apps Fantastical 2 for the iPhone and Fantastical 2 for the iPad are both being updated to version 2.8, adding support for many new features introduced in iOS 10. Fantastical 2 now includes a set of stickers that can be used within the Messages app. The stickers feature an animated, smily calendar icon with useful sayings like "I'm on my way!" or "I'm running late!" so users...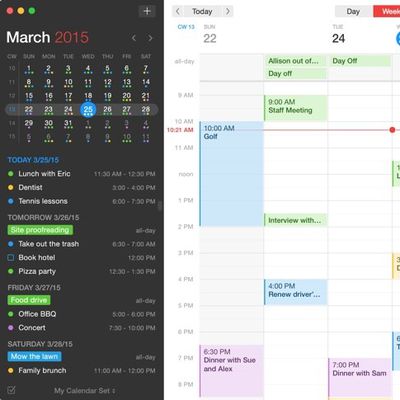 We're doing a series of holiday giveaways ahead of Christmas, and for today's giveaway, we've teamed up with Flexibits to offer MacRumors readers a chance to win a copy of Fantastical 2 for Mac. Fantastical is one of the most popular calendar apps in the Mac App Store, with a clean, easy-to-use layout and the ability to use natural language like "lunch with Eric at 2:00 p.m. on Thursday" to...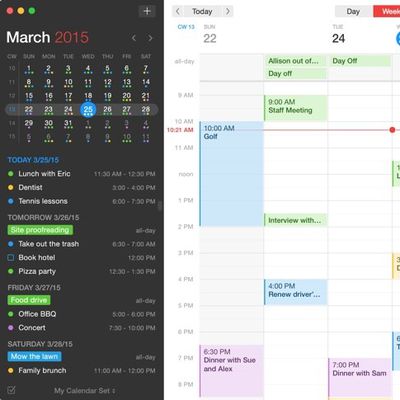 Popular calendar app Fantastical 2 for Mac was today updated with a long list of new features, introducing a multitude of small but significant changes. The new version of the app includes Exchange support with native account syncing so Exchange users can respond to invitations and use availability lookup, categories, and people lookup. With the new availability feature, enabled through a...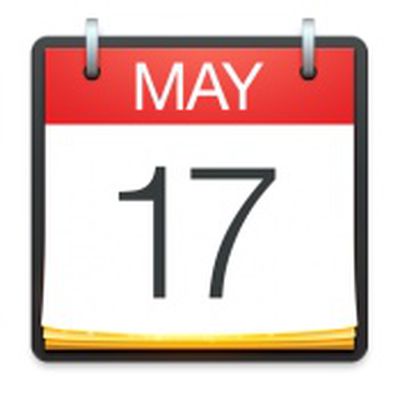 Fantastical 2 for Mac received a significant update today, adding support for OS X El Capitan and several interface tweaks to improve the Fantastical for Mac experience. Today's 2.1 update adds a huge list of new features that were requested by Fantastical 2 users since the app first launched in March. For users running OS X El Capitan, it's now possible to swipe an event in a list to delete...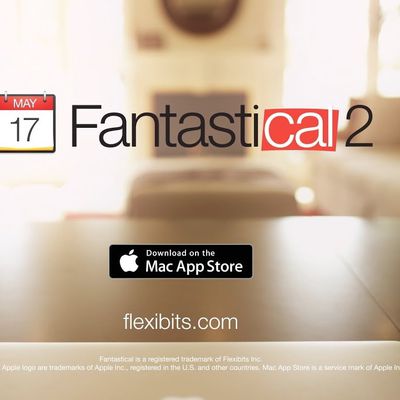 Flexibits launched Fantastical 2 for the Mac this morning, the long-awaited update to its popular calendar app for the Mac. To celebrate the launch, Flexibits has teamed up with us to offer 25 MacRumors readers a chance to win a Fantastical bundle that includes a copy of the new Fantastical 2 for Mac app, a copy of Fantastical 2 for iPad, and a copy of Fantastical 2 for iPhone. If you're not...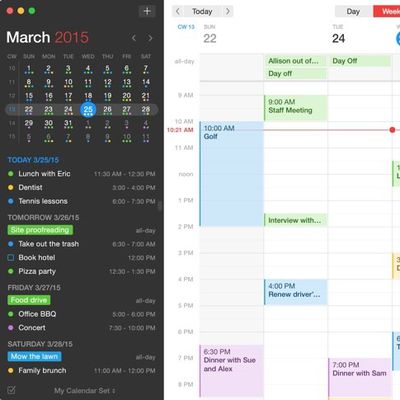 Flexibits today launched the much-anticipated Fantastical 2 for Mac, a completely new app that overhauls the existing Fantastical for Mac app and introduces a long list of new features. Flexibits CEO Michael Simmons spoke with MacRumors about the new Fantastical 2 update for Mac, and he told us that while the original Fantastical app reinvented calendar apps, the new update reinvents Fantastica...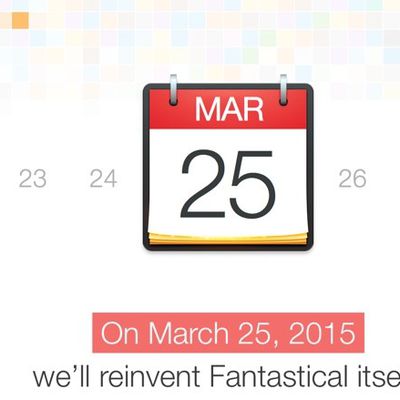 Flexibits, the developers behind the popular line of Fantastical calendar apps for iOS and Mac, today posted a teaser revealing the launch date of Fantastical 2 for Mac, which is going to be released on March 25. Fantastical 2 for the iPhone and the iPad have been available since 2013, but Fantastical for Mac, first released in 2011, has yet to receive a major 2.0 update. Flexibits has not...