iPhone 6 and iPhone 6 Plus are the two most popular smartphones Apple has ever released thanks to their larger 4.7-inch and 5.5-inch screen sizes. Given that nearly nine months have passed since the devices were launched in September, there are now a variety of cases and accessories available for both. As such, we have rounded up some of the best iPhone 6 and iPhone 6 Plus cases based on pricing, quality and features.
Many of the cases featured below were brought to our attention within the MacRumors discussion forums by users who participated in a Ask MacRumors thread earlier this year or in other forum discussions. A few other accessory makers included in this roundup were originally highlighted in our Buyer's Guide of iPhone 6 and iPhone 6 Plus cases last September. All testimonials were obtained by MacRumors forum members with minor editing for spelling and grammar purposes.

Apple Leather Case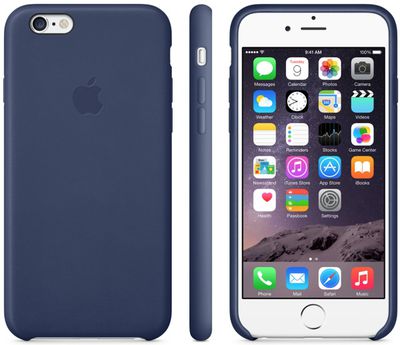 Look along the back walls of most Apple Stores and your eyes will be treated to a colorful array of Apple Leather Cases for the iPhone 6 and iPhone 6 Plus. Available in black, red, midnight blue, olive brown and soft pink, this Apple-designed case has a thin, protective design with a soft microfiber lining on the inside and premium leather on the outside. Available for iPhone 6 ($45) and iPhone 6 Plus ($49), the case is more expensive than some others but a tried and trusted option nevertheless.

Griffin Survivor Core


Griffin has been one of the most popular accessory makers for iPhone, iPad and iPod touch for the better part of the past decade, and its Survivor case has long been one of the most popular iPhone accessories during that time. The latest Survivor Core is designed for the minimalist, with an ultra-thin design and clear back that allows you to see the anodized aluminum rear shell of the iPhone. With rubber corner bumpers and 2-meter drop protection, the case is a good candidate for keeping your iPhone safe. Survivor Core is available for iPhone 6 ($29.99) and iPhone 6 Plus ($29.99) in black or purple.
MacRumors forum member kgenova:
"I recently tried the Griffin Survivor Core, and I was surprisingly impressed. Usually when I try out a new case, I am back to my Thule Atmos X3 case within hours, but the Griffin Survivor Core is an exception. Griffin lists it as having 6.6 foot drop protection—the same as the Thule Atmos x3—but it is just so darn thin, and makes my 6+ look positively dainty. I doubt it will hold up as well long term as the Thule Atmos X3, but it is a joy to use."
CM4 Q Card Case


The CM4 Q Card case for iPhone was acclaimed by several MacRumors readers within the discussion forums and social media for delivering multipurpose functionality at a reasonable price. The case offers edge-to-edge protection and doubles as a wallet that can fit three cards plus cash. The exterior of the case has a stylish rubber and fabric design, and an included lay-flat screen guard keeps the front of the device free of scratches. CM4 Q Card Case is available for iPhone 6 ($39.99) and iPhone 6 Plus ($39.99) in black onyx, gunmetal gray, champagne gold, red rogue and pacific green. The case sells for as low as $31.99 on Amazon.

Magpul Field Case


While more basic than many of the cases listed in this guide, the Magpul Field Case was another highly favored option because its thick, semi-rigid thermoplastic design provides good drop protection and is easy to grip. The case has a snap-on design, edge-to-edge coverage and is designed and manufactured in the United States. The Magpul Field Case is very affordable at $16.95 for both the iPhone 6 and iPhone 6 Plus versions, with a myriad of color options available: black, flat dark earth, stealth gray, olive drab green, orange, dark blue, red, teal and pink. The case sells for as low as $10.16 on Amazon.
MacRumors forum member mhunter6378:
"What makes the Magpul my personal favorite? First, the case is slim and keeps the already large iPhone 6 Plus from becoming any larger. The case fits tightly on the phone and provides a very solid feel. Speaking of feel, that's another point worthy of special mention. The Magpul has a very unique feel to the finish. It has a texture reminiscent of fine sandpaper that provides remarkable grip, a much needed quality for the new iPhone. The case covers the buttons on the iPhone but they provide tactile feedback as though there is no covering at all. The cutouts for all the phone's ports are precise and offer ample room for necessary connections. There is a lay on the table lip around the screen of sufficient height as to provide plenty of protection but not so much as to detract from or interfere with screen swiping actions. This is the first Magpul case I have every owned but now after having one, it won't be the last. I am sold on these cases and any phone I have in the future will be wearing one that's for sure."
OtterBox Resurgence


OtterBox is another iconic accessory maker that sells a popular lineup of iPhone cases, including the Commuter, Defender and Resurgence series. OtterBox's Resurgence for iPhone 6 and iPhone 6 Plus is an all-in-one case and battery pack featuring military-rated drop protection, a built-in battery that extends battery life up to twice as long, wired and wireless syncing and more. The case is designed for iPhone users looking to get through their day without being tethered to a Lightning cable or wall charger, while simultaneously keeping the device protected against drops, scratches and wear and tear. The Resurgence Power Case is available for iPhone 6 for $99.95 on OtterBox's website. Available colors include black, gray, red and mint ice.

Speck CandyShell Grip


The rounded edges of the iPhone 6 and iPhone 6 Plus make the smartphones incredibly easy to drop, making it especially hard to use either device without a case. The Speck CandyShell Grip aims to solve that problem with raised rubber ridges that give the latest iPhones a textured feel in your hand and make it much easier to hold onto. The case has the same military-grade drop protection as the aforementioned OtterBox Resurgence and features a dual-layer design with rubberized button covers. Speck also provides a one-year warranty and 30-day satisfaction guarantee. Purchasing a Speck CandyShell Grip will set you back $34.95 for iPhone 6 and $39.95 for iPhone 6 Plus, with prices of some models at $20 or less on Amazon.
MacRumors forum member tops2:
"I have the iPhone 6 Plus, which is just too slippery for me when going caseless. The Speck CandyShell Grip is almost the perfect case in my opinion for me. The standout feature that I saw, and everyone that I've shown to notices, is the grip. I can, with confidence, use the phone one handed. I do need to shift the phone around to reach all parts of the screen, but I have no problem finding the grippy strips which really help keep the phone in my hand without sliding."
Spigen Neo-Hybrid Metal

Spigen's Neo-Hybrid Metal is an anodized aluminum case with a dual-layer design consisting of a premium aluminum frame and anti-stretch thermoplastic. The case is lined with a suede lining so the metal does not come in contact with the iPhone, and a web-patterned thermoplastic on the inside helps absorb and disperse the impact from drops and bumps. The volume rocker and buttons are covered, with cutouts for the rear-facing camera and Apple logo. Spigen sells the Neo-Hybrid Metal for iPhone 6 ($34.99) and iPhone 6 Plus ($34.99) on its website in space gray, champagne gold, metal blue, metal red and satin silver. Amazon prices start at $19.99.

Tech21 Classic Shell

Tech21's Classic Shell with Cover is another option for iPhone 6 and iPhone 6 Plus users looking for a case that includes a screen cover. The Classic Shell is designed to be soft and flexible with thermoplastic, so iPhone users looking for better drop protection might opt for the Classic Frame with a hard back plate instead. Tech21 sells the Classic Shell with Cover for iPhone 6 ($39.99) and iPhone 6 Plus ($44.99) on its website.
MacRumors forum member kgenova:
"Tech21 Classic Shell with Cover is a great case for the 6+ if you are looking for a screen cover, but you don't need a wallet functionality. Despite the lack of any mechanism to keep the cover closed, it seems to stay closed pretty well by itself. The material has a nice feel in the hand and your 6+ feels very well protected. The camera cut out is a bit on the large side, but otherwise the cut outs seem well designed and all the buttons are easy to push. It's a very pleasant case to use."
Twelve South BookBook


Twelve South is a premium accessory maker that makes a wide range of cases for Apple products, one of the most popular being the BookBook. The case essentially disguises your iPhone 6 or iPhone 6 Plus as a vintage book on the outside, while serving as a wallet with slots for credit cards and a drivers license on the inside. The case is designed with premium leather on the outside and a soft suede material on the inside to keep your iPhone protected against drops and free from scratches and wear and tear. Twelve South's BookBook is available for $59.99 for iPhone 6 and iPhone 6 Plus with two book covers to choose from. Amazon pricing can sometimes be a few dollars cheaper depending on vendor.
MacRumors forum member MacinJosh:
"The packaging is super impressive. Top quality. Case is just oozing of quality leather. Cards slide in and out smoothly. Case stays closed when left on table. The amazing feature that made this purchase a no brainer for me was the fact that the phone cradle thingy came off. I can now conveniently put it in my car stand. I wholeheartedly recommend this product."
Wrap-up
With a wide variety of cases on the market at numerous price points, there are undoubtedly styles to suit everyone. It can be hard to find standout cases given the sheer number of available cases, so by sharing thoughts from those who have actually used and liked certain models, we're hoping readers will be able to narrow down styles and specific cases that might work best for them.
We plan to regularly update this guide with new cases for existing and future iPhone models, so stay tuned for more. Also keep in mind that if Apple holds true to form, the next-generation iPhones released later this year may retain the same form factor, allowing users to continue using cases purchased for the current models.
Disclaimer: MacRumors is an affiliate partner with some of these vendors.