With the iPhone 6 and the iPhone 6 Plus in the hands of millions of customers as of today, many users will be looking to purchase cases for their new devices. Despite the fact that the phones were just released, there are already quite a few options on the market as many case makers began preparing cases for the devices months ago.
We've rounded up some of the available iPhone 6 and 6 Plus cases below, with options ranging from ultra thin and light to those that offer complete protection.
Spigen - Spigen has a range of iPhone 6 and 6 Plus cases available, each offering varying degrees of protection. The Tough Armor case, for example, advertises "extreme" protection with a foldable kickstand, while the Air Skin is advertised as the thinnest case ever made at 0.4mm thick. Spigen's cases range in price from $14.99 to $34.99, with most shipping out in 7 to 10 business days. Spigen's range of cases can also be found on Amazon at somewhat lower prices.


Otterbox - Otterbox has a selection of cases for both the iPhone 6 and the iPhone 6 Plus, including the ultra protective Defender series, which is a three-layer rugged case designed to offer full protection for the iPhone's display. The Defender series is bulky, so Otterbox also offers the thinner Symmetry line and the Commuter series. Priced from $39.90 to $69.90, Otterbox plans to make its cases available soon.


Apple - Apple is selling its own line of cases, specifically designed to complement the iPhone 6 and 6 Plus. Cases are available in leather and silicone, in several different colors. Apple's cases are available through the Apple online store or through its retail stores beginning today. Prices range from $35 to $49.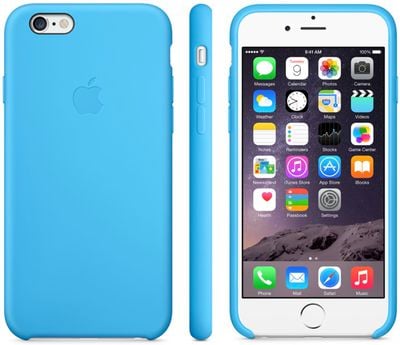 Speck - Speck is selling several different cases designed for the iPhone 6 and the iPhone 6 Plus, with prices ranging from $40 to $45. The traditional CandyShell case is available in multiple variations, including a Grip version that makes the iPhone easier to hold, an Inked version that comes with high-res graphics, and the Card version that has room for a credit card and cash. Speck also has the MightyShell case, which offers extra protection. Some variations are in stock immediately, while others are coming soon.


Case-Mate - Case-Mate has a selection of particularly flashy cases available for the iPhone 6 and 6 Plus, with designs ranging from gold glitter to a carbon alloy in a diamond design. Case-Mate also has a few less flashy cases available, including the Barely There case that's designed to be thin and the Slim Tough Case that includes a shock-resistant bumper. Case-Mate's cases are available now and range in price from $20 to $80.


Incipio - Incipio has a huge selection of cases for both the iPhone 6 and the iPhone 6 Plus, most of which are thin and affordable. The company's well-known Feather case, for example is thin and lightweight, constructed from polycarbonate with an EVA interior liner. Another case, the DualPro, is slightly thicker but provides two layers for extra protection. Incipio's cases range in price from $20 to $45.


Society6 - Society6 takes a blank iPhone 6 or iPhone 6 Plus case (in slim or "tough") and customizes it with one of hundreds of images. Designs run the gamut from scenic vistas to abstract art to silly pictures like a panda in an astronaut suit or a llama in a taxi. Cases are priced at $35 to $38.


Groupon - Groupon has several iPhone 6 and 6 Plus cases from a variety of manufacturers that are available for pre-order at discounted prices. Custom cases that are user-designed from MyCustomCase can be purchased for $20, a $25 savings. Groupon has a pre-order for the iHome Folio available for the iPhone 6 for $12.99, and the iHome Sheer case for the iPhone 6 for $9.99.


Groupon also has the MOTA iPhone 6 Protective case available for pre-order for $9.99, down from $39.99, and it also has the Aduro BookCase Folio and Wallet Case for iPhone 6/6 Plus for $11.99. Finally, Groupon has a deal on the PRESS PLAY 3,100 mAh battery case for the iPhone 6, offering it for $39.99 down from $99.99.


MacRumors is an affiliate partner with some of these vendors.