App Store in iOS 17.2 Beta Features New Focus on Categories
Apple is making some updates to the App Store with the iOS 17.2 software that is in beta testing, introducing a new focus on app categories.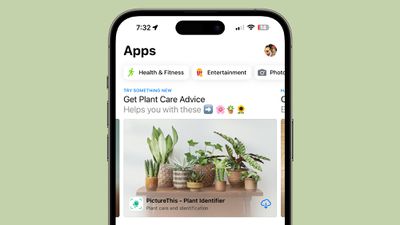 In the "Apps" section of the ‌App Store‌, there is a new top navigation bar that allows users to scroll through various app categories, such as Entertainment, Education, Photo & Video, Music, Navigation, and more. The categories mirror the categories that can be found at the bottom of the app section in the "Browse Categories" menu.
The "Games" section also has a similar list of categories, such as puzzle, casual, racing, indie, simulation, casino, and adventure. These also mirror the categories at the bottom of the Games tab.
Tapping into one of the categories listed in Apps or Games shows apps that are part of that category. Apple previously had these kind of top bar navigation options for Apple Arcade, but they have been expanded to the other ‌App Store‌ sections.
Apple is also mirroring the "Browse Categories" design first introduced in the ‌Apple Arcade‌ tab. Each category is now a card, with a detailed icon. In
iOS 17
and earlier, categories were just text lists with a simpler icon design.
iOS 17.2 is being beta tested right now and it is expected to see a public release sometime in December.