Apple Releases iOS 17.1 and iPadOS 17.1 With AirDrop Over Internet, Music Favorites Options and More
Apple today released iOS 17.1 and iPadOS 17.1, the first major updates to the iOS 17 and iPadOS 17 operating system updates that came out in September.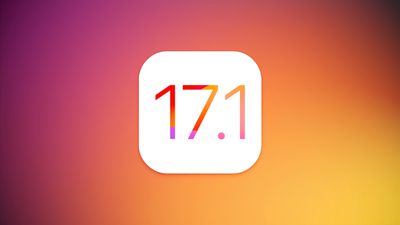 iOS 17.1 and iPadOS 17.1 arrive as build 21B80 for the iPhone 15 lineup and 21B74 for all other compatible devices, and they can be downloaded on eligible iPhones and iPads over-the-air by going to Settings > General > Software Update.
In the new updates, Apple has added support for continuing a large AirDrop file transfer over the internet when out of AirDrop range. The Apple Music app includes options to favorite songs, albums, and playlists, and there are now song suggestions at the end of every playlist.
Though not mentioned in the notes, Apple says the update "fixes" iPhone 12 radiation levels in France by disabling a feature that boosts cellular signal when the iPhone is not held by a person, and it improves Screen Time syncing across devices. There are several bug fixes, with iOS 17.1 addressing an issue that could cause display image persistence and a bug that could cause the Significant Location setting to reset when transferring or pairing an Apple Watch for the first time.
On the iPad, the ‌iPadOS 17‌ update adds support for the USB-C Apple Pencil that was announced last week. Apple's full release notes for the update are below.

AirDrop
- Content continues to transfer over the internet when you step out of AirDrop range

StandBy
- New options to control when the display turns off (iPhone 14 Pro, iPhone 14 Pro Max, iPhone 15 Pro, and iPhone 15 Pro Max)

Music
- Favorites expanded to include songs, albums, and playlists, and you can filter to display your favorites in the library
- New cover art collection offers designs that change colors to reflect the music in your playlist
- Song suggestions appear at the bottom of every playlist, making it easy to add music that matches the vibe of your playlist

This update also includes the following improvements and bug fixes:
- Option to choose a specific album to use with Photo Shuffle on the Lock Screen
- Home key support for Matter locks
- Improved reliability of Screen Time settings syncing across devices
- Fixes an issue that may cause the Significant Location privacy setting to reset when transferring an Apple Watch or pairing it for the first time
- Resolves an issue where the names of incoming callers may not appear when you are on another call
- Addresses an issue where custom and purchased ringtones may not appear as options for your text tone
- Fixes an issue that may cause the keyboard to be less responsive
- Crash detection optimizations (all iPhone 14 and iPhone 15 models)
- Fixes an issue that may cause display image persistence

Some features may not be available for all regions or on all Apple devices. For information on the security content of Apple software updates, please visit this website: https://support.apple.com/kb/HT201222
In addition to iOS 17.1, Apple has also released iOS 16.7.2 and iOS 15.8 with many of the same security fixes for those still running older versions of iOS.
More information on the new features in the ‌iOS 17‌ update can be found in our ‌iOS 17‌ roundup.