Kuo: AirTag 2 Postponed Until 2025
Apple will not release a second-generation version of the AirTag until 2025, according to Apple analyst Ming-Chi Kuo. Mass production on the accessory has reportedly been delayed until 2025, which has pushed back Apple's target launch timeline. Back in August, Kuo had said that mass production would kick off in the fourth quarter of 2024, suggesting a late 2024 or early 2025 launch.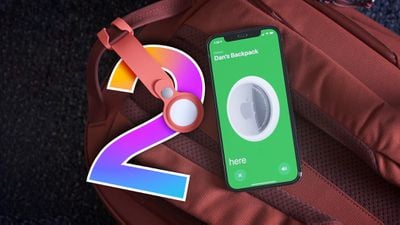 According to Kuo, the AirTag 2 will be part of a new spatial computing ecosystem that Apple is building, with the Vision Pro serving as the core to integrate other devices. Kuo previously said that he believes the AirTag will integrate with the Vision Pro headset, but he still has not given much insight into what that means.
There is a possibility that the Ultra Wideband chip in the AirTag could be used for relaying positional information to the Vision Pro in some capacity, but just how Apple will use the AirTag with the Vision Pro remains to be seen.
We've heard little about a second-generation AirTag at this point, and there's no word on what Apple might include in terms of design changes, form factor updates, or feature additions.
A new AirTag would likely incorporate Apple's second-generation Ultra Wideband chip that debuted in the iPhone 15 models, allowing for even more precise tracking indoors.