iPhone 16 Pro Expected to Support '5G Advanced' With Qualcomm's Snapdragon X75 Modem
Apple's next-generation iPhone 16 Pro and iPhone 16 Pro Max will be equipped with Qualcomm's latest cellular modem, according to technology analyst Jeff Pu, enabling faster and more power efficient 5G connectivity for the devices.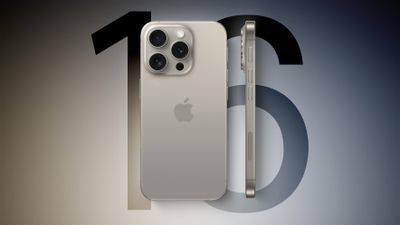 In a research note this week with investment firm Haitong International Securities, Pu said the iPhone 16 Pro and iPhone 16 Pro Max will be equipped with Qualcomm's Snapdragon X75 modem. However, he expects the standard iPhone 16 and iPhone 16 Plus to retain the Snapdragon X70 modem used for the entire iPhone 15 lineup. Apple has typically used the same Qualcomm modem across all models for each generation of iPhones, excluding the low-end iPhone SE, so this would be a change in strategy for the company.
Announced in February 2023, the Snapdragon X75 features improved carrier aggregation and other technology advancements for faster 5G download and upload speeds compared to the X70. The modem's combined mmWave and sub-6GHz 5G transceiver takes up 25% less circuit board space, and uses up to 20% less power, according to The Verge.
The Snapdragon X75 also supports the latest "5G Advanced" standard, which is described as "the next phase of 5G" and an "evolution towards 6G." 5G Advanced will include artificial intelligence and machine learning enhancements for improved 5G performance, and it will also expand 5G to additional types of devices and use cases.
Apple is likely to market the iPhone 16 Pro models as featuring "5G Advanced," much like the iPhone 6s gained support for "LTE Advanced" in 2015.
Apple is rumored to have been working on its own 5G modem for iPhones since 2018, but the project has reportedly faced development challenges, and the modem is not expected to be announced until 2025 or later should it ever materialize. In the meantime, Apple extended its 5G modem agreement with Qualcomm through 2026.
Apple should announce the iPhone 16 lineup in September 2024, so there is still plenty of time remaining until the devices launch.