watchOS 10.0.2 Fixes Weather Complication Bug on Apple Watch Series 9 and Ultra 2 [Update: No]
The watchOS 10.0.2 update appears to address a bug with Weather complications, but the issue is only fixed on the Apple Watch Series 9 and the Apple Watch Ultra 2, the two devices that are able to receive the new software.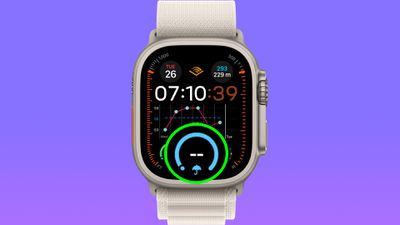 Multiple reports on the MacRumors forums confirm that watchOS 10.0.2 solves the Weather complication bug, but those who do not have an ‌Apple Watch Ultra 2‌ or an ‌Apple Watch Series 9‌ will have to wait for Apple to release another watchOS update.
Apple Watch owners have been complaining of malfunctioning Weather complications since the launch of watchOS 10, with both the initial launch and watchOS 10.0.1 affected. Those impacted are seeing a blank reading where the weather data should be, but tapping into the Weather app shows the expected information.
Some users have been able to fix the issue by opening up the Watch app on iPhone, toggling the 24-Hour Time switch in the Clock app Settings, and waiting a few seconds before toggling it back to the original position. Others have had luck turning off Location Services on the ‌iPhone‌ temporarily and then toggling it back on after a short waiting period.
These solutions have not worked for all users, however, so there may be no fix for everyone affected until another version of watchOS comes out.
Update 7:00 p.m.: A number of users who initially saw the complication working properly after updating to watchOS 10.0.2 are once again seeing broken Weather complications, suggesting any fix after the update was temporary at best.