Apple Initially Explored Using GPS to Control AirPods Pro Adaptive Audio
When Apple introduced second-generation ‌‌AirPods Pro‌, the Adaptive Transparency feature offered a new way to reduce loud environmental noise for more comfortable everyday listening. Adaptive Audio is designed to build on that approach by dynamically blending the existing Transparency and Active Noise Cancellation modes together to deliver the best audio experience in the moment, tailoring the noise control as the user between different environments and interactions.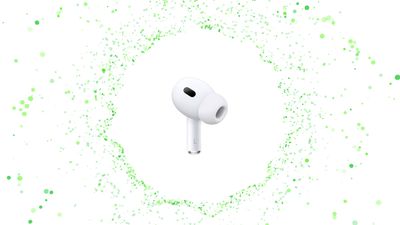 In this way, Adaptive Audio aims to automatically reduce loud or distracting noises in your surroundings, such as the sound of a leaf blower or a passing plane overhead, while other noises, like the sudden beep of a car horn, remain audible.
In a new interview with TechCrunch, Apple's VP of sensing and connectivity Ron Huang revealed that Apple originally considered using GPS location to inform ‌AirPods Pro‌ of the user's whereabouts and adapt the audio experience accordingly. In real-world testing, however, the method proved inefficient. From the interview:

"During early exploration for Adaptive Audio, we basically put you in ANC versus transparency, based on where you are," says Huang. "You can imagine the phone can give a hint to the AirPods and say, "hey, you're in the house" and so forth. That is a way to do that, but after all our learnings, we don't think that is the right way to do it, and that is not what we did. Of course, your house is not always quiet and the streets are not always loud. We decided that, instead of relying on a location hint from the phone, the AirPods monitor your environment in real time and make those decisions intelligently on their own."
Huang in the interview also returned to the reason why USB-C ‌AirPods Pro‌ can support Lossless Audio with Vision Pro thanks to the updated H2 chip's support for the 5GHz wireless band (second-generation ‌AirPods Pro‌ with a Lightning port only support 2.4GHz):

"Bluetooth typically runs on 2.4 gigahertz, and that airspace is very, very noisy," says Huang. "Everybody's running on 2.4. That's why routers Wi-Fi routers, for example, are typically dual-band if not tri-band, because the 5Ghz spectrum is that much cleaner. To get to really, really low latency audio, and to get to really high fidelity, lossless audio — it's all about a very, very clean and real-time channel between two. The combination of 5Ghz and the fact that they are very proximal allowed us to do that. We're able to basically redesign a brand new audio protocol over the 5Ghz for AirPods."
Elsewhere in the interview, Huang touches on other features that iOS 17 brought to ‌AirPods Pro‌, including Conversation Awareness, Personalized Audio, and faster device switching. Priced at $249 in the U.S., the updated second-generation ‌AirPods Pro‌ began arriving to customers late last week.